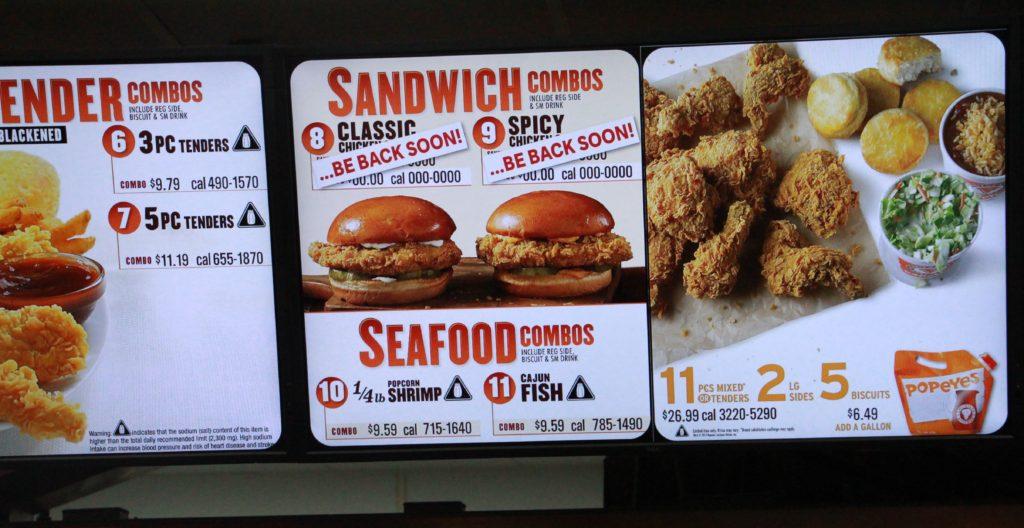 For years, Chick-fil-A has been a leader in the premium chicken sandwich business, despite recent controversies regarding their conservative religious beliefs.  Their signature chicken sandwich, made with a juicy fried chicken breast topped with pickles and a slight spread of mayonnaise on a buttered bun, has been an icon in Southern culture for decades now. In the past few years, they brought this sensation to other parts of the United States.  
However, a longtime rival, debuting its own version of the chicken sandwich, has joined the competition: Popeyes.  What was originally a limited time offer became a nationwide craze. After a viral tweet in which Chick-fil-A detailed aspects of their well-known chicken sandwich ("Bun+Chicken+Pickles=Love"), Popeyes responded with, "y'all good?" As a result, the chicken sandwich war was born.  
Since then the Popeyes chicken sandwich has grown from an everyday promotion to a sort of cult following.  
 Long lines wrapped around Popeyes locations with customers eager to get a taste of the infamous chicken sandwich. They unexpectedly sold out within two weeks, a supply that was supposed to last until September. Unfortunately, most were sorely disappointed.  This viral trend has gotten so serious that Popeyes began advertising for people to BYOB (Bring Your Own Bun) into their restaurants to make a de facto chicken sandwich. One lawsuit was filed against them for the inconveniences the chicken sandwich trend created, including claims for "rim and tire damage totaling $1500" just to take out $25 from the bank.  However, this week, the Popeyes chicken sandwich finally came back after months of anticipation.
When comparing the two chicken sandwiches, it seems like they both have the classic juicy fried chicken topped with pickles on a buttered bun, right?  
Well, Chick-fil-A uses a tender, slightly crispy fried chicken breast, whereas Popeyes uses the iconic crispy chicken that they are known for. However, among the school population, students and teachers shared varied perspectives on the sandwiches.
More teachers who had both sandwiches favor Chick-fil-A, while more students favor Popeyes, with some crossovers in between.  Sometimes it comes down to nostalgia, as English teacher Kevin McDonough puts it, "Popeyes, no question about it… because there was a Popeyes on my college campus, and of course, Popeye the Sailor."  Others prefer it for the taste, like Senior Delila Hasic, who "[chose] Chick-fil-A, mainly because they have good chicken" and described Popeyes chicken as "sometimes too crunchy and… expensive."  
The competition between Chick-fil-A and Popeyes is only going to grow thanks to social media.  As Social Studies teacher Frank McCaughey has stated, "It is interesting [to see the intensity of the chicken sandwich war develop] because it is a perfect example of life in 2019." It shows, he said, "how things are hyped up on social media [nowadays]."