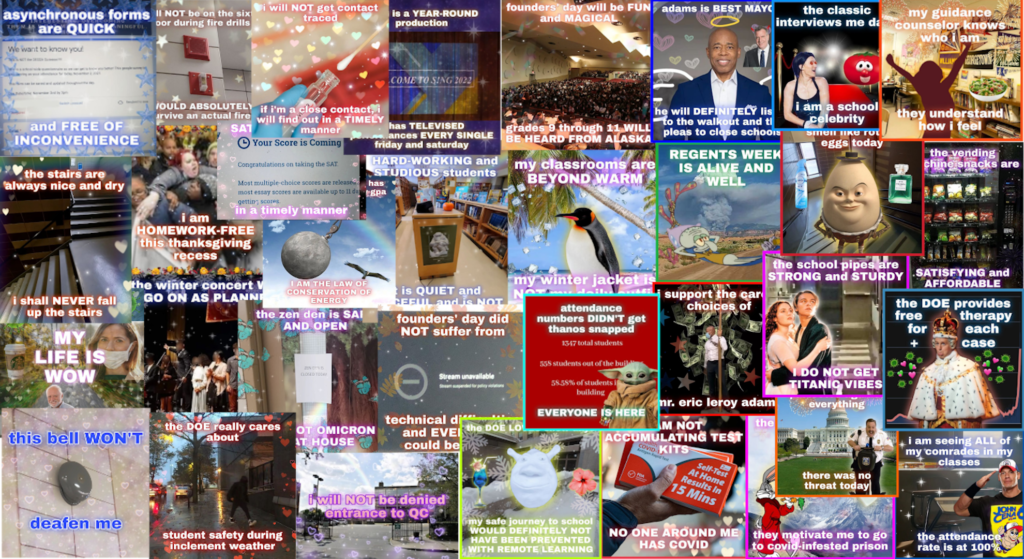 With satirical and relatable posts on various issues at Townsend Harris High School, the THHS Affirmations account on Instagram has become a hit among Harrisites. The account was created at the beginning of the school year and has since commented on the constant hallway bell-ringing to the handling of COVID-19.  Shared amongst both students and teachers within the THHS community, the page has garnered much attention, with some of its most recent posts reaching upwards of 400 likes.
Each post features a sardonic statement that speaks on a certain policy or conditions relevant to student issues. Some are very THHS-oriented, like the cancellation of the Winter Concert and the technical difficulties during the Founders Day broadcast, while others speak about situations that all NYC public school students can relate with.  
 Some posts, for example, comment on the Department of Education's controversial decision to keep schools open amidst rising COVID-19 cases. Sophomore Rachel Chan said, "I personally like [the account] because it puts a twist on topics that are [affecting]  everyone, such as the possibility of closing down schools and the current [number of] COVID cases." Junior Matthew Algenio said, "I absolutely love the affirmation page's posts. I find the use of satirical memes to expose the current issues in THHS and the DOE quite genius."
The THHS Affirmations team, who have managed to retain their anonymity despite the account's popularity, said, "[w]e decided to start this account toward the end of October because we found plenty of things that we could poke fun at at THHS."
 "A lot of emotions are running through the school and we want[ed] to highlight them in ways that [students] can feel better about… our account gives students a platform to gripe or voice their complaints about the school and bond over them."
Despite the account's typical negativity, many Harrisites discussed how the page brings them together through mutual experiences. "I think part of why they're so popular is because they make people feel like they're a part of a community," said sophomore Sangeeta Chakraborty. 
Junior Jesutoyin Olabode said, "[The page] is popular because it acts as a center for students to acknowledge their common grievances in a lighthearted way. We all share common struggles as THHS students, whether it be way too much homework or the crowded library… the page turns these experiences into funny affirmations allowing us to bond in our hatred of school, which can be a good thing as bad as it sounds."
Most students, however, are satisfied with the content simply because the posts are funny. Rachel said, "the THHS affirmations page is a way for the students at Townsend to have fun in these times. It's almost comical to see all of us complain about our school or the weather outside… [then] to see it as a post on Instagram." Freshman Leanna Chan said, "I really like the page because it's extremely funny; the jokes are sarcastic yet not dry at all"
The affirmations team said, "We started out small with some posts just barely hitting the double digit mark. We were thrilled to recently hit the two hundred share mark." 
Many students have been wondering who has been running the page all these months. In response, the THHS Affirmations team said, "The only hints we've been given so far are fake emoji personas. We keep responding [to who we are] with 'THHS students' because that's who we are. We walk the same hallways, freeze in the same classrooms, and eat the same cardboard school lunch with knives because we somehow always run out of forks."
Additional reporting by Katherine Lian, Sara Lukacevic, Reem Nasrallah, Sandra Sandoval, Staff Writers
Photos Courtesy of the THHS Affirmations Team