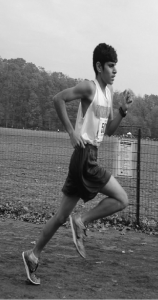 Forrest Gump isn't the only one who broke records for running cross country.
Sophomore track star Yashavi (Yash) Sharma is November's "Male Student Athlete of the Month" for his hard work and perseverance in Cross Country Track (XC). Yash has made the sport look easy, earning numerous accolades, awards, and medals along the way.
Although Yash also participates in Indoor Track and Outdoor Track, his talents in Cross Country earn him this title. He won first place in two consecutive citywide Cross Country meets this year, making him the first person from Townsend Harris to do so since 2001. This was achieved at Van Cortlandt park, which is known for being the most difficult Cross Country course on the East Coast.
"Getting first place felt amazing. Since I only started running as a freshman, I never thought I'd be able to get to this level. During the races, I kept thinking about my team and my coach. The first time I got first place, I had no clue until around the end," said Yash.
Running in both the Sophomore and Varsity division, Yash has also won a medal in every meet other than City Champs and the Mayor's Cup. He earned second place at the Queens Frosh/Soph borough-wide Championship meet at Cunningham Park on October 23, and he has been in the top 10 for every other track meet at Cunningham Park.
Yash stands out from the crowd in the two most important Cross Country events: the 5 K and the 2.5-mile race. This month, he achieved his own personal record of 18 minutes and 10 seconds for the 5K.  He also has the fastest 2.5 mile time on the team, finishing the run in just 14 minutes and 50 seconds.
Of course, none of this comes easy. Yash trained over the summer and resumed conditioning with his coach during the fall to reach his current level of ability. "Over the summer, I trained with Nike. I would take the hour and a half train ride with a girl from the girl's team, Tahsin Akanda, to go up to Van Cortlandt Park to get a workout from Nike. I also took part in Big Apple Cross Country Camp held by PSAL in Cunningham Park."
Working this hard over the summer required serious motivation, determination, and tenacity, but Yash doesn't attribute all of his success to his summer routine. "I also give a lot of my credit to my coach and my friends and family. Without my coach's training and the immense support I received from my friends and family, I don't think I'd be at the level I am."
Breaking records since the start, Yash achieved the freshman record for the 2000 meter steeple race. A year later, he continues to excel and is training to break 5 minutes for the mile in Indoor Track. When asked about his future plans for running, Yash replied, "Who knows? I don't think I want to make running my main career, but a running scholarship would definitely be nice."