Austin Street: where to grab a bite to eat

This month, I traveled to the neighborhood of Forest Hills to sample the eateries in that portion of Queens. What I found were three outstanding places to get three distinct types of food.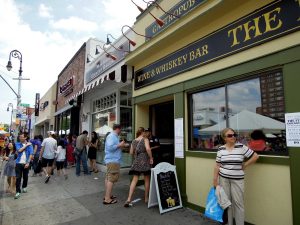 Pahal Zan
106-12 Continental Ave (underneath the LIRR station)
This kosher Mediterranean/Middle Eastern grill is very similar to Grill Point, the restaurant I reviewed last month. They are best known for their falafel, and they have both platters and pita sandwiches, which are filled with the same salads and sides. I decided to get the lamb kabab, "seasoned in Moroccan style," in a pita sandwich. I was able to get that and a bottle of water for only $11, and considering that this restaurant is kosher like Grill Point, the price was a steal. The service and décor were both above average, and did not detract from the quality of the food at all. I highly recommend getting this if you're in the mood for some quality Mediterranean food.
Food: A
Service: A-
Décor: B+
Overall: A-
Martha's Country Bakery
70-30 Austin Street
In the mood for a cupcake? How about a cookie? Maybe a cake? A pie? If you love quality baked goods and hot or cold café drinks, Martha's is definitely the place for you. Though there are also locations on Ditmars Boulevard in Astoria and on Bell Boulevard in Bayside, the most famous and arguably the best one in this chain is the one stationed in Forest Hills. They offer 15 types of cake, 10 types of fruit pies, and an endless amount of café drinks (coffees, lattes, etc.), along with many other baked goods. The staff worked very fast but somewhat inefficiently to serve the long line.  The décor of the bakery was very homey and inviting. The two cookies I got were very good, and I recommend any of the 3 locations of Martha's to anyone looking for a great bakery, though pastries are not my favorite thing in the world.
Food: A
Service: B-
Décor: A
Overall: B+
Gloria Pizza
108-22 Queens Blvd.
As a big fan of homegrown New York pizza, Gloria stands out for me as one of the best options.  Their staff is very friendly and helpful, and the décor is a modern take on the old-fashioned booth and counter pizzeria. The food itself has always been outstanding when I've been there, well worth the high price. This time I got a chicken roll, complete with extra tomato sauce. This is some of the best pizza I know of, so eating here should definitely be on everyone's list of things to do.
Food: A+
Service: A
Décor: A
Overall A
Leave a Comment
Your donation will support the student journalists of The Classic. Your contribution will allow us to purchase equipment, support our extracurricular events, celebrate our staff, print the paper periodically, and cover our annual website hosting costs.