Boys fencing lunges into new season

The Townsend Harris boys fencing team, the reigning Queens division champions since the 2011-2012 seas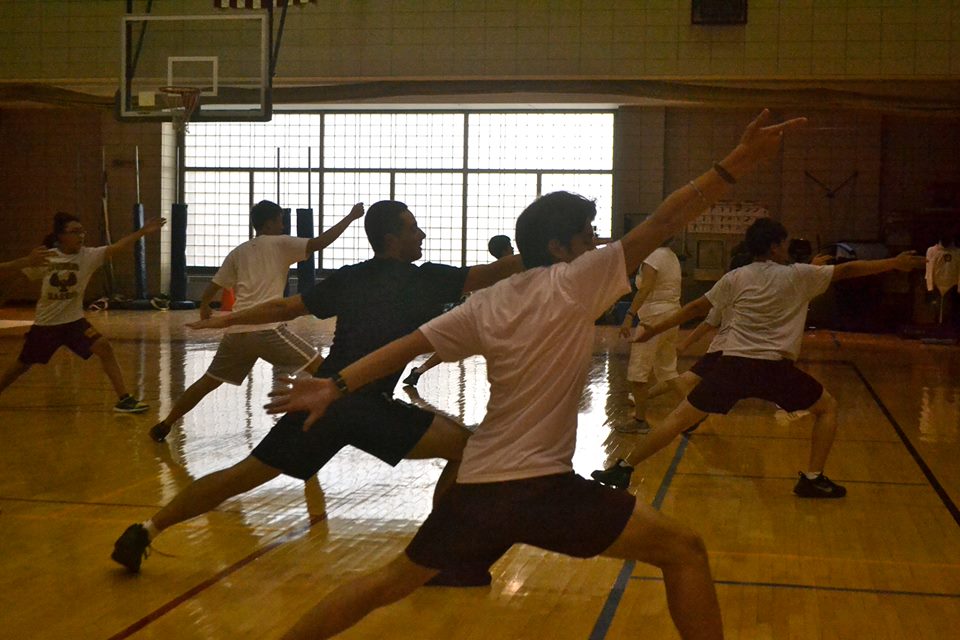 on, took fifth place in the city last year against powerhouses such as Stuyvesant and Brooklyn Technical High School. With last year's captains Jason Mills, Nabil Khatri and Zunayed Abdullah departing for college, the returning senior fencers are sharing their plans for this upcoming year.
In the sport of fencing, fencers score points against one another using blades. In each bout, or individual match, five touches must be made in order to win. There are three styles in fencing: foil, épée and sabre. Each style uses different rules, fencing techniques, and fencing equipment. "Although fast," says their coach Katherine Yan, "it is also a sport that requires athletes to possess great discipline and focus; it challenges the players both physically and mentally."
According to our own Harris fencers, both the overall mental aspects and friendly atmosphere make the sport enjoyable.
Junior foilist Andy Hua said, "I enjoy fencing because it's like a game of chess, and it isn't a sport that's based heavily on athleticism."
When asked about fencing, sophomore and longtime épéeist David Zarowin replied, "I've always loved fencing. Moving across the strip, planning your next move…I just love it."
Senior Matt Rosales added, "People here will still accept you even if you suck at fencing, so long as you do work and try."
In addition, there are definitely some close bonds that the team share. Matt said, "We pretty much share all of our resources with each other whether it be food, knowledge, or our mutual care for each other." However, even in this open and friendly atmosphere, there are times when fencing is stressful. He added, "You have to win because the team is the best in Queens and you have to live up to that, and our conditioning is not light work either, because we have to work hard for these wins."
Seniors Andy Yeung and Matt Rosales have expressed their plans for this year. In terms of who would take the position as captain, Matt was not really interested. He said, "I don't really care who the captain is so long as we as a team are on track with our goals this year."
Unlike Matt, Andy was more interested in becoming captain. He explains, "I think I'll be a decent captain because of my personality rather than my skills. I'm not the best fencer but I think I can get my team to focus and be on track." He quickly added, "I'm not worried about the team's abilities to fence. We'll just give it the best we have, but we have to work as a team."
Ms. Yan has absolute confidence in the seniors' skills as captains, lauding them for their communication skills with other team members. She also praised them warmly for their dedication towards the team, saying, "Each one of them cares about the team's success, not just their own individual progress."
Having started practice even before the start of school school, the seniors are ready to guide the team and do the best they possibly can to live up to their reputation.
Leave a Comment
Your donation will support the student journalists of The Classic. Your contribution will allow us to purchase equipment, support our extracurricular events, celebrate our staff, print the paper periodically, and cover our annual website hosting costs.