Harrisites too young to cast ballots volunteer instead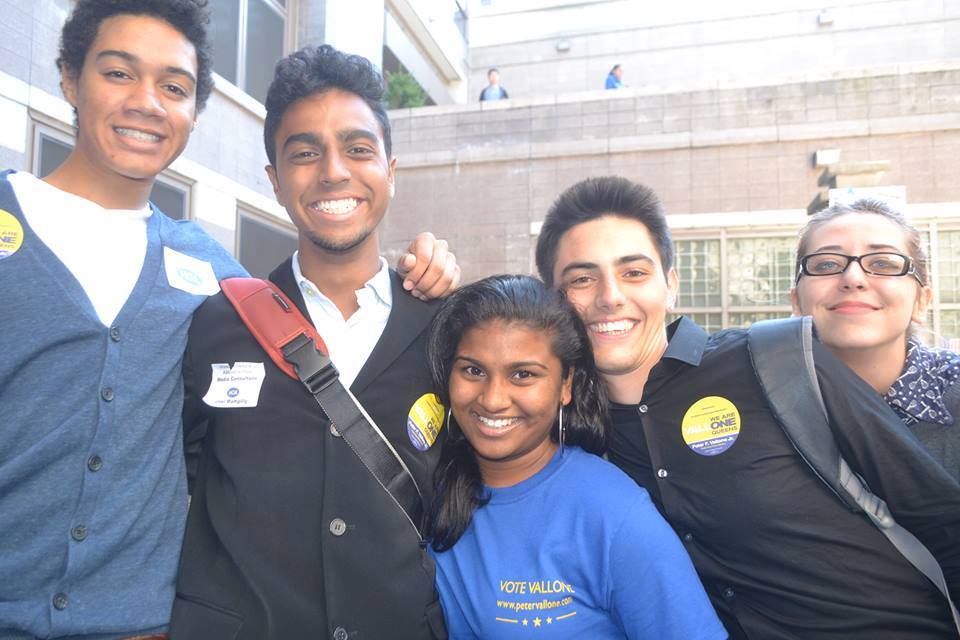 At Townsend Harris, Government and Participatory Democracy classes require all seniors to contribute ten hours of service to a candidate or local politician in New York City. The goal is for students to better understand the legislative and democratic processes behind local leadership and current events. Additionally, underclassmen also participate in summer campaigns to bolster their academic resumés and gain work experience and leadership skills.  With local elections dominating the 2013 election, numerous students spent their summers on the campaign trail.
Many campaigns were ecstatic about having Harrisites volunteer.
Rebecca Pineiro, Field Organizer from the Peter Vallone Jr. Campaign for Queensborough President, said, "Before working on the campaign, I didn't know much about Townsend Harris or the people who went there. However, the quality of interns from Townsend was always amazing, and convinced me that on my next campaign, recruiting at Townsend Harris will be a priority."
Sometimes this volunteer work has led to graduates of THHS returning to as official members of campaign staffs.  Alumna Sydney Spinner served as Volunteer Coordinator for the Austin Shafran Campaign for City Council District 19.
"I got to watch one student I had as a tenth-grader in my Constitutional Law class develop organizational skills and become the friendly, sweet leader I knew she could be," teacher of Social Studies Linda Steinmann remembers. "She then came back and recruited Townsend students for the Shafran Campaign. She developed skills she never knew she had because of the experience. The most important skill students learn in the ideal internship is organization, which allows them to be better leaders and better deal with high school."
Spinner raved about the involvement of Townsend Harris Students: "[It] was an absolute pleasure working with my fellow Harrisites. This summer I wound up having around 150 people from Townsend Harris as interns and volunteers. These interns were the infrastructure of our organization [and] they were a great team to work with. I will really miss working alongside them."
With an inside perspective to the intense fights for positions for New York City Mayor, Queensborough President, and City Council District 19, Townsend Harris students shared their experiences in multiple interviews.
—
Austin Shafran for City Council, District 19 – Cydney Downes, Senior
Q: What campaign were you a part of?
A: I was working with the Austin Shafran Campaign for City Council.
Q: How/why did you get involved?
A: Well, I guess I first got involved because we had to fulfill our political service hours. My friend recommended me to join the Shafran campaign. The people there were really nice and welcoming, which made me want to stay and help out longer.
Q: What were some of the issues in the campaign?
A: Some of the big issues included over development and education. His goals were to reduce class sizes and to strongly enforce zoning regulations for developers.
Q: What was your role within the organization? What skills did you gain from working there?
A: I mainly helped with the canvassing, so I helped hand out literature. I guess I was able to gain more confidence from being able to tell people about the issues that were relevant to Austin's campaign.
Q: How did working there change how you view politics?
A: I gained a lot more knowledge and interest about politics. Previously, I didn't really follow the race, but because of my experiences with the Shafran campaign, I was able to partake in something amazing. It was really fun to be a part of something which could help my community.
Q: Tell me about your most significant experience within the campaign.
A: I guess it would have to be the day of the primary. We were all really excited and wanted to do everything we could to try and make a difference in the results of the election.
Q: How did you and the campaign take the loss?
A: Well, we certainly felt disappointed, but it was definitely a really great learning experience. One that I would recommend to others, so they can help out their community as well.
—
Bill de Blasio for Mayor – Lilly Rada, Senior
Q: Why/How did you get involved with the campaign? Why Deblasio over other candidates?
A: Initially, I was working for Assemblyman Phillip Goldfeder of District 23. There a team leader from the de Blasio campaign recruited me. This was during petition season, for me petitioning was the test run. Ethically before joining, I researched Bill and was drawn in by his willingness to tax the wealthy and invest in early childhood education. I like his idea of using this money to establish a universal Pre-K system which would further snowball into fewer struggling schools. But overall, I met Bill several times and have come to know him as an earnest family man. His campaign was stellar. He didn't discriminate because of our age but rather listened and respected our ideas.
Q: How did you contribute to the campaign? Tell me a little more about some of the work you did.
A: I was a Queens Intern early on in the campaign and eventually became a Queens leader training other volunteers. I attended press conferences, I went to a rally in Rockaway that was against the closure of St. Johns, I went to do visibility at the Colombian Day parade at the Jamaican Jerk Festival, and I also accompanied Bill on streets and subways of Queens to greet people and hand out literature.
Q: Tell me about how that translated on primary day. How did you feel during the day? How did you feel when you found out you won?
A: There was a huge countdown probably three weeks before primary day. On primary day, straight after school I went home and took my parents to vote. [Later] I went to headquarters in downtown Brooklyn and phone banked, making sure all the contacts we made went out and cast their ballot. There was a huge party for the campaign that very night. We never fully acknowledged the fact that Bill had won until Thompson conceded but the feeling of a job well done–that is, campaigning with a victory–is still quite surreal.
Q: How has working with de Blasio changed your outlook on local politics, your community and New York City?
A: At first, I really wasn't interested in politics at all. The interest was sparked by my first internship with Mr. Goldfeder doing constituent affairs. I think the most important thing I learned from the de Blasio campaign is that we the people actually do have a say and can contribute change. Concerning NYC, de Blasio opened my eyes to the crisis of inequality, what he termed "a tale of two cities," that is going on in the city and the urgency with which we must act to change it.
Q: What skills did you discover/develop?
A: I learned a lot about public speaking and got out of my own comfort zone. With this real life experience I learned that you don't necessarily have to be a genius to succeed in the world. To be successful you need to know how to communicate your ideas properly, be strategic, keep connections, and preserve your humility as best you can.
—
Bill Thompson for Mayor – Dominique Dixon, Senior
Q: Can you tell me a bit about how and why you got involved?
A: Well, I first researched all the candidates for mayor and decided on Bill Thompson because I agreed with a lot of his views.
Q: What did you do?
A: Regarding what I did, it was just normal campaign stuff. I did mostly phone-banking and data entry. I also helped put together canvass maps, although I didn't participate in canvassing myself.
Q: What skills did you discover/develop because of the internship?
A: On the campaign, I learned that I enjoy speaking with people in a professional way. I also developed some persuasion skills while phone banking.
Q: How did you react to the results of the primary?
A: I was a little upset when I learned Thompson was behind de Blasio and I hoped there would be a runoff. However, even though there wasn't, I'm glad Thompson put his full support behind de Blasio in the end.
Q:Did working on the campaign change your outlook on politics and life?
A: I guess the end result was that I became more interested in politics and became more aware of what was going on when it came to major issues.
—
Peter F. Vallone Jr. for Queensborough President – Yasmin Ally, Sophomore
Q: Tell me a bit about why you joined the Vallone Campaign.
A: I always had an interest in politics, and when I heard of an opportunity to work for a politician's campaign, I was more than excited to be a part of the process, and to help him achieve his goal of getting elected.
Q: What were some of the things you got to do?
A: I phone banked, attended events, and canvassed some neighborhoods.
Q: Did your outlook on life change at all because of working here?
A: Yes. Watching a campaign and being a part of it are two different things. This experience definitely taught me countless things about working and being a part of the real world.
Q: What was your reaction to the results of election night?
A: I didn't expect that he wouldn't make it through the primary. I thought after all of the hard work everyone contributed to the Vallone campaign, that we had a sure win.
Q: What can you say about interning for those who have never worked with a candidate, politician, or campaign?
A: I'd highly recommend it! You experience a new environment and form great connections which may come in handy in the future.
—
Melinda Katz for Queensborough President – Stephanie Yeh, Junior
Q: How did you get involved with the Katz Campaign?
A: Originally Amanda Lee was on the campaign, and when she told me who it was for I wanted to get involved too because I remembered Melinda Katz as a well known person in Forest Hills.
Q: What attracted you to the Katz campaign?
A: I was attracted to the campaign because of her status in Forest Hills. When I was younger, she had helped to establish the girl's softball teams in my little league so I wanted to give back for helping to shape much of my childhood.
Q: What were some major issues in the race? How has your perspective on these issues changed as a result of working with Katz?
A: Some of the major issues we talked to voters about were jobs, education, reforming stop and frisk, and helping senior citizens. Working with this campaign made me believe that there could be a positive change among these issues because I was familiar with Melinda's positive work in the past. I remembered how dedicated she was towards helping AD 283 and I thought she would be as dedicated to helping the rest of Queens.
Q: How has this internship changed your outlook on your community and local politics as a whole?
A: I've realized that although New York has such a high population not many people vote. In fact, NYC has one of the lowest voter rates. This has made me more aware of local politics because I will have the power to elect my officials and I know that every vote matters.
Q: How did you feel on primary day? How about when you got the results?
A: On primary day I was really nervous because I knew the campaign wasn't really over until the last second. After school I had gone out to hand out literature near a polling site in Rego Park and I watched as people walked in and out of the school knowing that they could make or break us. When I finally learned that Melinda had won I was overcome with a sense of relief. I knew that all the hours I put in made a big enough difference.
Q: Are you satisfied with the work you did? What can you say about interning for those who have never worked with a candidate or on a campaign?
A: I am satisfied with the work I did because not only did the campaign help Melinda, it helped me become a stronger speaker. For those who have never worked on a campaign I would recommend it because you learn a lot about the behind the scenes work of a campaign as well as meet great people.
—
Few students who participate in these internships continue volunteering or pursue political careers, but all are forever marked by their experiences, both by the campaign and by the candidate.
Townsend alum Ella Leviyeva, a freshman attending St. John's University, remarks on her time with the Grace Meng Campaign for NY Congressional District 6:
"I volunteered for the Grace Meng campaign last year. At first I was unsure what my participation in a campaign for a candidate I didn't know much about would do for my understanding of government and politics. After spending multiple after school sessions calling registered voters and weekends canvassing around neighborhoods, I became really invested in the cause. I can confidently say that my participation as a volunteer for a campaign made me more politically aware. You walk away with a desire to follow that candidate's progress and final result, which ultimately gets you doing something that not many kids our age are interested in anymore, and that's watching the news and understanding the politics of things."
Political service will be a part of every Harrisite's senior experience for years to come, allowing every student who passes through the halls of Townsend Harris to fulfill the last line of the Ephebic Oath: "I shall not leave this city any less but rather greater than I found it."
Notes:
Canvassing – Systematic direct contact commonly used by political campaigns to target a large group of potential voters. Canvassing is used to solicit votes, build activism, educate the public and create visibility for the candidate/campaign. Canvassing is done through face-to-face interactions, accomplished by knocking on the doors of private residences, and through telephone calls. These conversations are the most effective way to earn votes, and are essential to any campaign's field program.

Phonebank – A group of volunteers who call through lists of registered voters for a predetermined amount of time, in order to solicit votes and persuade voters to cast their ballot for a specific candidate.

AD – Assembly District. New York is divided into 150 districts, each with an assemblyman who represents the people of that district in the New York State Assembly, one of the two legislative houses of New York State.
Leave a Comment
Your donation will support the student journalists of The Classic. Your contribution will allow us to purchase equipment, support our extracurricular events, celebrate our staff, print the paper periodically, and cover our annual website hosting costs.