Harrisites recount their injuries from school

Townsend Harris's mantra, "a fit mind is a fit body," is present in every aspect of school life: from students doing homework, taking tests, running a mile for gym, and to even walking up six flights of stairs. On a daily basis, Harrisites prove themselves as mental athletes in the classroom, but they test their agility in the gymnasium. Although it is important for students to engage in physical activities, some Harrisites just can't seem to avoid the injuries that follow.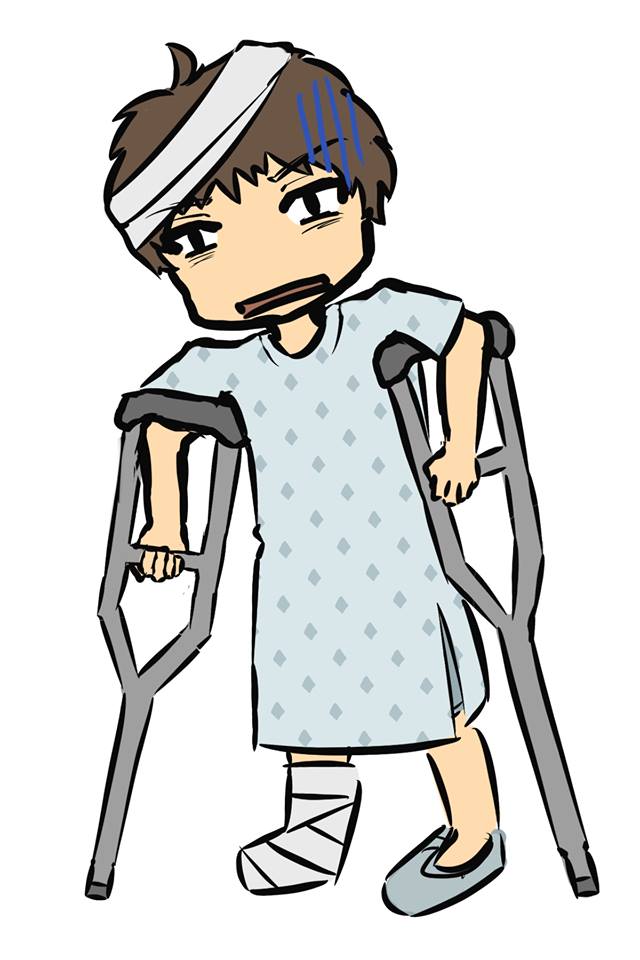 The school nurse, Ms. Linda Carter, expressed that when a student is injured, there are a certain lists of do's and dont's that she must follow when deciphering a diagnosis and treating the student.
"We can give students ice packs, compresses, Band-Aids, gauze. Also, we can measure basic vital signs, such as their pulse, temperature, blood pressure, and listening to their lungs,' [all of these things] can be crucial to more serious accidents that occur. But, under no circumstances can we administer medications without a doctor's order," she said. These rules apply for every student, no matter their circumstance.
Ms. Carter also noted that due to an overwhelming amount of stress students experience from classes, clubs, and teams, many Harrisites alienate their immune systems and visit the nurse on account of a headache or a cold.
In this case, the nurse can allow them to rest and lie on the sofa, or call their parents to go home early. But, alongside with these benign illnesses, the nurse voiced that she has been faced with many challenging injuries.
Sophomore Leann Senat recounts her experience of getting injured while playing a game of European Handball. "I tripped over a girl's foot and landed on my ankle. Two kids from my class helped me over to the nurse and after I was secured in a wheelchair, my foot was iced and my parents were called to take me home." Though she sported crutches for the weeks following, she made a full recovery.
Also, senior Shweta Gupta reminisced with a sheepish smile, "Last year in freshmen gym, I was stung by a bee while running on the track; the nurse gave me ice to prevent major swelling."
Finally, another senior, Sahim Senat spoke about his accident on the sophomore ice skating trip, when he was accidentally pushed down to the ice, with his friends' knee landing on his ankle. He noted that, "It was the most painful experience of my life and I remember laying on the ice until a first response team was able to place me in a wheelchair and take me to the nearest hospital."
Though everyone admits they do not like to get injured, the question becomes whether or not Harrities make adequate attempts to prevent these accidents from occurring? Nurse Carter said, "A lesson to take away from these injuries is to consider your health. Make sure as a community, we all stay hydrated, fully rested and stay home when we are sick, because more accidents occur when our immune system is compromised."
As the new 2013-2014 school year begins, Ms. Carter, said that she "looks forward to a healthy, happy school year" for all the members of the Townsend Harris community.
Leave a Comment
Your donation will support the student journalists of The Classic. Your contribution will allow us to purchase equipment, support our extracurricular events, celebrate our staff, print the paper periodically, and cover our annual website hosting costs.