Boys cross country win borough challenge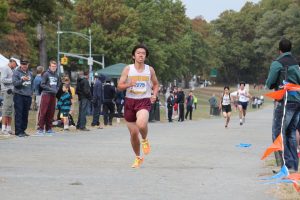 On October 19, the boys cross country team competed in the Marty Lewis Borough Challenge at Van Cortlandt Park. After a stellar performance in all three events, the team earned the number one spot in the Borough Challenge.
The Borough Challenge comes at the midway point of the boys cross country season, making it a great opportunity for the boys to prove themselves.
In the freshmen 1.5 mile event, freshman Justice William led the team with a time of 10:42, placing 15th. Justice was followed by freshman Matan Zeigel with a 10:48, achieving 23rd place. Freshman Issac So finished with an 11:29 after sprinting ahead of two runners in the final stretch, earning 40th place. Freshman Benjamin Pulatov was the final runner of the team to finish with a 13:20, receiving 83rd place. Despite their strong finish, the entire group expressed a desire to have done better. Justice explained that he had started too slow, resulting in his failure to meet his goal. Isaac also felt that he could have finished faster than his final time.
Following the Freshmen 1.5 was the Varsity 5k, or 3.1 miles. In this event two of the boys set personal records. Junior Yash Sharma finished first for the team, breaking his record with an 18:26 and a medal because of his tenth place finish. He was followed by senior captain Thomas Sullivan who broke his personal record with an 18:32 and 12th place finish. Freshman Muhamed Bicic finished in 22nd place with a 19:01, closely followed by junior Zach Ooi with a time of 19:10 and a 26th place finish. Sophomore Abdoulaye Diallo and junior Shaunak Kapse were next with 61st and 70th place, respectively. Sophomore Matthew McAndrew was the team's final runner to finish in 82nd place. Both Yash and Thomas, though tired, were especially happy with their new records.
Last was the Junior Varsity 5k event. The team did especially well in this event with the entire team finishing within the top 30. Sophomore Matthew Sullivan led the team with an 8th place finish and a time of 21:11. He was followed by junior Igor Portnoi and sophomore Aiden Moran, who finished in 14th and 15th place respectively. The two were then followed by sophomore Benjamin Chang and senior Brian Van. Both finished with 22:13, earning them 18th and 23rd place. Sophomore Dyrson Marshall and junior Junwoo Shin then both finished with 23:53, earning them 31st and 32nd place respectively. The final runner of the group Fahim Nousad finished with a 24:38, earning 36th place. Of the members of the Junior Varsity squad, Brian Van was most ecstatic about his new personal record of 22:13. Most of all he said, "I've improved so much in the last two weeks." In those two weeks, he explained that he went from placing somewhere in the 50s, to placing in the top 20s.
At the end of the day, Townsend Harris emerged as the victor, bringing home first place by earning the most points in total from every event. Many of the runners brought home medals in proof of their accolades.
Leave a Comment
Your donation will support the student journalists of The Classic. Your contribution will allow us to purchase equipment, support our extracurricular events, celebrate our staff, print the paper periodically, and cover our annual website hosting costs.