Students join event to memorialize lives lost at Sandy Hook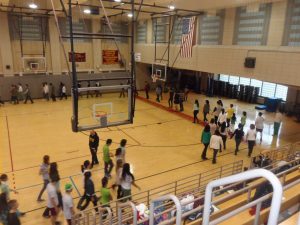 An assortment of Townsend Harris students, donning green and white colors, rallied together in the gym to take part in "Walk 27" and commemorate the lives lost at Sandy Hook Elementary School.
Junior Noor Javid organized the walk, wanting the Townsend Harris community to come together and "honor them by walking in their memory." She explained that "Walk 27" was a global event started on Facebook by a man who inspired 81,000 people all over the world to walk on December 21 at exactly 9:30 A.M. for 27 minutes.
Every minute of the walk honored a victim. As students marched on in silence, brief but touching recollections were shared about each life lost. They learned of the children's dreams for the future, their hobbies, and even the last things they said to their families that morning.
The recollections brought tears to students and teachers alike as they learned more about the victims of Sandy Hook.
Benjamin Wheeler, 6, told his mother "I still want to be an architect, but I also want to be a paleontologist, because that's what Nate [his brother] is going to be and I want to do everything Nate does."
Jessica Rekos, 6, wanted a cowgirl hat and boots for Christmas because she loved everything about horses.
Chase Kowalski, 7, wanted his two front teeth back.
After the walk, Noor said, "It touched my heart how the Townsend Harris community was able to come together and remember the 27 people who died in the tragic event and that we could mourn together and remember their families."
A picture was taken of all the participants and sent to Sandy Hook Elementary School.  It was also posted on the Facebook page dedicated to commemorating the victims.
Other schools and groups did the same, showing the families and friends of the victims that they have world-wide supporters.
Wendy Camio, freshman, said, "It was really heartwarming that we all got together for this great cause."
Mr. Adamkiewicz, Physical Education Teacher, said, "It was inspirational to see the students come together to walk in silence."
"I thought the walk was inspirational and thoughtful, and shows the caliber of students we have at Townsend Harris," said Principal Anthony Barbetta.  "They always want to do something. I think of the Ephebic Oath; they always want to do something better, not only for our city, but also society."
Leave a Comment
Your donation will support the student journalists of The Classic. Your contribution will allow us to purchase equipment, support our extracurricular events, celebrate our staff, print the paper periodically, and cover our annual website hosting costs.