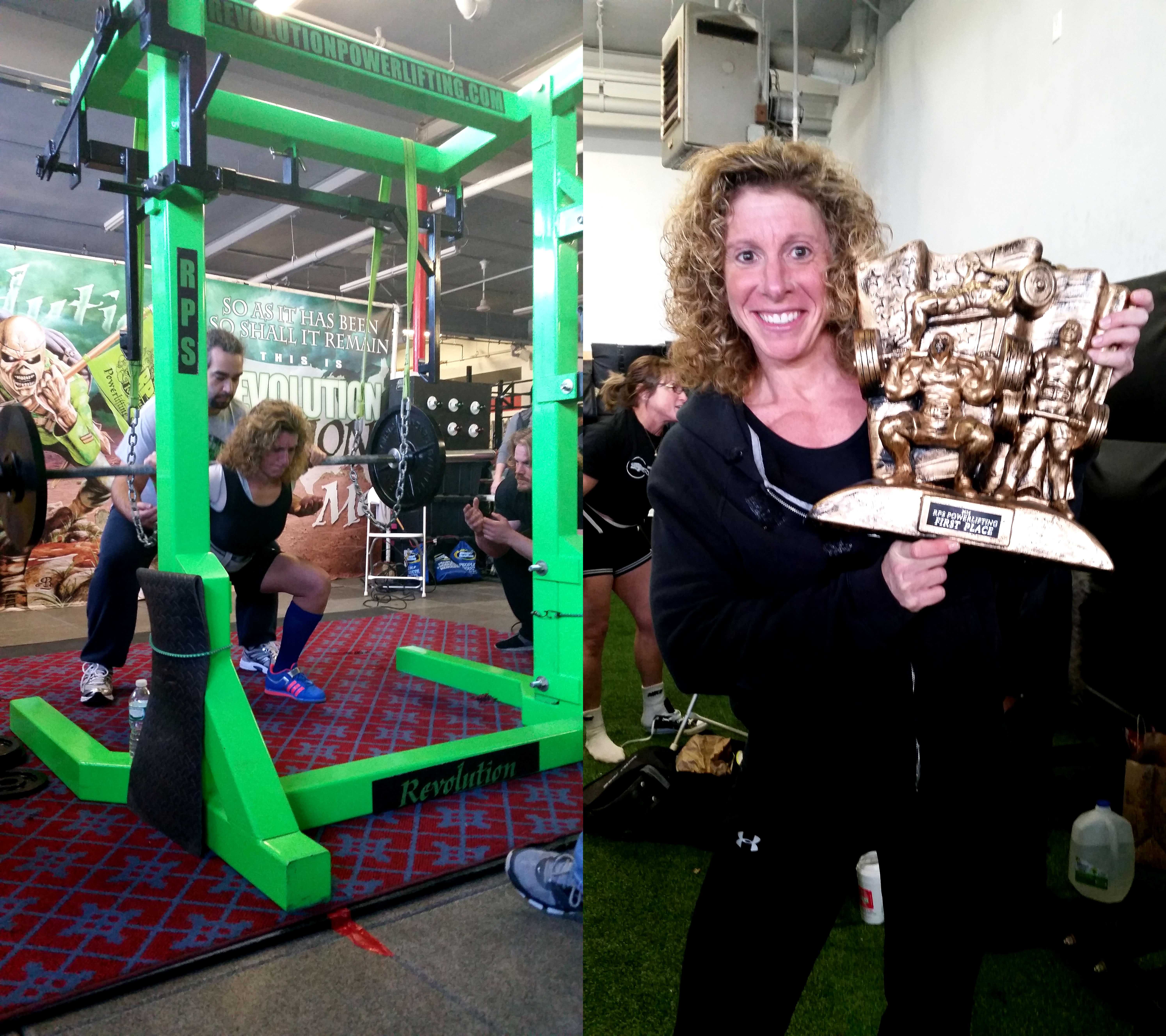 Teachers are more than just the eight hours they commit themselves to at Townsend Harris. Outside these walls, they all have families, hobbies, and interesting stories. Besides being the dean and a Physical Education teacher, Robin Figelman is also a competitive powerlifter.
On November 15, Ms. Figelman won first place in the 45-50 year old age group  at her first powerlifting meet held at CrossFit Strong Island. Ms. Figelman entered the competition with the odds against her: despite weighing 124 pounds, Ms. Figelman competed in the 132 pound weight class because she was a pound over the 123 pound group.
Powerlifting is a form of competitive weightlifting involving three different types of lifts: squats, deadlifts, and benchpresses. Of the three exercises, each competitor has three attempts to reach their maximum weight. Competitors must lift and then put down the weight in accordance with commands from the judges. Ms. Figelman successfully deadlifted 210 pounds, squatted 170 pounds, and bench pressed 130 pounds.
Though the weight she lifted for benchpresses was lower than her expectations, she met her expectations for squats and exceeded her expectations for deadlifts. Each time, judges evaluated how much control she had of the movement before returning the weight.
In order to participate in this meet, proper training was vital. Ms. Figelman had been working with a personal strength and conditioning coach three days a week at Excel Physical Therapy in Manhasset since the beginning of July 2014. Her training routine consisted of squats, deadlifts and bench presses twice a week, fifteen minutes of high intensity interval training twice a week, and squat, presses and pull ups once a week.
Along with her physical conditioning, she paid close attention to nutrition as well.
Ms. Figelman said, "I use the Fitness Pal App to help me keep track. This new way of counting MACRO's (fats, carbohydrates, proteins and fiber) allows me to eat anything I want as long as it fits my daily plan. My coach has calculated all of this for me based on my height, weight and activity level."
Although Ms. Figelman had just recently started her training for her power lifting competition, she has been strength training for about twenty years. It was her very own physical education teacher that inspired her to go and lift.
Ms. Figelman said, "Power lifting [and] weight training shapes me as a person by giving me the strength, endurance and perseverance to have a strong mind as well as a strong body… I am attempting lifts that are extremely heavy, so having confidence in this transfers to all aspects of life. "
Ms. Figelman's mentality used in powerlifting has also spread to her students.
Senior Janaiya Banks, a student of Ms. Figelman's, said, "She is motivating when we are in gym class, always pushing us to work harder. Also, she motivates me to succeed through our talks in her office."
Although building muscle has a reputation for being a male-dominated area, it has increasingly become common for females to participate. In fact, 40 women met the requirements for the 97-148 pound weight class at her meet session, while only five men did.
"Weight training is a way to strengthen mind and body and you shouldn't let your fears or limitations stop you from achieving," she said. "You don't have to be bulky. I'm lean and fit and and I'm still lifting all that weight."
Ms. Figelman hopes to compete at another powerlifting meet in the future.