For PE teachers, exercise goes beyond the classroom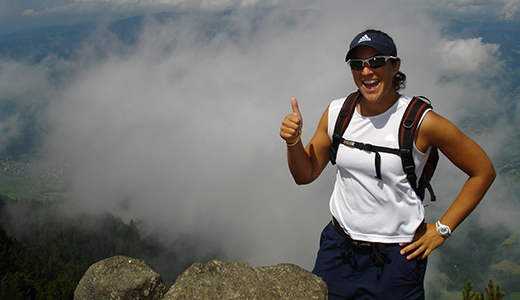 PHYSICAL EDUCATION (PE) may be a touchy subject for many students at Townsend Harris High School. Many tend to resent the rigidity and demanding nature of the PE classes at THHS, and maybe even physical activity in general, but this is certainly not so for our physical education teachers.
Unlike some students, PE teachers share a deep love and interest for what they do; this is reflected by their activities outside of the classroom.
PE teacher and dean Robin Figelman always tries to stay active and complete her workouts during her free time.
"I use the Queens College weight room every morning at 6:30 A.M. before I teach my zero band classes. I do cardiovascular exercises, ride the Cybex Elliptical Machine, and power lift," she said. "On certain days, I also do regular weight training exercises." She added, "I am a true believer in the saying, 'a sound mind, a sound body.'"
PE and health teacher Maria Assante lists walking as her top athletic hobby, saying that, unlike running, it is less straining on her knees while simultaneously burning the same amount of calories, but over a longer period of time. To vary her routine, she also swims and bikes.
PE teacher Raymond Adamkiewicz said that his outside activities include membership in both an indoor league as well as an outdoor Sunday league for soccer. Describing them, he said, "Both of them take place in Long Island. One is an adult full-fledged Sunday team, while the other is an indoor over-30 league."
He has a simple reason for his love for working out: "Because I wanted to live long and prosper." He also remarked, "I want to be a great role model for my students. I do more because I enjoy it, and because I want to stay fit."
PE teacher Lauren Caiaccia has a more well-rounded taste for exercising. She said, "I like to mix up what I do: I like to bike ride, and I like to boat ride. When spring break comes up, I like to enter some races."
Ms. Caiaccia also does jogging, but sparingly, due to a leg problem, and also enjoys going to the beach "to catch some waves." She added, "I love to go outdoors when I exercise," admitting that she isn't a big go-to-the-weight-room person. The enjoyment factor is the main reason why she loves to exercise, saying that keeping active releases a lot of endorphins, which in turn gives you a "high energy buzz." For Ms. Caiaccia, another enjoyable component of exercising is doing these activities with family and friends, so she can mix physical activity with the people she loves.
PE teacher and athletic director Keith Hanson says that his personal exercise regime consists of lifting weights and doing cardio at a local gym at five o'clock in the morning. As to why he loves it, he stated simply, "Habit. I've been working out since I was a teenager."
In his youth, Mr. Hanson played all the local sports such as basketball, football, baseball, and handball. Then he got into karate, which became his main interest because of his desire to protect himself against bullies. As he conveyed it: "I was a midget. I was short, and I was picked on a lot."
Later on, he became a teacher because he loved the profession and sports. Even before teaching at THHS, he had previously taught at an alternative school called Lower East Side Prep, instructing students there in both karate and gymnastics.
Mr. Adamkiewicz summed up his feelings: "Sports define my personality. It's part of who I am."
Leave a Comment
Your donation will support the student journalists of The Classic. Your contribution will allow us to purchase equipment, support our extracurricular events, celebrate our staff, print the paper periodically, and cover our annual website hosting costs.