New clubs debut at club fair

By Daniela Zavlun and Nataniela Zavlun, Staff Writers
Hosting a club fair has been a time honored tradition at Townsend Harris and a way for freshmen to assimilate into the school community while getting the opportunity to actively pursue a passion or interest. From the Book Club to the Robotics Team, there are now over 50 different clubs and activities. This year, six clubs appeared at the fair for the first time.
According to club liaison Renaenia Pangan, these new additions include Politics Reborn, Hawkapella, ModlT, Latin Dance Club, Global Society, and the Samurai Club.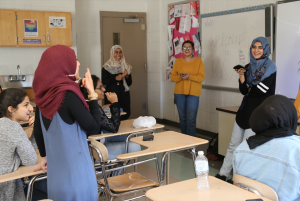 The leaders of these clubs were especially enthusiastic about having the chance to introduce their clubs to other students and gathered many new members at the club fair.
Faye Shemper is working on getting Latin Dance Club to become an official club, and used the club fair to gain recruits. She said "I'm really excited about getting Latin Dance Club up and running. It's something that's been coming together for a while and it's almost here. …Mr. Bermudez and I can't wait to see everyone getting their salsa on."
Senior Vivian Chung, leader of Global Society, discussed her club, saying, "As a club we seek to take advantage of the multicultural community we have by exploring a variety of cultures through food, music, and film, thus being able to bring an understanding of different cultural aspects and perhaps build a bridge between different cultures."
With some of these new clubs in the mix, the decision of which clubs to pick can be a daunting task for freshmen.
"I feel like the club fair was very important to attend, especially if you are still not sure which clubs to choose. It allowed me to retain plenty of information about the various clubs and aided me in choosing my final choices," said Victor Shemper, freshman. He added, "I am hoping for the clubs to be fun and entertaining aside from being helpful and educational in order to get my mind off the school work."
Coordinator of Student Activities Sarah Oberlander was pleased with the success of the fair and the new offerings. She said, "Clubs and extracurriculars provide an environment or platform for expression, growth, and opportunity. These are really essential elements for development, confidence, and happiness. Not every lesson can be taught through a book or classroom. It's really important to have life experiences that support and nurture academia and vice versa." 
Leave a Comment
Your donation will support the student journalists of The Classic. Your contribution will allow us to purchase equipment, support our extracurricular events, celebrate our staff, print the paper periodically, and cover our annual website hosting costs.