Instagrammable Summer Food: three to buy, three to DIY

Are you hungry this summer? Here's some food ideas for you if your wallet is empty or if it's loaded! If you're feeling adventurous, try a restaurant. If you want to keep it simple, try a DIY. These foods are very Instagrammable, for if you want to spend your summer work on your feed's aesthetic.
1. Smoothies:

Everyone wants to eat healthy and get a summer body. Smoothies are great for healthy-eating and can be found at Fitrition in NYC. You might not have the time to get out the house and buy a smoothie, but you can make one at home.
Ingredients:
½ cup of juice
1 cup of frozen fruit
1 cup of yogurt 
Blend all ingredients (add your own ingredients to this base).

Enjoy! 
2. Trendy Hawaiian Meals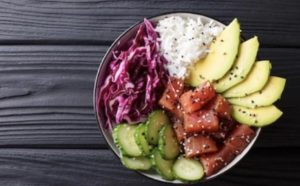 Nothing feels more like summer than the beaches of Hawaii, and many people crave seafood during the summer season. Poke (pronounced poh-kay) Bowls are big lately. According to People,  "Poke means 'to slice or cut' in Hawaiian and refers to chunks of raw, marinated fish — usually tuna — which is then tossed over rice and topped with vegetables and umami-packed sauces." If you want to try the trendiest and highest quality version of this latest trend, head over to Chikarashi on Canal Street.
DIY Ahi Tuna Poke Bowls Inspiration  (Scroll all the way down.)
Ingredients:
1 pound sushi grade ahi tuna, cut into 3/4 -inch cubes
1/4 cup soy sauce
1 teaspoon rice vinegar
1 1/2 teaspoons sesame oil
1/3 cup green onions, thinly sliced
1/2 teaspoon sesame seeds, plus more for garnish
2 cups white rice, cooked
2 cups salad greens

Slice the fish into 1/2" cubes with a very sharp knife.

In a medium-sized bowl; whisk the tamari soy sauce, sesame oil, green onions, red pepper flakes, sesame seeds, rice vinegar and diced Maui onions together. 

Add the diced fish to the bowl and gently mix with the sauce. 

Cover and refrigerate the poke for 30 minutes to allow the flavors to seep into the fish before serving it over rice.

Once you have made your poke and decide on what you want to add to it, you can now assemble it in a bowl. Spoon the fish on top of the cooked rice and add your toppings. Gently stir it up if you want it all mixed together, or leave the layers separate if you want to pick out individual bites of each ingredient. 
3. Frozen Treats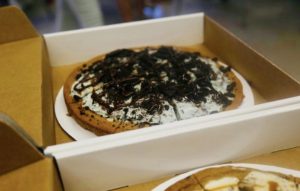 Milkshakes are a great way to cool down in the summer heat! You could go to Black Tap and try out one of the many milkshakes they have decked out with toppings, or make your own with ingredients you can find at any grocery store!
Ingredients:
3/4 cup firmly packed brown sugar
1/2 cup Butter, softened
1 large Egg
1/2 teaspoon vanilla
1 cup all-purpose flour
1 teaspoon baking soda
1/2 teaspoon salt
ICE CREAM
1 quart vanilla ice cream, slightly softened
HOT FUDGE SAUCE
1/2 cup Butter
1 cup semi-sweet chocolate chips
1 (14-ounce) can sweetened condensed milk
Heat oven to 375°F.
Combine brown sugar, butter, egg and vanilla in bowl. Beat at medium speed, scraping bowl often, until creamy. Add flour, oats, baking soda and salt; beat at low speed until well mixed.
Spread dough evenly into ungreased 12-inch pizza pan. Bake 10-12 minutes or until golden brown. Cool completely.
Spread ice cream evenly over cooled cookie. Freeze 1-2 hours or until firm.
Combine all hot fudge sauce ingredients in 2-quart nonstick saucepan. Cook over medium heat, stirring constantly, 5 minutes or until butter and chips are melted and sauce is smooth. Remove from heat; cool slightly.
Cut cookie pizza into wedges. Drizzle hot fudge sauce over each serving; sprinkle with your favorite toppings.
Featured image courtesy of Pixabay.
Leave a Comment
Your donation will support the student journalists of The Classic. Your contribution will allow us to purchase equipment, support our extracurricular events, celebrate our staff, print the paper periodically, and cover our annual website hosting costs.