Spring break cancelled, replaced with daily "enrichment" activities

On Friday, April 3, Chancellor Richard Carranza announced that the entire spring break from April 9 through 17 has been cancelled for all New York City public high schools. However, teachers and students are expected to continue working remotely during this time. Carranza's new announcement includes April 9 and April 10, which were previously the dates of a shortened spring break intended to allow students and teachers the opportunity to observe religious holidays such as Passover and Good Friday. 
Many THHS students are not content with the sudden cancellation of spring break, expressing a common desire for a period of adjustment to remote learning and the constant curveballs the pandemic continues to throw.  
"It is unfair because remote learning is new for everyone, teachers and students alike, and a break would help everyone make changes to their schedule and further adjust to this new way of learning," said freshman Emily Lu.
Freshman Arietta Xylas expressed similar sentiments. "We should definitely find a time to give the kids and teachers a break because this huge change has been a bit overwhelming for everyone."
Others were upset because the canceled spring break would prevent them from being able to properly observe religious customs. Freshman Osher Samouch detailed, "Now I have school during Passover which prevents me from being with my family to celebrate it."  
On the other hand, some thought that the Department of Education's decision was reasonable given the circumstances. Senior Kailey Van stated, "While the cancellation of spring break may be upsetting news, this decision is understandable as the remote learning during our supposed spring break will make up for the time lost from our transition to online learning." 
AP US History teacher Frank McCaughey said, "While I think we all need a bit of a break, I completely understand the DOE cancelling spring break as it is important to keep students engaged during this time."
Nevertheless, the administration has made it clear that although remote learning is still in session through the holidays, they encourage staff and students to honor their religious celebrations if that is their custom, without penalizing them for their absence. They have instructed teachers to assign only enrichment activities throughout the holidays and have developed a calendar (now available on the school website) to organize these assignments by subject for each day.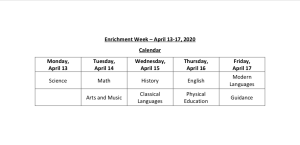 The introduction of this enrichment approach during the course of the spring break has received a lot of positive responses from students and teachers.
"I feel that the school's approach to the DOE's guidelines for spring break is reasonable and understanding because it allows us to not be too overwhelmed during the break," described sophomore Raquel Mulakandov.
 Emily added, "I feel that the school is taking the right approach for spring break. Although students are not getting an actual break, they are getting a break from schoolwork. They will have free time to catch up on any work they need to, and check in with themselves."
Mr. McCaughey agreed, "I think Townsend is taking the correct approach by having lower stakes, enrichment activities. I truly hope it turns out that way for students." 
Leave a Comment
Your donation will support the student journalists of The Classic. Your contribution will allow us to purchase equipment, support our extracurricular events, celebrate our staff, print the paper periodically, and cover our annual website hosting costs.