Handball players reflect on offseason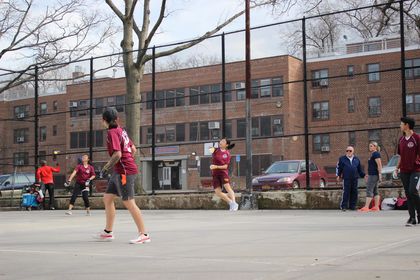 After the reopening of NYC Parks was pushed back from June 22 to July 6, recreational amenities such as basketball courts, tennis courts, and handball courts slowly opened with restrictions. Now, with most handball courts fully reopened, handball players have wasted no time getting back into the game. Despite PSAL sports being canceled until further notice, Townsend Harris' handball players are still finding ways to get involved with their sport in hopes of a spring season in 2021. 
Over the past few months, senior Arnold Yee of the boys' handball team said he played "maybe once every week or two on the weekends." Likewise, seniors Sharon Jiang and Sabrina Eng of the girls' handball team found opportunities to get back on the court when local parks reopened. Sabrina shared how she played with her dad "at the Francis Lewis playground park about three to four times a week" before moving to other parks.
After not playing for several months, Sharon and Sabrina explained how it was difficult to adjust to the sport again."I lost basically all my hand-eye coordination with the ball and it took me some time to start getting used to it. I'd say I'm still not as good as last season, but I hope I'll have more chances to play," Sharon said. Similarly, Sabrina expressed that she "had a ton of frustration because I felt like I wasn't improving, but then I realized doing it was just good exercise and I didn't need to play super well."
Many of the THHS handball players typically gravitate towards Pomonok Playground, which is located directly across Queens College on Kissena Boulevard. Pomonok, a popular location among handball players, often gets crowded during the week. Sharon recalled a time she went to Pomonok with her teammates over the summer and said, "One side of the court was the regulars of the park while the other side was my team and I. The court where the regulars played, almost no one wore a mask as they played, and no social distancing." The crowds have not been limited to Pomonok, as handball players have started to gather at parks all over the city. However, many THHS players have taken the necessary precautions, including wearing masks and social distancing among themselves. 
Despite all the challenges, many are hopeful that a spring sports season will take place. Sharon expressed her love for the sport and said, "Since sophomore year, I have been really passionate about the sport. I love playing handball with my friends and the team… I really hope that we will be able to play for the last time together." Even though "it seems like a long way away… it would certainly be the highlight of my senior year," Arnold added.
Photo by Kristen Zhou
Leave a Comment
Your donation will support the student journalists of The Classic. Your contribution will allow us to purchase equipment, support our extracurricular events, celebrate our staff, print the paper periodically, and cover our annual website hosting costs.