For many, the start of the new decade has been a whirlwind to say the least. In a constantly changing external world, the only unwavering constants have been our virtual escapes. As 2020 comes to an end, The Classic asked students to vote for their favorite apps and games by device. Over 100 students participated. Here are the results:  
Cellular Device App of the Year: TikTok
TikTok's popularity grew exponentially during quarantine. According to Sensor Tower Store Intelligence Estimates, in the first quarter of 2020, TikTok "generated the most downloads for any app ever,…accumulating more than 315 million installs across the App Store and Google Play." Reasons for this came during the time of the COVID-19 pandemic. It has seen "consumers drawn to their mobile devices more than ever as they look for new ways to shop, work, and connect with others." When asked about how tech apps contributed to her pandemic experience, sophomore Aissatou Lam said that "it was a substitute for the social aspect of life. Using TikTok would help fill the void." Freshman Zarah Masud agreed and said,"TikTok was really helpful because it kept me entertained, but also I learned so much valuable information about issues around the world, as well as general things." 
Tablet App of the Year: Google Classroom
Google Classroom was voted the best tablet app of 2020. When the pandemic rose in March towards the beginning of the second semester for the 2019-2020 school year, Google Classroom was the main way of communication between teachers and students. According to a Bloomberg article, the number of Google Classroom users doubled to about 100 million during the pandemic. Whether it was for assigning work, sharing weekly updates/announcements or even for a teacher to check up on their students, Google Classroom was the ideal platform for student-teacher interaction. Latin teacher Jonathan Owens saw Google Classroom as "a life saver that has been indispensable," even if he is still figuring out all its functionality. Aside from teachers, students also found Google Classroom helpful during the start of quarantine, especially because of how familiar the app is to most. Freshman Adam Sayah said that he chose Google Classroom as the best tablet app of the year because "it lets you be connected to teachers and peers even when we are not in the class," and has truly enhanced his education due to all its qualities, allowing him to say on top of his work.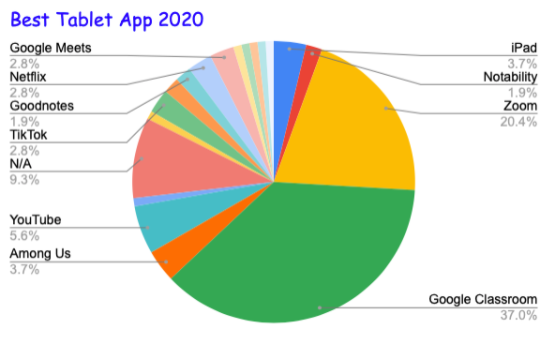 PC/Mac App of the Year: Zoom
Unsurprisingly, the best PC/Mac App is…Zoom! From using it for live instructional classes to hanging out with friends, Zoom is known as a commonly used video communications platform for all ages. Freshman Carina Fucich said that "Zoom definitely helped me facetime with my friends and family. For example, on Easter my family talked through Zoom." Although it was created back in 2011, Zoom has seen a rise in popularity presently due to the ongoing pandemic where most NYC schools, including THHS, have gone fully remote. Librarian ArleneLaverde said, "I prefer Zoom over other video communication platforms because it is easier to set up and has many tools that make it a similar set up to a classroom. As the librarian one of the things I love is seeing everyones name —I am sure you remember when I gave lessons in the library I didn't know everyone's name, so now I do."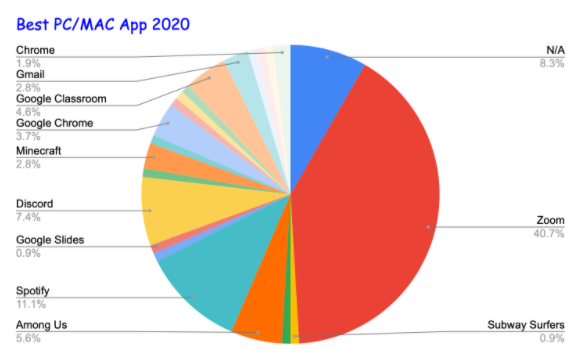 The Best Game of the Year for Both Cellular Device and Tablet: Among Us
Among Us was voted the Best Game of 2020. Among Us is a modern game tailored around classic social deduction games like Mafia. Although the indie game company, InnerSloth, released this game in June 2018, it rose during the pandemic. Senior Amar Maksumić said, "Among Us was the best mobile game since it was free and fun." A CNBC article said that "With its virtual gameplay and dependence on social interaction, Among Us was a perfect fit for virtual socializing — like a board game you play online."