Ms. Manhart retires after 12 years as parent coordinator

Dafne Manhart, who has served as the THHS Parent Coordinator for twelve and a half years, is retiring at the end of this school year.
Ms. Manhart became a member of the Townsend Harris community in 1997, when her first son attended THHS, and she began working at the school as Parent Coordinator after her youngest son graduated in 2008. "Ms. Mars, the language AP at the time, called me to let me know about the open position," she said. "When I officially started to work, it was like coming back home."
During her time here, Ms. Manhart worked to help other parents feel at home at Townsend Harris too. She wrote a weekly parent newsletter, assisted parents with their questions and concerns, and was an active member of the PTA.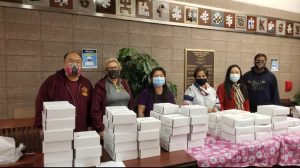 Parent and PTA member Supriya Fernandes said, "She is so welcoming, it never felt like I was a parent of a freshman. She always answered the emails, called, listened to every concern and was available to help." 
"Ms. Manhart has provided tremendous guidance and support to the PTA above and beyond her duties," said PTA member Anna Tsang. "She would get to the school as early as 7 a.m., roll up her sleeves and help, and other times stay as late as 10 p.m. to be there for us."
"She does everything with a sense of joy, she appreciates what's going on around her, she's always enthusiastic, and just available to help out, whether it's people in the community or people that don't get into the community," said Principal Brian Condon. "[There's] real commitment to making the school better for kids, for families, and for staff, so I think we're very lucky to have someone who doesn't view it as a job but views it more as a mission or a personal commitment."
Ms. Manhart said that her favorite part of the job was working with "my boss, Mr. Condon, the co-workers, the parents, and mostly the 'kiddies' as I lovingly referred to the students." 
"She spoke so proudly of many of the students and she knew where everyone was," said Ms. Fernandes. "That shows how much she loves THHS students and they love her." 
Junior Matthew Merino said, "Ms. Manhart has been not only a great mentor for me throughout my years at Townsend, but also an amiable, exceptional person as well.  Every time I have the chance, especially with full-time remote learning this year, I would make it a priority to stop by her office, looking forward to any rich conversations we might have, reflecting her bright character. Townsend Harris would be incomplete without her."
Ms. Manhart's favorite memories were "anything that involved the students," including events such as prom and junior banquet.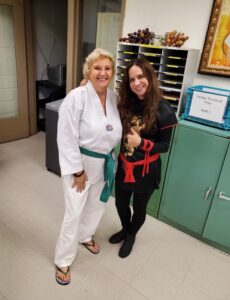 Mr. Condon recalled, "There was a trip a couple of years ago when I first got here…someone was planning an international trip and made a mistake in organizing the proper number of chaperones, and at the very last minute, I needed someone to be able to drop what they were doing and go on this trip, and the first person that came to mind was Ms. Manhart because one, she loves traveling and two, she loves the kids and three, if anyone would take an opportunity from a crisis and turn it into something wonderful it would be Ms. Manhart."
At the final PTA meeting of the year on May 5, the PTA shared a video where teachers, administrators, parents, alumni, and parents of alumni expressed their appreciation for Ms. Manhart. 
"Her energy seems to be inexhaustible and her wisdom shared with love and ease," said PTA member Sanja Bogovic. "She will certainly be very missed in the halls of Townsend Harris."
Ms. Manhart now plans to move to San Antonio, Texas, where she has wanted to live since she was a child. She said, "I fell in love with the area, and I told my children when Mommy retires, I am moving here, and the time has come."
"It's going to be impossible to replace her," said Mr. Condon. "Not even hard, it's going to be impossible because there's not another Ms. Manhart."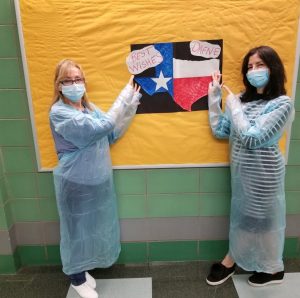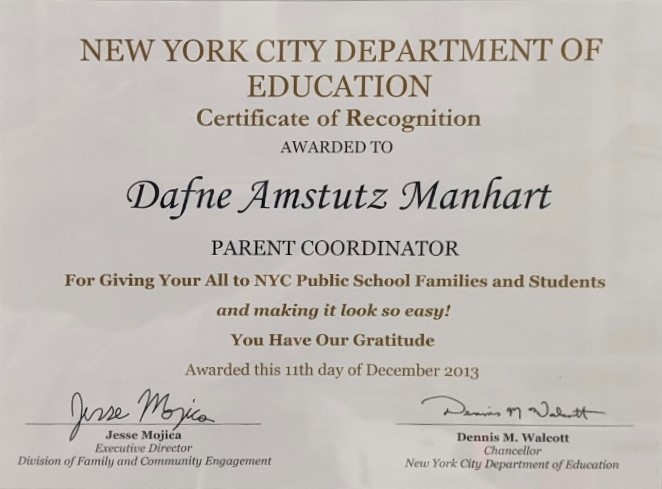 Pictures and video courtesy of the THHS Alumni Association and Sarah Loew
Leave a Comment
Your donation will support the student journalists of The Classic. Your contribution will allow us to purchase equipment, support our extracurricular events, celebrate our staff, print the paper periodically, and cover our annual website hosting costs.