"Season's Readings" encourages Harrisites to read into the holiday spirit

As part of this year's reading initiative at Townsend Harris, Season's Readings, a read-a-thon with a holiday twist, took place this past Friday.
Organized by Librarian Arlene Laverde and English teacher/Classic Advisor Brian Sweeney, this holiday event was the third major reading initiative, following October's all night "Witching Hour" read-a-thon and November's book-themed "Family Feud" game show. The event ran from 4:00-11:00 PM, concluding with a read aloud by English teacher Ryan Dunbar and a few select students from A Christmas Carol, as well as the AirPods Pro giveaway. 
In between reading sessions, students were given a selection of events to choose from, ranging from ornament and cookie decorating to watching movies and relaxing. 
"The whole event has been spectacular," Sophomore Yara Hassan said. "I loved the part where we were reading children's books and the [reader] made different voices as he read the Hanukkah stories. It was amazing. I got in touch with my inner child," she said. 
Alongside the reading and cookie decorating, the students were able to enjoy a range of nostalgic holiday movies such as Home Alone, Elf, It's a Wonderful Life, The Nightmare Before Christmas, and The Muppet Christmas Carol. 
"It was a nice experience to draw on a cookie. I don't get to do that too often," senior John Carlos-Mateo said.
While decorating her own ugly sweater cookie, junior Sara Lukacevic said, "I am viewing this event as a nice way to end the year with the break coming up. It's kind of like a reward for all the work we have done in the past few weeks. I just think that I am glad to have decided to come."
During reading times, students were given the option of either individually reading books of their choice, or attending a read aloud session. There was a session of children's classics read by English teacher Kevin McDonaugh and a session of holiday short stories read by English teacher Brian Brewer. Students could also join a reading session with their younger siblings if they signed up to bring them. Seniors worked with younger siblings and the children of teachers to read children's books.
"[The event] brought back childhood memories of reading picture books and helped [me] to de-stress," junior Hiba Malik said. "I watched a movie upstairs with some friends and [then we decorated] cookies. I want to do another reading portion because between all the events, we didn't get to do a lot of it. I brought my book and I am ready to go."
At the end of the evening, English teacher Ryan Dunbar took to the stage in the auditorium with a group of actors from the Drama Club/THHS Players. They performed a reading of selections from Charles Dickens' A Christmas Carol in the hour before the AirPods prize was given out to Senior Arietta Xylas, a high-scoring participant in the reading initiative's competition.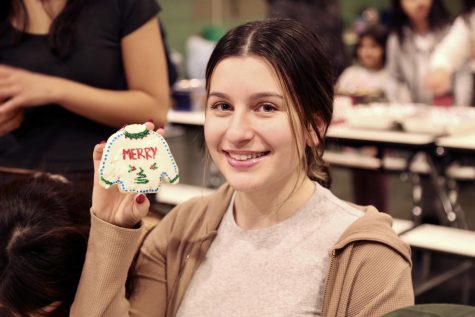 As President of the New York Library Association, Ms. Laverde feels especially passionate about this initiative. Ms. Laverde explained that the grand motive behind this event was getting students excited about reading, as well as promoting the reading competition between the grades. 
"I notice a lot of students do not enjoy reading anymore. We have killed the joy of reading. Assigning pages to read and making you write essays sucks the enjoyment out," she said. "In my experience, in order for you to be a successful student, sometime in your life you had to be a reader — a reader for fun, whether it was in elementary or junior high school. The goal for this was to remind everyone that reading is not this awful thing. We are trying to put life back into reading."
Mr. Sweeney said, "[Season's Readings] is more like a reading themed holiday party. It's the same way some offices and friend groups have parties. We never have one as a school, so we wanted this to act as a party for the school. That is why we are inviting families to come as well. Hopefully, this accomplishes the goal of reading and having a good time."
Mr. Sweeney also explained that these types of events are part of a process of making independent reading more openly a part of the THHS culture. "[For most] things in Townsend, there is a pressure to [become a] tradition, like the Election Simulation which everyone knows about. This is the first year of the reading tradition and if we establish for the freshmen that 'this is just how it is', then eventually it will be how it is."
Mr. Sweeney and Ms. Laverde also spoke about the planning and preparation behind these eventful nights.
"It's nice because [Ms. Laverde] is a librarian so that makes sense that she takes the lead, and I get to help her with the logistics and the planning," Mr. Sweeney said. "But she's the one who is counting all of the points and she is the one who picked the questions [for Family Feud] and reached out to librarians across the country. She's the one making it happen with the little details, and I help her structure it," he said.
"It all happened very quickly." Ms. Laverde added. "I have been pushing for this kind of event since I started [working at] Townsend. When it finally was approved, the planning was like a rocket. Mr. Sweeney and I talked a lot over the summer to plan the year, and one thing I can say about him is that he is my partner-in-crime throughout this."
Reflecting on the excitement that the reading initiative brings her, Ms. Laverde said, "I have a lot of fun watching you guys have fun and watching you guys be kids. It brings back the joy of taking pleasure in the simple things." However, her favorite part is watching students filling out the form to log the amount of hours they have read every week. "Each week we get more hours and more people fill out the forms. People are just reading again. For the sake of reading, and nothing else."
"We will do more events in the spring, we have some plans, and we are working with groups to work on prizes and funding. As for the grand prize, we will have an overnight field trip at the end of the year," Mr. Sweeney said.
Leave a Comment
Your donation will support the student journalists of The Classic. Your contribution will allow us to purchase equipment, support our extracurricular events, celebrate our staff, print the paper periodically, and cover our annual website hosting costs.
About the Contributors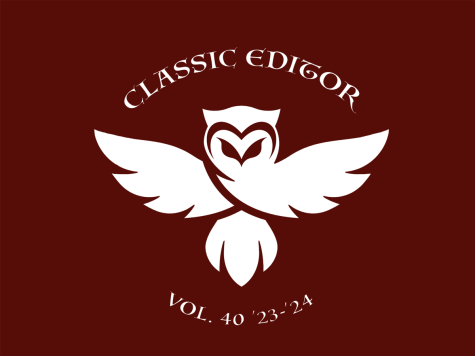 Defne Kaygısız, News Copy Editor
Defne is a junior at Townsend Harris High School. She likes reading depressing books, watching gloomy movies, and listening to music. Her favorite artist...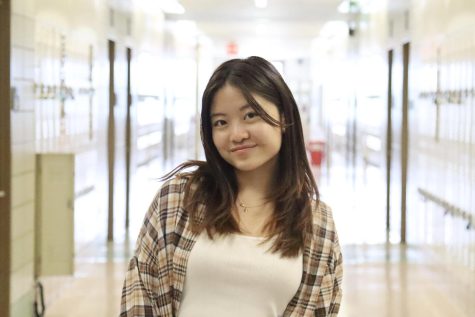 Karen Lin, Photography Editor / Social Media Editor
Karen is a senior at Townsend Harris High School. Her passions include graphic design, photography, and fine arts. In her free time, she enjoys reading...