Air filtration update: THHS upgraded with MERV 13 filters in HVAC system

With winter in full swing, a multitude of viruses are sweeping the nation, disrupting school attendance. Recently, this surge in illness has been attributed to a "tripledemic": a combination of influenza, respiratory syncytial virus (RSV), and of course, COVID-19. With such respiratory viruses spreading via airborne transmission, proper ventilation is a necessity for safer school buildings and healthier students and staff. After the many COVID prevention protocols instituted by the DOE last school year, safety measures this school year have been relaxed, making it a good time to consider the status of the ventilation system at Townsend Harris High School. 
According to DOE building plant manager William Leroy, in regards to the ventilation system of THHS, the Division of School Facilities Mechanical Team has worked with the custodial staff at THHS to ensure all ventilation equipment is "operating as designed." In addition, Mr. Leroy said that MERV 13 filters have been "installed in all return duct work." 
MERV 13 filters are recommended for schools by the CDC. These filters are pleated polyester or cotton paper sheets that can be installed behind fans, air conditioning units, or in the return ducts that circulate air through supply vents, like those in DOE building vents. These disposable filters are designed to capture small particles by drawing in air and trapping the debris in a network of webbed fibers.
The name MERV derives from the Minimum Efficiency Reporting Values, or MERVs, which assess a filter's ability to capture particles of varying sizes from 0.3 to 10 microns. According to the CDC, SARS-CoV-2 is about 0.1 micrometer (µm) in size. The virus, however, travels through the air in human-generated respiratory droplets, which are larger than the virus itself and usually smaller than 5 microns. A filter rated as MERV13 effectively traps particles of between .3 and 1 microns 50% of the time and particles between 1 and 3 microns 85% of the time. HEPA Filters are even more effective, but they are rarely used in central ventilation systems. MERV filters that are more efficient than MERV 13 exist (up to level 16). Though MERV 14 and higher are more effective, the CDC recommends using "using the highest efficiency ventilation filters possible, without having detrimental effects on overall HVAC system performance." ASHRAE recommends using a minimum of MERV 13 filters to be effective for COVID-19 filtration. 
In addition to capturing and filtering out infectious viral particles from the air, circulation and adequate air exchange is also integral to a properly ventilated facility, Mr. Leroy said. Supply air systems, which transport air that has been conditioned by the Heating, Ventilation and Air Conditioning (HVAC) system into the building, and exhaust air systems, which remove polluted or contaminated air from the building, both contribute to a consistent state of clean air. The THHS system also contains "dampers," which are movable plates in the ductwork that help regulate and redirect airflow.
Ellen Fee, Assistant Principal of Organization, said that she believes we have the capacity to  improve the THHS ventilation system even further by improving our damper system. Right now, the system is manual, which means that the custodial staff manually opens or closes the dampers to help regulate airflow. A manual system, however, can be less efficient in a larger building like THHS, which is one of the reasons why there can be such variation in heating or cooling from classroom to classroom. Ms. Fee said she hopes to upgrade the building to have automated dampers.
"The improvement that I hope for is to get the dampers to operate automatically. The dampers still must be operated manually by our custodians each day, and sometimes they even have to wind the damper open and engage the locks to bring in the fresh air.  A Building Management System (or BMS) is several hundreds of thousands of dollars, but would streamline the process of having fresh air input with good air filters," Ms. Fee said.
Numerous students remarked on the inconsistency in heating and cooling, and general comfort, in various classrooms. Senior Darin Kim said that the first floor health room, which lacks windows, "gets really stuffy and extremely hot…and the fact that there are no windows open doesn't help. We talk about our health all the time but the way the room is held feels like the least healthy thing."
Mr. Leroy said that the ventilation system of THHS is currently "operating as designed," and that any ventilation issues raised are "considered a priority and are addressed ASAP." With regard to heating and cooling within classrooms, he said that THHS is scheduled to receive an upgrade to the school's cooling tower along with "replacement chillers," which, he said, should "assist with the building cooling." 
In addition to the recently installed MERV filters, Mr. Leroy said that "an added level of air exchange was also provided by stand-alone purifiers," which is in reference to the Intellipure air purifiers implemented for the 2021-2022 school year. However, these filters are rarely used in classrooms, as the noise disruption they cause when plugged in impacts the ability for teachers and students to hear each other.
Photo by Katherine Lian
Leave a Comment
Your donation will support the student journalists of The Classic. Your contribution will allow us to purchase equipment, support our extracurricular events, celebrate our staff, print the paper periodically, and cover our annual website hosting costs.
About the Contributor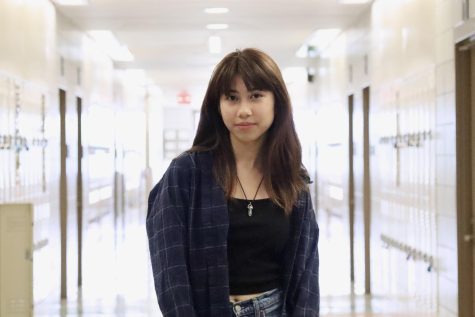 Katherine Lian, Multimedia Chief
Katherine Lian is a senior at Townsend High School who enjoys taking pictures, dancing, and trying new things. Her favorite memory with The Classic was...