Alumni Spotlight: Ishle Yi Park ('95) discusses her career as a published author and Queens poet laureate

At Townsend Harris, many students dream of becoming published authors. The Classic spoke to one  notable alumna, Ishle Yi Park, who has made that dream a reality. In addition to being an accomplished poet, Ms. Park recently published a novel in verse, Angel and Hannah. 
Ishle Yi Park was born and raised in Queens, NY by her two hard-working Korean parents. She graduated from the class of 1995 and currently lives in Hawaii. Angel and Hannah is her first published novel. 
Angel and Hannah is a reimagining of Romeo and Juliet. It revolves around an interracial couple from New York City in the 1990s that discover the intimacies of first love and the struggles of growing up. The novel is told from both perspectives of  Hannah, a Korean American girl from Queens, and Angel, A Puerto Rican boy from Brooklyn, in a compilation of sonnets, hip-hop verse, and free verse. 
Ms. Park explained that she always enjoyed narrative writing while growing up, with her love only growing during her time in Townsend Harris High School "because THHS is so heavily concentrated in classics, it shifted my trajectory." Her narrative creativity and skill were practiced during her time as an editor for The Phoenix and a staff writer for The Classic, but she said  it was especially enhanced by the support and inspiration of her English teacher, Ms. Helen Rizzuto. "Ms. Rizzuto was an amazing, magical, whimsical [poetry] teacher," Ms. Park said. 
Ms. Rizzuto called Ms. Park "generous, gracious and exceptionally gifted," and fondly recalled both her skills as a writer and her sensitivity towards other writers on the Phoenix. She said that her work there "spoke eloquently of who she was, and it appears, still is." 
Ms. Park continued diving into storytelling by transferring to Sarah Lawrence College for creative writing for her sophomore year of college and by mentoring at the Asian American Writers Workshop. 
Before going to Sarah Lawrence College, Ms. Park attended NYU where she "was involved in a scholar program [which awarded students] with two trips a year for free. I got to travel to England, Puerto Rico, Spain, Greece, Jamaica, Singapore… [my travels] broadened my outlook on the world and gave me more sensitivity to other people's cultures.. It also helped to increase my strength and survival skills as a woman traveling alone."
Storytelling has provided Ms. Park with a safe haven as literature has been "my escape from the mundane, cruel, harsh world…[allowing me] to escape into the sanctuary of books and other worlds that they open doors to." Angel and Hannah was inspired by her first relationship, which took place in THHS, allowing further reflections as it "helped me to analyze and [reflect] on the treasure of that relationship." 
Her passion for writing has also opened many doors as she was named the first woman poet laureate of Queens. On this distinction, she said, "It's a good thing to put yourself out there even if you don't know what will happen… it was an honor and blessing."
In terms of advice for THHS students who want to become published writers, Ms. Park said "continue writing, follow your dreams. Keep your goals in your heart and be persistent. You can do it. Surround yourself with other people who are interested in writing and find a community of writers that will help and support you in your journey."
Leave a Comment
Your donation will support the student journalists of The Classic. Your contribution will allow us to purchase equipment, support our extracurricular events, celebrate our staff, print the paper periodically, and cover our annual website hosting costs.
About the Contributor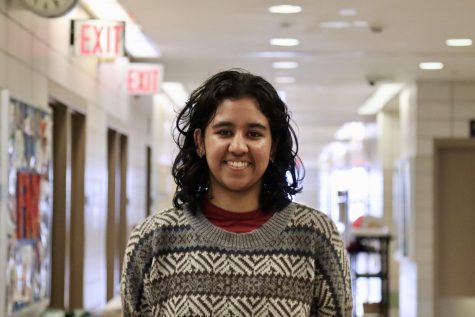 Bakhsish Kaur, Multimedia Editor
Bakhsish is a senior at Townsend Harris High School. She can often be found in her room making edits for TikTok or watching her favorite shows. She loves...