Girls Track Team captains say goodbye as season ends

With the school year and the spring sports season officially coming to a close, senior athletes expressed their goodbyes to their teammates after their final year on their respective teams. Seniors and Girls' Track team captains Kate Estevez (The Classic Editor-in-Chief), Erica Jin, and Anusha Ramjanam reflected on their growth and experience leading the team this year.
As captains, the impact of leaving a sports team they have led comes with a pronounced emotional toll. Especially for track, which spans all three sports seasons (Cross Country, Indoor Track, and Outdoor Track), the tight-knit relationships that emerged through practicing together for the entire school year is truly incomparable. Anusha noted that even the simple moments of "bonding through locker room laughs, singing, or our stuffed animal mascots" are what ultimately accounted for the fun-loving atmosphere of the team. 
Despite track being a mentally taxing sport, Kate acknowledged the "unbeatable environment" of the team, consisting of "unwavering love and encouragement from each other" that instilled the sense of a second family.
Erica said, "On track, the thing that makes you stay is the people. I just really love having good races with our team members and seeing everyone be happy that we all did well." For her, the thrill of hearing her teammates reach a new personal record is something she always looked forward to. She added that their high-spirited team bonding events and endless conversations during every practice are memories she holds dear to her heart.
The bittersweet moment of the season ending carries both joyful and sentimental memories. Anusha told The Classic that her favorite memory was the Cross Country City Championships. In her junior year, she ran a triumphant personal record, dropping by two minutes. The following year, the team came in fourth place and headed to states for the first time in over a decade.
For Kate, the last indoor track meet was an unforgettable, heartfelt moment she will reminisce about. "The underclassmen typically implement giving the seniors posters at the end of the cross country season. This year, however, the underclassmen gave us gifts at the end of indoor track season, which shocked us all, as it never happened this way before," said Kate. She highlighted her gratitude for having "absolutely amazing underclassmen [who] care so much about their captains." 
Erica has progressed exponentially since joining in her freshman year, and has grown to value commitment and the significance of practice. She said, "With every year of practice I got, I continually saw my work reflected at meets and personal records. It really is crazy to see how far I have come in the sport."
For Anusha, her growth as a leader sparked after Coach Timothy Connor appointed her as captain. "Since I first joined the team in junior year, I have learned so much about correct form and breathing techniques. But once I became captain, I also learned how to be assertive, understanding, and communicative, which are essential skills I appreciate having gained." 
Junior Sara Tustin recognized her captains as role models who "always make everyone feel included and comfortable." She said, "Running is hard, especially for underclassmen who are joining for the first time and comparing themselves to more experienced runners. But the captains serve as a good reminder that track is a family and runs deeper than just a sport."
Sophomore Chloe Kavanagh similarly emphasized the great leadership the captains embodied throughout the season. "They were encouraging, helpful, and were extremely uplifting and inspiring people to be around. Everyday, I admired their hardworking nature, camaraderie, and dedication to the team. They have fostered an incredibly warm, open environment free of judgment, and I will truly miss their presence on the team." 
Coach Connor praised the captains' capabilities, highlighting how "each one of them had their own unique little qualities and what they did well," which notably contributed to their success in leading the girls to State Championships during their Cross Country season.
The captains regarded this season as challenging, rewarding, and memorable, and labeled the team's attitude as resilient and determined.
Leave a Comment
Your donation will support the student journalists of The Classic. Your contribution will allow us to purchase equipment, support our extracurricular events, celebrate our staff, print the paper periodically, and cover our annual website hosting costs.
About the Writer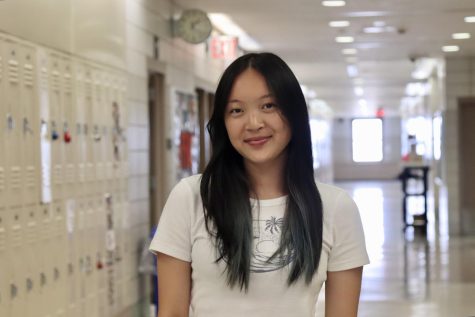 Chloe Mau, Sports Editor
Chloe Mau is a senior at Townsend Harris High School. She enjoys playing volleyball and baking in her free time. Her favorite memory from the 2022 - 2023...