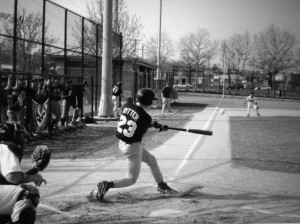 The Boys Baseball team season was cut short with a 9-2 first round playoff loss against High School of Health Professions and Human Services.
The game, which took place on May 23, was an exciting experience for the Townsend squad. For all of the players, it was their first high school playoff game.
Townsend gave up a run in the top of the first inning but answered with two runs when Charlie Bennett scored off an RBI by Senior TJ Ritter. Freshman Evan Noblesala then scored off a hit by junior Harry Quinn. Townsend remained scoreless for the rest of the game.
TJ started the game and pitched one inning, giving up three earned runs and was later relieved by pitcher Harry Quinn who gave up five runs through four innings. Freshman Mason Rivero then stepped on the mound to pitch the final inning. After the game, Mason said that the loss was disappointing, but "fuels our determination for next year."
Junior captain and catcher Daniel Restifo said, "It was an exciting game. Leading up to it we worked hard. The game didn't go the way we wanted; we played a good team and they played better than us in all aspects of the game. When that happens it's going to be a tough game."
Despite an early playoff exit, many players remained optimistic and more than pleased with their team's performance this season.
Freshman Nicholas Laikhram said, "The game helped us as a team because we know what we have to bring next year in order to do well in the playoffs. It will give us motivation."
Senior captain Ameer Kazmi was proud of his team. "Even though we didn't get to go as far as we liked in the playoffs, the Hawks baseball team still had its most successful season in years and we accomplished everything we planned to accomplish for this season."
Senior Elijah Dominguez agreed, saying,  "We definitely showed what we can do if we work hard at achieving our goals, and the goal every year so far that our coach had set was playoffs. The 13-3 record shows how much we wanted to achieve our playoff goal."
The Hawks hope to go deeper into the playoffs next year knowing that their team is capable of winning a championship. Daniel said that next year the team will "work that much harder, want it that much more, and play that much more fearlessly" to achieve its goals.