Bareburger brings the beef (unless you prefer ostrich, of course)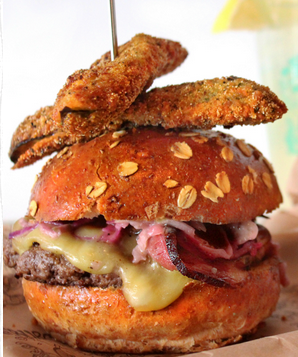 Today so many of our foods are processed and full of chemicals that it's getting harder to buy a real meal, especially a burger. Scientists have even announced that they can produce artificial beef in a lab.  However, Bareburger is one of the few restaurants that serve only organic or all natural products.
Bareburger is a franchise exclusively in New York. It started in 2002 in Brooklyn but it has since expanded into Manhattan, Queens, and even Long Island. I went to the branch on Austin Street to experience why they were acclaimed by Zagat and Michelin for having one of the top ten burgers in New York City.
On the menu, there is a variety of ways you can embellish your burger. You can choose one of their recommended styles of "Bareburgers," or you can start from scratch and make a "Barest Burger" to your pleasing. You also get to choose your protein- some of their choices include the classic "buttermilk fried chicken," the vegan "farmers quinoa veggie burger," and even an "ostrich" burger. Then you get to choose your bread which also has vegan options.
I got the "Original Bareburger" which simply contained Colby Jack cheese, iceberg lettuce, tomatoes, raw red onions, and their special sauce. I chose beef for my protein, which was recommended. Finally, I got this all on a multigrain roll. The burger as a whole was a generous size for one and had a fresh look and taste. The multigrain roll did not have a particularly unique flavor to it, but it was interesting since it had oatmeal on top of it as opposed to the traditional sesame seed. It is a good substitute for the regular brioche bun if you are a vegan. Within the burger, there was a nice proportion of ripe and crisp vegetables. The beef was definitely the main star of the meal. The patty was fresh, juicy, and mouthwatering. The sauce on top added a mysteriously thrilling flavor that was reminiscent of a lite Italian vinaigrette mixed with a smoky barbecue sauce. Altogether, the burger was savory and left me wanting more even when I was full.
When you get yourself a burger, you always have to get french fries. I ordered the "Fresh Cut French Fries." Surprisingly, for $4.95 I received a large loaf pan full of golden, lightly salted, warm fries. On the side it came with three intriguing dipping sauces: an odd mix of curry ketchup, a gradually spicy habanero chipotle mayo, and the same special sauce that they slathered on my burger.
As for my beverage, I got a chocolate flavored "Bare Shake." It was rich and creamy. Besides that it was not too sweet, and at the bottom there were actual pieces of crushed chocolate chips. This shake is a splendid drink for cooling off after a long hot summer day.
Though I didn't get the chance to order that many items, Bareburger offers a lot more. They have salads, sandwiches, light snacks, all natural sodas, desserts, etc. For kids they even have a list of "Cubby Meals."
The restaurant has a casual, vintage look to it with a purposely rusted metal ceiling, wooden tables, colorful metallic chairs, and bears everywhere. The service is quick and welcoming, but if you don't have the time to sit at the restaurant you can order online or via phone and have it delivered (you must live in the designated delivery area). The prices of the food are moderate.
In my experience Bareburger was almost as good as the renowned Shake Shack. If you're a burger fanatic you're going to love Bareburger.
View Comments (2)
Your donation will support the student journalists of The Classic. Your contribution will allow us to purchase equipment, support our extracurricular events, celebrate our staff, print the paper periodically, and cover our annual website hosting costs.