Girls indoor goes the distance

On Friday, December 13, the Lady Hawks traveled to the Armory Track in Washington Heights to compete in the PSAL Day of Distance. The girls competed in field, team, and individual race events. In this event, athletes competed at different levels determined by their grade. Freshmen competed against freshmen, sophomores against sophomores, and juniors and seniors competed together at the varsity level. At the end of the night, the girls had top place finishers in several events and senior captain Stephanie Loo qualified for city championships in the varsity 3000 meter run.
The meet began with the 4 X 800 meter relay.  In the freshmen competition, Noreen Mohsin, Maressa Cumbermack, Erela Datuowei, and Brianna Manginelli placed fourth with a time of 12:04. The varsity relay team, compiled of juniors Elaine Li, Rythika Francis, Natalia Ramirez, and Nina Leeds, finished with a time of 11:11, earning them a tenth place finish. With a time of 11:26, the sophomore team, which consisted of Joanna Huo, Patricia Wang, Hailey Lam, and Yasmeen Ally, placed third, earning a bronze medal.
Overall, the girls were pleased with their teamwork and finishes in the relay. Erela praised her team's performance: "They put their all into it and it really shows that they're committed." Natalia concurred, "We were all able to push our boundaries and perform to our fullest capacity."
The next event was the 3000 meter run. THHS freshmen and sophomores were not represented in this competition, but Stephanie participated on the varsity level. She earned a bronze medal with her third place finish, simultaneously beating her previous record by 25 seconds and qualifying for city championships. Stephanie felt great afterwards, believing that she had "exceeded expectations".
In the 55 meter hurdles, THHS only participated in the sophomore competition. Toni Alexander finished in 25th place with a time of 11.74 seconds. She also participated in the sophomore high jump competition, where she placed fourth after jumping a height of four feet, two inches. Nina participated in the varsity high jump and finished sixth.
In addition to competing in the 4 X 800 meter relay, Jillissa also competed in the freshman shot put event. She placed tenth after throwing a distance of fifteen feet, nine inches. Jillissa defied her own expectations, "I wasn't expecting to place. I only practiced a few times."
Sophomore Kellie Zestanakis continued her gold medal streak with a first place finish in the sophomore pole vault competition. She matched her record of seven feet, six inches.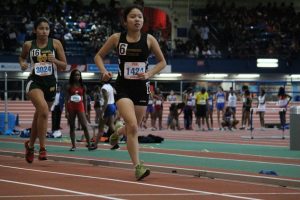 The girls were happy with their performance at the Day of Distance Meet, but felt that had it been held on a weekend instead of a school day, they could have done better.
Yasmeen thought that the "rigorous day of school" affected her team's performance, and that on a weekend, her relay team would have been able to do better. "It was harder to compete after school because we were in a rush after school to beat traffic and get there and I was a bit low on energy after nine periods," Erela added.
The next meet, the PSAL Night of Sprints, will also be held after school on December 20. The girls have high expectations for that meet, and in order to fulfill them they will work hard on the things they believe they need to improve on.
Noreen said, "It's all about improvement on the track team, and knowing how much effort we put into practice every day I expect there to be progress from all of us."
Leave a Comment
Your donation will support the student journalists of The Classic. Your contribution will allow us to purchase equipment, support our extracurricular events, celebrate our staff, print the paper periodically, and cover our annual website hosting costs.