Boys basketball gets first victory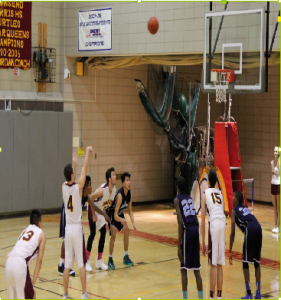 Although the  boys basketball team started their season off with three consecutive losses, the last of which was on December 9 against Robert F. Kennedy High School, they were able to secure their first win of the season on December 10 against  Flushing International High School, who currently have a record of zero wins and three losses. This leaves the Hawks with a record of 1-3, one win and three losses.
In the loss to RFK, the final score in the game was 80-33. The 47 point disparity may be attributed to the fact that key players, senior captain Edward Lu and senior Justin Chiu, were unable to play due to injuries. Another starter, junior Jozef Nikaj, also played in the game despite the fact that he was struggling with an injury.
Even with an injury, Jozef and fellow junior Milan Majstorovic continued to play well, putting up all but two of THHS's points.
Jozef had 20 points, including seven two-point field goals, and Milan had 11 points, including three two-point field goals and one three-point field goal.
Despite this effort from the team's starters, the team as a whole still had a number of turnovers.
At the same time, the opposing team made more of their shots, leading to their victory.
After their defeat against RFK, Milan pinpointed what the team needed to work on and tried to stay positive:
"I think overall we just have to show more heart on the court and get in the rhythm. We have the right pieces to win. We just have to put everything together. This game is just a fuse for the rest of the season. I think everyone will be much more determined next game around."
It appears that Milan was right.
In their game against Flushing International High School, THHS outscored them, 84-26, making it their first victory of the season.
Again, the juniors scored a majority of the points, with Jozef, Jason Nieh, Milan, and Robert Davydov leading the team.
However, the fact remains that Flushing International High School has not won a game in at least four years, and the rest of the teams in their division will pose a much different challenge.
Leave a Comment
Your donation will support the student journalists of The Classic. Your contribution will allow us to purchase equipment, support our extracurricular events, celebrate our staff, print the paper periodically, and cover our annual website hosting costs.