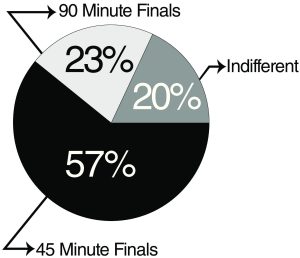 Last January, teachers gave feedback on the finals schedule to Assistant Principal of Organization Ellen Fee, who then relayed it to the Consultative Council. When giving this feedback, teachers said they felt that 90-minute finals were too overwhelming for students. In addition, the idea of having no more than two finals per day was suggested. This was relayed to the Consultative Council, who agreed with the proposal and approved it for use in the 2013-2014 school year.
"Basically we had a conversation about making the finals less stressful for students due to the fact [that] freshman year we had three finals per day on some days, which was utter chaos in terms of studying and organization," said former Borough Student Advisory Committee Representative, junior Igor Portnoi. "So the teachers met, discussed the schedule and…[the Consultative Council] agreed that [the schedule] seemed decent as a person could now maximally have two finals per day."
This alteration has naturally created changes in the format of finals, with some now being limited to just multiple-choice questions.
Science teacher Sarah Oberlander said that teachers had to spend time altering certain questions when making the exams to ensure they could be completed within the shorter time frame.
"Teachers definitely made an effort to make [finals] manageable," she said.
Science teacher Phillip Porzio maintained that regardless of the schedule change, he was prepared to make an equitable final, commenting, "The chemistry teachers work as a team to create the final, and we create the exam based on the time we are given. Whether it is 90 minutes or 45 minutes, we will create an exam which is fair, comprehensible, and doable within the given time."
Also, as a result of this change, the written portions have been removed from many history, foreign language, and English finals.
Despite this, Social Studies teacher Adam Stonehill feels that the time frame is sufficient.
"The goal is to assess people's knowledge for the semester in general and I think that forty-five minutes can do that," he said.
Social Studies teacher Charlene Levi feels the schedule is beneficial to students, mentioning, "Shorter finals are better because for students to have all these finals in one week, an essay and multiple choice for one final is going to be too stressful for them."
In addition, more Advanced Placement electives and some foreign language classes will now have finals administered in class.
Ms. Fee said, "The schedule was made to include the subjects that had multiple classes. The idea is to prevent an unfair advantage to a class at the end of the day where they can find out information during lunch or another class."
For example, there are seven precalculus classes over the course of the day, so having an in-class final would undermine the purpose of the exam by making it difficult to prevent cheating between bands. In contrast, the final exam for electives such as AP Human Geography, only taught one band, will be given in-class. Most students favor shorter finals because they have helped alleviate stress.
Sophomore Yun-Ping Tseng stated, "I prefer the shorter exams and the fact that they are all in the morning because they give me more time to go home both to relax and study."
"The history teachers won't force super specific questions either," added junior Jeyson Nee.
Ms. Oberlander thinks this factor is important, and feels that although finals are important and prepare students for college, having time for extracurriculars is important too.
However, some students have questioned whether forty-five minutes is enough time to cover the entire curriculum.
Junior SU Treasurer Harry Petsios said, "I find that the 90-minute finals allow teachers to evaluate our understanding of the semester's material more easily. Since they can include a larger variety of questions, 90-minute exams also sometimes prove easier for students."
Junior Vijay Sookai mentioned, "I think that 45 minutes is too short to test someone on all the material that was learned during the first half of the year. But it's all multiple choice which is a good thing."
Other students are indifferent to this change, saying that either way, they have to study and know the same material.
"In the end, we're still taking a test [that] often counts heavily towards our grade," said junior Andy Hua.
However, Junior SU President Nina Leeds feels that although students are being tested on the same material, the changes have made finals week less intimidating.
"It makes it slightly less daunting to know that it is of similar length to any other test," she said. "This means that we already have a feel for the layout of the test and it is slightly less stressful."
Although the schedule is now arranged so that all students should have a maximum of two finals per day, sophomores taking Health for the fall semester will have to take three finals in one day. Such students are forced to take seven finals as opposed to six taken by those who have Physical Education first. Although Ms. Fee and the Consultative Council have tried to fix this issue, their efforts were unsuccessful. Ms. Fee ultimately stated, "There is no way to go around it."
Sophomore Bora Fejzo, who is currently taking Health, felt that the schedule gives her unnecessary stress and forces her "to pick which finals to study for."
Also differing from the schedules of previous years is the inclusion of lunch and an assembly. Under last year's schedule, students could leave immediately after taking their finals, but now they will be formally dismissed after these extra periods.
Junior Karen Su thought these additions were superfluous. "I liked last year's schedule better because we didn't have to stay for lunch, so that meant that you went in for whichever final and you were out in less than two hours."
Despite the students' ambivalence, Ms. Fee felt satisfied: "I don't think of it as a new schedule. I think it is improved. It is the best yet. I think the time slots are shorter and I like that. I think it has more student input and it is more productive than the other years."