The Lady Hawks attended their second meet of the outdoor track season on Sunday, March 22. They competed in a variety of events, ranging from relays to individual races to field events, at the PSAL Season Opener, held at Icahn Stadium. At the end of the day, the girls had top place finishers in two of the eight events they competed in: the javelin and the 400 meter dash.
In the varsity 400 meter dash, junior Sarah Iqbal placed 30th out of 95 runners with a time of 1:10 and senior Esther Jou finished with a time of 1:12, placing 40th. Sophomore Yasmeen Ally earned a medal in the sophomore 400 meter dash. She placed sixth with a time of 1:07. In the freshman event, Erela Datuowei was the first from THHS to finish. She placed thirteenth out of 83 runners with a time of 1:11. Freshmen Noreen Mohsin and Brianna Manginelli placed 24th and 37th respectively. Noreen and Brianna also competed in the 1500 meter run, where they again placed 24th and 37th respectively.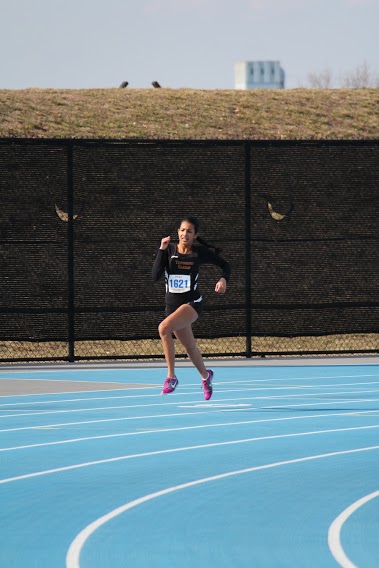 "During the 400, it was really quick because it was only a lap and I think I started out a little too fast. I didn't have much time to think and I stayed in the same position the whole race," said Noreen, who was not completely satisfied with her performance. She added, "During the 1500, however, I could have pushed myself more, yet two to three girls passed me during the race and I didn't give it my all at the finish line."
In another running event, the varsity 200 meter dash, freshman Marina Aweeda was the first to finish from THHS with a time of 30.61 seconds. She placed 89th out of 289 runners. Freshman Oluwafisay Olowoyo finished shortly thereafter with a time of 32.81 seconds, placing 149th. Sophomores Andrea Li and Bora Fejzo placed 263rd and 270th respectively. These four girls also ran in the 4 X 100 meter relay event. Marina, Oluwafisay, Vanessa Xu, and Raenne Edwards ran in the freshman relay event where they placed seventh out of fourteen teams with a time of 1:00. Bora, Andrea, Priya Amin, and Yun Ping Tseng competed in the sophomore event, but were disqualified due to the fact that one of the members of the team passed the passing zone during the race.
The Lady Hawks also competed in an array of field events. Esther, in the varsity triple jump, placed seventh out of nine by jumping a height of 28 feet, 9.50 inches. Senior Sarah Han threw a distance of 46 feet, 10.00 inches in the varsity discus throw, earning her fifteenth place. In the varsity long jump, senior captain Cydney Downes placed eleventh of out 23 athletes by jumping a distance of 13 feet, 8.50 inches. Cydney and Sarah also competed in the varsity javelin throw event, along with sophomore Kellie Zestanakis and senior Chloe Chai. Kellie earned a medal by placing third out of 31 athletes and throwing a distance of 71 feet, 1.00 inches. Cydney also earned a medal. She threw a distance of 58 feet 6.00 inches and placed fourth. Chloe and Sarah placed eleventh and fifteenth respectively.
All in all, the Lady Hawks felt as if they had performed well given the conditions of the meet. "As a whole we all did okay because it was freezing and windy and the first meet, so we did great under those circumstances," said Kellie.
Others acknowledged that the results were not what they wanted, but were still positive about the meet. "I think I totally sucked, but it was my first meet. From here I can only improve and work harder," said Priya, "As a whole my team did really well. We always encourage each other to go hard and do our very best. Even if we dont always get good results, we really support each other and that's great."
"I don't think we did as good as we could have. Only a quarter of the girls were actually present at the meet. Our sprinter 4×100 team was very strong though, they're already off to a great season," Noreen said.
The girls expect to improve as the season progresses.
Noreen added, "We put a ton of dedication and hard work into practice and I hope to see that reflecting well on our performance. We're going to have to work harder and make sure to attend all practices because that's where real improvement is made."