Alumna competes on College Jeopardy

Laurie Beckoff, who graduated from THHS in 2012 as salutatorian, appeared on the Jeopardy! College Championship on February 11. Over a two-week span, fifteen college contestants competed for the chance to secure a spot in the Tournament of Champions. The University of Chicago sophomore came in second place.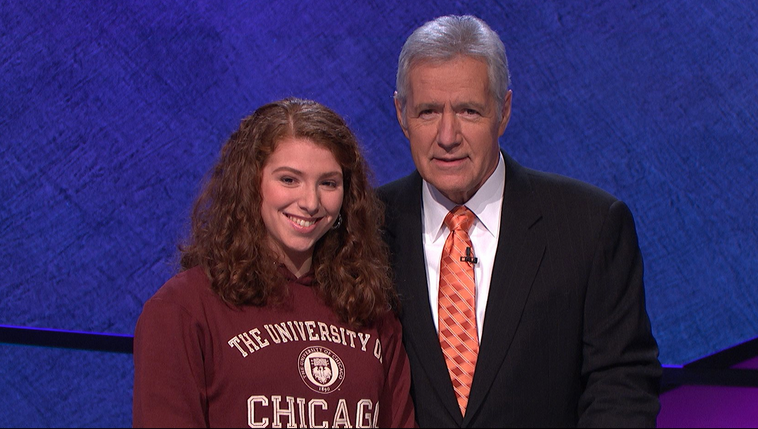 Her reasons for entering the College Championship go back to her childhood. "I've watched Jeopardy! my entire life, always turning it on and playing along when my family sat down to dinner. It's always been a dream of mine to be on, and I auditioned for the Teen Tournament three times, so trying for College was attempt number four," said Laurie.
Classical Language teacher Marianthe Colakis, a former contestant herself, said that she tried out for Jeopardy! for the same reason. She wanted to see the extent to which her knowledge could be tested.
Laurie stated that being on the show was one of the proudest moments of her life. She was excited to meet the other contestants from colleges all over the country. Laurie praised host Alex Trebek, claiming that he was professional and accommodating. "Alex Trebek is a great guy. We didn't get to talk to him all that much, but he's very welcoming and I never realized until hearing him live just how good he is at his job. He has a fantastic voice and rarely misspeaks, and makes it all seem so easy."
Former English teacher Caroline Cross also appeared on Jeopardy!/ Her episode was taped in November of 2003, and it aired three months after. Unlike Laurie, Ms. Cross made it clear that she and Alex Trebek did not get off on the right foot. She thought that Trebek came off as abrasive and catty. According to Ms. Cross, during the introduction session after the first round, Trebek went to each contestant to get to know them better, as is traditional on the show. Ms. Cross, however, felt that Trebek was more interested in talking about himself.
"Alex Trebek is a limelight hog,"
she said. "He has to find a way to (at best) put his own personal details on someone else's moment in the sun, and (at worst) he hijacks people's stories. I talked about how Les Mis meant so much to me that I even learned French because of it, and Alex wound up talking about how he was golfing with his buddy Colm Wilkinson and there was talk of a movie. He's very smug."
Similarly to Ms. Cross, Dr. Colakis thought that Alex Trebek came off as a little abrasive. "If a contestant doesn't pronounce a foreign word or phrase just so, he just has to re-say it the right way." Regardless, she added that it was a pleasure to see him answer questions professionally and patiently. "Two days in a row, people asked him about Will Ferrell's impersonation of him. He must be so sick of answering that question! But each time, he did so as if it were the first time ever."
Ms. Cross also described a moment in which Trebek heavily debated that her answer was incorrect because of her pronunciation.
"One of the 'answers' was 'This word for bullfighter comes from the Spanish word for bull.' So I rang in and said 'What is toreador?' and Alex said 'Yes—wait no' and stopped play. When the judges told him toreador was prounounced correctly he appealed to this group of Mexican tourists in the audience, saying, 'I'm right, aren't I? I'm right.' As if being right is the most important thing in the world!"
Among Laurie's time spent there, she also encountered a few challenges.
Describing the game as "surreal," she mentioned that a contestant has to get used to the buzzer before being able to click it instinctively.
She also said the game goes by much faster than perceived on television, and you have to be quick to use wit and buried knowledge to your advantage.
"It was always exciting to get an answer right on a wild guess, or have that moment of revelation when the answer comes to you that you couldn't think of initially," she said.
Leave a Comment
Your donation will support the student journalists of The Classic. Your contribution will allow us to purchase equipment, support our extracurricular events, celebrate our staff, print the paper periodically, and cover our annual website hosting costs.