While students cope without SPARK, Duke returns to THHS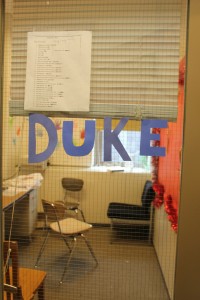 The 1st floor hallways have become suspiciously quiet. The year before, there was always a group of students rushing towards the room next to the nurse's office. Now, that old SPARK office collects dust, and all the vibrant decorations honoring Mr. Marc Duke and the SPARK students have disappeared.
Like many schools, Townsend Harris has lost their SPARK program.  SPARK stands for "School Prevention of Addiction through Rehabilitation and Knowledge."  Though intended to deal with drug addiction, SPARK is more freqently used by students to cope with whatever problems they face.
The absence of the program has left a lot of the old SPARK goers at a loss for words and direction.
Senior Jonathan Kilom said, "There's really nothing to do without SPARK. It's not the same friendly environment. Everywhere else, even in the guidance office…we're kind of censored."
"I'm dying without SPARK," said Senior Alexis Martinez. "Part of me is missing! Duke literally saved my life, and without him in that room it just isn't the same."
Junior David Heifitz said, "This year has been incredibly stressful. I don't have that same comfort as the SPARK room. The guidance office is always busy, so we're kind of left to fend for ourselves."
"I haven't had the opportunity or place to go and discuss or solve my problems lately," said Junior Katherine Kulesza. "Being a junior, the stress from school has impacted my social life and this has caused me to be more angry and emotional. I have a very select group of people that I can go and talk to in replacement of SPARK but still I don't want to get their biased opinions sometimes or they are simply busy."
"SPARK was a safe haven," said Senior Shelley Mitchell. " It was a place of trust, respect and comfort, and no one was judged by anyone else. I've been handling my own problems just fine, but there's no place as comfortable as that office."
Principal Anthony Barbetta is aware of the situation of the students, and explains why a new SPARK program isn't in development.
"It's not a problem with the funding," said Mr. Barbetta. "There is no one to take the SPARK counselor position. After Mr. Duke retired, no one has stepped forward to take his place."
Mr. Barbetta sympathizes with the students' call for the SPARK office. "I believe every school should have a SPARK program. My old school had 2. Although the guidance office has the same qualifications as a SPARK Counselors, I understand that they are stretched very thin. They have a big workload, and don't have much time to properly handle student crises. Despite all this, we do need a SPARK Counselor."
Although the SPARK program itself may not exist, Mr. Duke still works around the building. He comes in only once a week on Thursdays to provide help to the students that seek the old SPARK comfort zone.
"Mr. Duke is no longer here as a SPARK counselor," explained Mr. Barbetta. "He's actually here as the Provider of Student Support, and solely works with the students. The PTA actually funds Mr. Duke. I'm very thankful to them for it."
Mr. Duke's new office is in the third floor guidance department. The small space, which some kids have named the new SPARK office, can still be seen filled with students, decorations, and Mr. Duke himself sharing experiences.
Mr. Duke shares his own opinions on the whole situation. "I know that when I left, there was barely anyone left to take up the SPARK program," said Mr. Duke. "They brought me back as a support service kind of person, to help the kids that need it. Townsend Harris isn't the only one with this problem however. Many schools have lost their SPARK programs. No one seems to have the proper training to replace them."
Despite Duke being back, the SPARK students still want the old room. In fact, with Duke back, they feel like they're even more entitled to it.
"I miss the SPARK office so much," said Katherine. "It wasn't even the fact that I got to talk to Duke. Because when Duke was busy, there was a room full of seniors or other kids who had problems and we could talk to each other and either resolve our problems like that or vent or even share a few laughs and jokes to lighten the mood."
"We need that office back," said David. "We need to feel the same comfort we had before."
Assistant Principal Ellen Fee explained the current situation of the old SPARK room. "Right now we don't have an official use for it," she said. "However, I do know that the guidance counselors use it for groups. They usually happen during lunch time and after school."
Guidance Counselor Sara Skoda described how the groups use the SPARK office. "This year, they've all happened after school," she said. "The groups vary from topic to topic. I know Ms. Kramer had a 9th grade transition group to teach kids how to adjust to high school life. There was also a girls' group at one point, to discuss issues personal to girls. When Mr. Duke was a SPARK counselor, he would oversee the groups with us. That space has always been a more comfortable environment to the students, which makes it the perfect place for after school groups."
Despite the struggle for the old SPARK room, the students are very thankful to have Duke back. "I'm really glad he's here with us again," said Alexis. "Without him, I'd have no one to turn to."
"Having Duke back is like having family back," said Jonathan. "I don't go to see him as much, but it's comforting to know he's here.
Leave a Comment
Your donation will support the student journalists of The Classic. Your contribution will allow us to purchase equipment, support our extracurricular events, celebrate our staff, print the paper periodically, and cover our annual website hosting costs.