Alumni build on extracurricular experience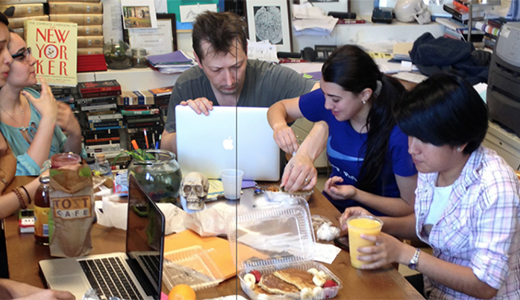 THOUGH MUCH of high school is spent focusing on grades, extracurriculars can play an equally significant role in determining one's future. This was the case for many alumni, who joined a club only to have it shape their future more than they expected it to.
Alumna Dennise Hernandez, class of 2013, said her time as editor-in-chief of The Phoenix was a defining leadership experience.
"Lately, I've been working on a lot of projects in conjunction with a faculty advisor," Dennise said of her work as editor of the Dartmouth literary publication. "Working with Mr. [Rafal] Olechowski as the advisor to [Townsend's] magazine, I had previously experienced this sort of dynamic firsthand. It turns out that there is certain knack to keeping faculty advisors in the loop about new developments so that they can most effectively guide and facilitate the direction of a project."
She described her work on The Phoenix as a highlight during college interviews, particularly in landing a tutoring position at Dartmouth's student writing center.
"To produce the magazine, we had to integrate so many different forms of media into one final product…I think the fact that I could point to actual hands-on experience definitely helped me stand out as a candidate during the application process," she said.
"Most of [Denise's] job was her coming in, putting away her feelings, and and making things happen– like a professional," commented Mr. Olechowski. "Her experience here will be helpful during her professional life… she'll find herself in the same position."
Nancy Lin, class of 2007, gained many useful skills from her leadership positions in both the Art Club and SING!. After high school, she studied art history at Harvard and curated an art show while interning at an art museum.
Nancy was also a SING! director for three years. She describes SING! as the highlight of her high school experience.
"Besides being another form of artistic expression for me, it also taught me important leadership skills, such as confidence, sensitivity tactical problem solving, consensus building, managing large numbers of people, and conflict resolution," she added. She mentioned that these skills helped her while working at an architecture firm in Manhattan.
Today, Nancy is pursuing a PhD in art history and plans to become a professor and curator.
Elizabeth Feder, class of 2005, also used THHS's Art Club to gain artistic experience through many of the city's art programs. This would later culminate in her  research on Berlin architecture and working for a German architecture office.
Margherita Wischerth, Art teacher, commented on the significance of Art Club to students."It is also an opportunity for students pursuing  careers in the arts to build up a portfolio when they otherwise wouldn't have the time."
Keegan Valbuena, class of 2010, says his time in Latin League taught him to appreciate the classics. "Before I joined my sophomore year, I was already enthralled with the classics and having the opportunity to be part of a group of like-minded individuals was, as it were, icing on the cake if not the impetus for my study of the classics in college and beyond."
As Jonathan Owens, Latin teacher and Latin League advisor, put it, "Those interested in Latin come to Latin League. Students find a place where they can pursue an interest with a much greater enthusiasm and focus than they would in class alone."
Keegan majored in the classics at Columbia University and is currently attending Cambridge University for a Masters degree in Philosophy in ancient history, but his high school classics experience has not left him. "Whenever I am burning the midnight oil translating some obscene amount of Thucydides, I still reminisce about those afternoons playing certamen and learning obscure Roman gladiatorial terms. It often brings me back to those initial feelings of excitement and joy that anyone who has found their passion knows so well—it is often these memories that inspire me to soldier on."
Leave a Comment
Your donation will support the student journalists of The Classic. Your contribution will allow us to purchase equipment, support our extracurricular events, celebrate our staff, print the paper periodically, and cover our annual website hosting costs.