Written by Noah Sadik
The New York City Science and Engineering Fair (NYCSEF), is the largest high school research competition in NYC. Every year, hundreds of students from the five boroughs participate in this event sponsored by the New York City Department of Education and the City University of New York. The competition is comprised of research projects in different categories such as mathematics, behavioral and social sciences, and physical, environmental, and natural sciences.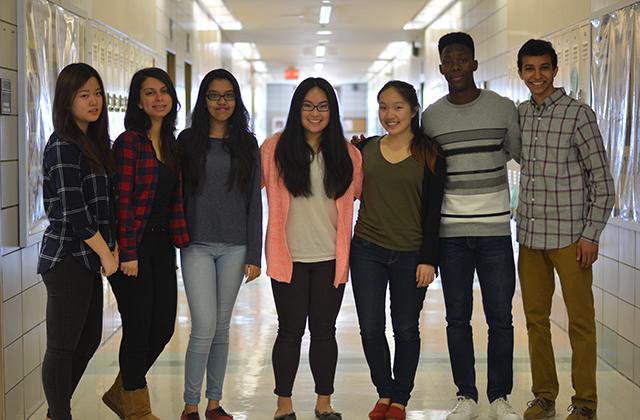 Judges evaluate competitors on the extensiveness of their studies and their presentations. The top prizes include scholarships to study at CUNY's City College of New York and Hunter College as well as a trip to represent NYC at the 2016 Intel ISEF competition. This year, Harrisites entered the competition with projects from their Science Research and Social Science Research classes.
Senior Peony Tse won First Place in the Behavioral and Social Sciences category with her project on the morals of NYC public high school students and rates of academic cheating. She remarked, "I was well-prepared for the competition because I've been doing this work since the beginning of my junior year, and I knew every aspect of my project and could answer the judges' interview questions nicely."
Senior Billal Alamarie won a third place award in the behavioral and social science category as well as a $16,000 CUNY scholarship. He stated that "The students involved in this competition came from top schools… it was competitive. I think the presentation might have been the determining factor."
Senior Meharin Arzu won a second place award from the American Psychological Association with her project on the effects of sleep on cognitive health. She felt "very well prepared for the competition because Mr. Scardino made us practice in class a lot." Senior Delphine Zheng also won a second place award, and seniors Nathalie Rivas and Dysron Marshall won third place awards for their research projects.