MSA hosts Hennafest 2018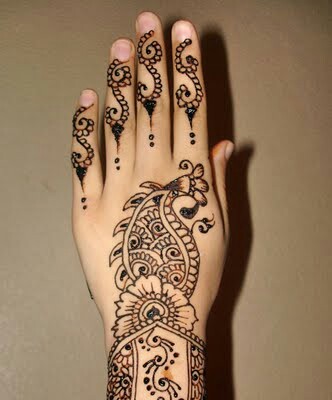 The Muslim Student Association (MSA) and Assistant Principal Ellen Fee, their advisor, recently hosted Hennafest 2018, after it was postponed because of a snow storm. The first Hennafest was held in 2010 and has since become an annual tradition at Townsend Harris, to serve as a way to embrace different cultures. Both THHS students, as well as alumni and other high school students, were invited to attend Hennafest. Attendees had the opportunity to try on a hijab and even capture the moment with a picture. Henna was also available and for those who purchased tickets that included food, there was an array of ethnic foods to choose from. This year's event included new decorations from lights to a tapestry that was a prime spot for photos.
Co-President of MSA and junior Asiya Koli described Hennafest as a way "to bring people of different cultures together under the South Asian tradition of Henna."
This year's Hennafest theme was the Pursuit of Happiness. Vice President of MSA and junior Atia Ahmed commented, "We felt the theme was very relevant to high school kids who often get caught up in the stresses of the school's workload and forget to appreciate the things that truly matter in life." To emphasize the theme, MSA invited Mayisha Ahsan, an alum of THHS and the founder of MSA at THHS, to be the guest speaker. Aria pointed out that her experiences as a THHS student allows her to "connect well with the audience."
Hennafest also included performances where students had the opportunity to showcase their talent. Hawkapella performed at Hennafest as well as other THHS students.  Junior Danielle Chan shared an original piece and senior Zayyan Alamgir beatboxed while alum Daniell Morales sang. In fact, Daniell and Zayyan's performance won first place at MIST regionals last year. Students from other schools also performed.
Both co-presidents, Asiya Koli and senior Zayyan Alamgir agree that the best part of Hennafest is "seeing the final product." Asiya explained, "After continuous planning and putting everything together, it is so rewarding to just take a deep breath and look around at your vision in action." Zayyan said, "The best part of Hennafest is the smiles on everyone's face. With all the cool lights, photo booths, hijab and henna booths, performances, powerful speakers, savory homemade foods, we make sure that everyone enjoys the unique and empowering event of Hennafest. It really makes the whole team proud of what we can achieve together."
Junior Jessica Wang who attended Hennafest 2018 believes that Hennafest is a "really cool way of letting an 'outsider,' so to speak, be able to see glimpses of another culture and how it compares to their own." This is her second year going to Hennafest, and she said that she thought "it was even better than last year, with all the decorations and the keynote speakers such as the founder of MSA at THHS." She continued on to say, "The henna drawing is one of my favorite parts of Hennafest, and I think it is most people's favorite part. Currently, racism is such a big issue, and I think that makes henna especially important because it is something that is unique to brown culture, and the fact that so many people, who aren't even brown, love it, shows how it's important to find beauty in things that are different."
Leave a Comment
Your donation will support the student journalists of The Classic. Your contribution will allow us to purchase equipment, support our extracurricular events, celebrate our staff, print the paper periodically, and cover our annual website hosting costs.