The curtains of the auditorium opened to reveal a stage set with a small stand, a desk, and a couple of chairs. With that relatively simple setup, English teacher Joseph Canzoneri, his cast, and his crew put on The 25th Annual Putnam County Spelling Bee, a musical about a group of eight eccentric middle schoolers with great ambitions.
Running from April 5-6, the Bee, which featured a modest-sized cast and moments of audience participation, represented the culmination of months of hard work by all involved.  It received positive reviews from those in attendance.
Senior Yerim Jee said, "I thought the play was entertaining. I liked the fact that the story didn't revolve around one specific character."
"I really liked it. It was really cute. I thought that the characters were spot on. The actors really fit their roles," said Deborah Chai, junior.
Given its school setting and the academically-driven cast of characters, the Bee offered audience members a recognizable focus.
Freshman Joan Nieh said:
"I liked it better than last year's play. I thought it was interesting and relatable. The actors were students who played the roles of students, and they cared about their education a lot."
Mr. Canzoneri discussed the potential for relatability as part of his rationale for choosing the play: "It was a factor. Nerdy overachievers at a spelling bee describes the student body here pretty well, so I did think that there were situations and circumstances and characters that the school community could relate to."
Unlike many dramatic performances, the Bee allowed audience members to directly interact with the cast of the play.
Richie Bonilla, graduating class of 2012, participated as one of the spellers on stage. Richie also designed a t-shirt and the program cover for the play.
Reflecting on the experience, Richie said, "It was great. I always wanted to come back and see how it was after I left. I was surprised about going on the stage because it was very unexpected, but I'm used to the stage and the crowd so it was okay."
Junior Nicholas Castro, who played William Barfée, said, "I'm definitely trying out next year. It's such a welcoming environment and Mr. Canzoneri does a fantastic job of making everyone feel important."
Merin Varghese, senior, who played Olive Ostrovsky, said, "The play was one of my best high school experiences. I made unforgettable relationships with people I had never met before and strengthened the ones I already had."
Principal Anthony Barbetta, who also participated on stage, discussed his thoughts on the production: "I thought it was a wonderful experience, and I think Mr. Canzoneri did a fantastic job. The support from all the students and faculty was wonderful, and I enjoyed being on stage for Friday night."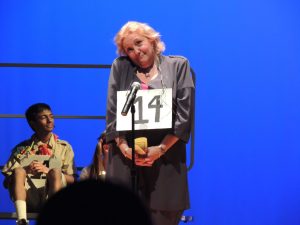 Some other members who participated in the improvisational moments of the play were Math teacher Aleeza Widman, Chemistry teacher Philip Porzio, Classical Language teacher Marianthe Colakis, Parent Coordinator Dafne Manhart and Physical Education teacher Maria Assante.
Mr. Canzoneri was pleased with the improvisational elements, but was highly complimentary of the scripted actors: "I thought [the actors] delivered a performance that did justice to the original and that made me and the whole production team proud."
The original musical first appeared on Brodway in 2005.  It earned six Tony nominations and won two.
A relatively new play, Mr. Canzoneri had wanted to stage it previously but ran into difficulties:
"We really wanted to do it last year but there were some licensing issues and we couldn't get a license to do the show. Secondarily, it's also much smaller in terms of number of people in the cast. I specifically picked something that was for a smaller cast."
Among the eight contestants that make up the main cast of the play are William Barfee (Nicholas Castro), whose last name rhymes with parfait and is defensively antagonistic. Marcy Park (Christina Lee) is tired of being the best at everything and wished she didn't have to live up to everyone's expectations. Logainne Schwartzandgrubenierre (Nina Leeds) is the daughter of two overly protective and fussy dads. Leaf Coneybear (Jin Won Seo) makes his own clothes and is amazed at his own ability to spell correctly. There is also Chip Tolentino (Steven Brijram), a boy scout who was hopelessly distracted by his hormones during the competition, Minie Martin (Marybeth Babu and Elina Parker), a girl from the south, and Ms. Osborne (Joy Nieh), who designs her outfits. Last but not least, Olive Ostrovsky (Merin Varghese), seeks the attention of her father and her mother, who went to India for spiritual rejuvenation.
The eight seemingly unique individuals participate in the Bee under the guidance of Rona Lisa Peretti (Fatime Uruci), who won the Bee for three consecutive years, as well as Vice Principal Doug Panch (Tawid Meah).
Although the odd bunch first arrives at the spelling bee aiming to win the first place trophy, they all leave with new outlooks on life.  What is really being celebrated in the Bee is the more private triumphs, from making new friends and engaging in new relationships to expressing inner desires truthfully.
"The story of the play was very unique and funny. Every person could have related with at least one of the main characters," said freshman Elina Niyazov.
For Mr. Canzoneri, the Bee marks an important milestone in his directing career at THHS: "This is the tenth play," he said, and laughingly added: "I think I'm stuck until I retire."
"After every year I say that I need a year off, but I manage. It's something that I like, it's something that the students like, something they look forward to. So barring any unforeseen circumstances, I think I'll do it until I retire."
It's clear, however, what makes the work involved in ten major productions worthwhile:
"I enjoy all of it. What I enjoy most is actually watching them perform.  Backstage is the worst place for me. It really is a great joy for me to sit back and watch it all come together. But really, every moment of the process is enjoyable to me."