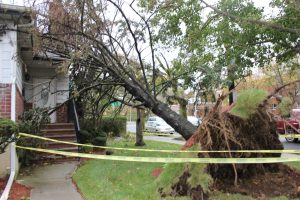 Hurricane Sandy, which hit on October 29, was reported to be one of the largest and most menacing storms to hit the East Coast in years, slamming the area with torrential rain, high-speed winds, and widespread flooding. An estimated 7.5 million people along the Eastern seaboard lost power and over 100 people died.
Sandy was reclassified as a non-tropical storm after its initial impact and carried winds of 80 miles per hour or more. Dangerous flood tides grew as high as 13 feet, according to the National Hurricane Center. President Obama signed federal emergency declarations for eight states and the District of Columbia, permitting state officials to begin making requests for federal assistance, including the delivery of manpower and much needed equipment to hard hit areas.
When the hurricane struck, a rampaging fire razed over 100 houses in Breezy Point, Queens. Explosions and downed power lines left the lower part of Manhattan and 90 percent of Long Island in the dark.
Additionally, Sandy closed down many major forms of transportation and forced hundreds of thousands to evacuate low-lying areas. Schools, colleges and universities shut their doors in anticipation of power outages and dangerous road conditions.
To make matters worse, a fierce nor'easter hit New York on November 7, adding to the Sandy devastation and lengthening cleanup efforts.
"We are certain that this is going to be a slow-moving process through a wide swath of the country, and millions of people are going to be affected," Obama told reporters at the White House. He said the Federal Emergency Management Agency is working closely with state and local officials across the Eastern seaboard.
Harrisites were not exempt from the effects of Sandy. Though some students escaped the damage entirely, spending a week away from school writing college essays and catching up on their Netflix queues, others were not nearly as fortunate.  Numerous students and staff members lost power for a great deal of time (or have temporarily relocated), and some have spent weeks dealing with ruined homes and the tragic loss of irreplaceable possessions.
Principal Anthony Barbetta commented, "Although the storm has devastated our region, I am amazed and heartened by the efforts of our entire school to come together to help those in need. Donations have been constant and even more of our community members are eager to help. Many of our staff members and students were affected and yet nearly 100% of them are back in school, despite the fact that some were without power and transportation was challenging. Thanks to their dedication, we are on track to return to our daily routines."
Ms. Robin Figelman, Physical Education teacher and Dean, said, "My senior gym classes cannot meet in Fitzgerald and we're fitting into open spaces at THHS. I have not gone upstairs to the shelter but I hear there are over 300 people. It's really sad."
History teacher Mr. John O'Malley was personally affected. "The biggest problem for me was keeping the car running on the gas in the tank, until it ran out on Thursday, so I had to take off on Friday," he said.
Also, Physical Education and Health teacher Ms. Maria Assante said, "Compared to some people, I'm grateful. I had no loss of life, no damage. I got off easy. But one inconvenience was that I had to take my children to family in Brooklyn so they wouldn't have to stay in the dark and cold. But the real issue was there was no gas, so how was I supposed to get my kids back from Brooklyn?"
Some students praised the government for helping during the storm.
"Although it took a long time for the power to turn back on, the government did a great job performing the correct safety measures as the national guard was stationed in my neighborhood the morning of the storm. They were able to save many people's lives. The storm also brought our community together. The only restaurant open in my neighborhood was giving out free pizza to everyone," said Laura O'Shea, senior.
"Hurricanes don't exactly come to New York City often and I don't think any amount of preparation or warning could have made this easier. I want to believe that Bloomberg is doing the best he can," said Anaya Farro, sophomore
Other students were left feeling like more should have been done.
"I wish the mayor or the city would've sent more ConEd people to the neighborhoods that needed it the most, like Howard Beach and Rockaway because I know many of my friends were without power until a few days ago and that was crazy considering [when] the hurricane hit," said Karan Chachlani, junior.
Upon returning to school, students spent a great deal of their time sharing stories. "I lost power for a week. It was freezing and dark, but compared to what other people had to go through, it was an inconvenience. The devastation is unbelievable, so it's good to see so many people reaching out and donating to the relief efforts," said Jillian Burke, senior.
Marco Gallagher, senior, said, "Well during the week off I was basically pumping six feet of water out of my basement and then gutting it and throwing out everything that was down there."
Samantha Prevot, junior, who had to transfer schools due to the distance between THHS and where she's living now, said,  "It's so sad to see the place that I love more than anywhere else, my home, so devastated. It really looks like a warzone. I don't know when I'm gonna be able to go home but I know that the people of Rockaway are strong and we can get through this. I look forward to coming back to Townsend for my senior year."
Sarah Kim, senior, said, "I know that there are a lot of victims of the hurricane who lost their homes in the aftermath, some of which are in Fitzgerald gym over at Queens College. I went over to volunteer for an hour, and it's sad to see how many have lost their homes and properties and maybe even family, but it's good that they still have their lives. It's amazing to see the volunteers that give up their time overnight or early in the morning to serve."
Kelly Zheng, junior, said, "I was out of power for about a week, and it was fairly annoying to deal with. My family and I had to finish pretty much everything before 5:00 PM since that's around when the sun set, and once it set, our main source of light was gone."
"My family and I were fortunate enough not to have any damage to our house, but the family across the street from us had a huge tree crash through the front of their house," said Alessandra Tabaoda, junior. "Weeks went by until the tree was removed, and the woman living there later told us that it cost her thousands of dollars to repair the house."
A sense of compassion ran throughout the Townsend Harris community after the storm hit.
Asmaaul Choudhury, sophomore, said, "It was pretty sad, even if I wasn't affected at all. Lots of people lost their homes and former lives. It did bring a lot of New Yorkers together. It showed that even if we don't seem to care about each other, we do."
"Nothing happened to me, but I feel bad for people who lost so much. I hope they are all okay," said Victoria Lau, senior.
Some, however, felt that unaffected students enjoyed the time off too much. Freshman Coryn Nahum said, "I found it rude how a lot of THHS students weren't compassionate – they were happy that it happened and that they had off."
Others, wanting to support the volunteer efforts, found it difficult to do so. Junior Katelyn Schob said, "I was planning on volunteering in the Rockaways, but some of the people we were planning on going with went first and found out that since there was still so much damage, they were only letting certain people through on buses and they had to be over eighteen years old.
Seeing the bright side, Sofia Milonas, junior, said, "It made me realize how fortunate I am that I normally have power and water and how valuable hot water is."
And for some, the storm offered a chance for neighbors to truly come together.  Sarah Rader, senior, said, "I was the only house in my neighborhood with power, so all of my neighbors came to my house, it was like a little party."