In June, the New York City Department of Education released Guidelines to Support Transgender and Gender Expansive Students in order to promote a school atmosphere of mutual respect. 
The guidelines present a new approach towards transgender assimilation in New York City public schools. After a pushback resulting from past controversies, the DOE has made it easier for students to gain official recognition of their preferred gender identity. 
The change proposes the alteration of non-permanent student records with regards to the student's preferred gender. According to the DOE, "No documentation is required to update a name or gender marker in records that are not part of a student's permanent file. Schools must use the student's chosen name and gender in all other records that are not permanent records." 
In an attempt to eliminate gender discrimination, forms such as the Name and Gender Change Request Form will be available to students in the fall. 
Included in the guidelines is mandatory official recognition of students' preferred gender pronouns and names by staff and students. Additional accommodations include guidelines for the inclusion of gender neutral bathrooms and inclusion in gender-specific activities. Single-gender schools will now also consider students' gender identity rather than gender assigned at birth. 
Freshman Sam Preiom, who is genderfluid, stated, "It's relieving because now we [Transgender/Gender Expansive students] can easily come out and not be afraid of being more dysphoric." He also said that he is excited to see the changes the DOE is coming up with to make him and other genderfluid/transgender students more comfortable. 
Assistant Principal of Organization Ellen Fee, the parent of a transgender child, said,"I'm glad to see that they've at least caught up to what's happening culturally."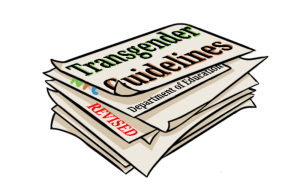 "It's an important change. It feels like we're finally listening to these students and moving forward in the right direction," said Assistant Principal of ISS and World Languages Georgia Brandeis.   
The DOE has also changed the guidelines so that the legal guardian of the student choosing to identify themselves differently from their birth-given gender does not have to be notified if the student feels unsafe in their environment. The DOE has done the same with students' classmates so the classmates will not be made aware of a student's new gender orientation unless the student feels comfortable releasing this information. This guideline also means that harassment based on a student's gender orientation will be handled in a more severe manner, so if a student wants to change their gender orientation it will be followed through and taken seriously. 
Sam said, "It makes me happy because it makes me see hope for the world and [that] people are capable of change to make everyone comfortable." 
Featured photo by Jessica Sandoval and Pragya Sharma.