Angela Zhu "flies" her way to States

By Ryan Eng, Gabriel Matatov, and Kristen Zhou, Staff Writers and Sports Editor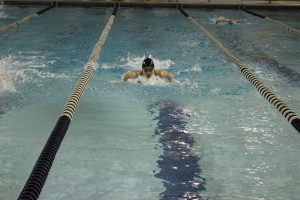 Each year, the Townsend Harris girls' swim team sends many swimmers to the PSAL A Swimming Championships, where swimmers have the chance to qualify for the State Federation meet in Ithaca. At this meet, junior Angela Zhu qualified for states in the 100-yard butterfly and finished in 49th with a time of 59.74 seconds. 
Throughout the regular season, Angela shined as the "flyer" of the team; she swam the butterfly leg in the medley relay and the 100 fly as her main event. At the "A" meet, Angela was one of the top seeds in the preliminary round of the 100-yard butterfly. She ended up swimming a time of 59.90 seconds, breaking a minute in the event for the first time in her career and securing a spot on the States team. "I didn't hear the announcer say that I qualified, so I didn't find out until I walked back to my team. I was so surprised," recalled Angela. Senior co-captain Emily Yan, who was watching the event with the team, said, "When we [the team] saw her time, I think everyone was jumping out of their seats. She worked so hard and was so close to the [qualifying] time for the past three years. We were all so excited for her." In finals, Angela finished fourth overall in the event with a time of 59.38 seconds, dropping even more time from her previous swim. 
Her success this season, however, did not come without sacrifice. In addition to swimming for Townsend Harris, Angela swims for Queens Aquatic Club, a USA Swimming sanctioned club team. "[Swimming is] year-round, where skipping practice even once can have a huge impact on endurance and stamina," said Angela. She would get home from practice after 8 PM every day and often missed out on hanging out with friends on weekends. In balancing both teams and her schoolwork, she admits to having thoughts about giving up. However, the goal of "breaking a minute in the 100 fly kept me strong throughout all my practices. I feel like it was all worth it in the end." 
The States meet was held at Ithaca College this past weekend. Angela, alongside the PSAL team, competed against the top swimmers from all of New York. Angela said, "Even standing next to them [other swimmers] was intimidating and I could tell that everyone at the meet worked hard to get there. It motivated me to practice even harder." With this experience, she has set new goals for herself; she hopes to drop even more time and make the States team in her senior year. 
Angela attributes much of her success to constant support from friends, teammates, and coaches. "I was really proud to represent my school, the Turtles, and my city at States. Reaching this level definitely took a lot, but I couldn't have done it without my teammates' encouragement and support." 
Photo courtesy of Joshua Vieira.
Leave a Comment
Your donation will support the student journalists of The Classic. Your contribution will allow us to purchase equipment, support our extracurricular events, celebrate our staff, print the paper periodically, and cover our annual website hosting costs.