An Interview with Wednesday Addams

Tonight would have been the final performance of The Addams Family. The Classic asked Francesca Manabat to design what Junior Weiye Yasen would have looked like as Wednesday Addams, a key role in the musical (see below).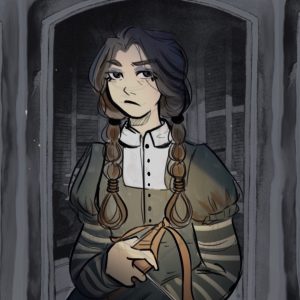 Wednesday Addams is known for her gothic fashion sense, as well as her bitter and dry-witted personality. She enjoys raising spiders, writing poems to them, and painting sinister pictures of human heads and trees. She falls in love with a "normal" boy and must learn to balance her relationship with his family and her quite unusual family. 
Q & A with junior Weiye Yasen (Wednesday Addams)
Q: What's your favorite thing about playing Wednesday Addams?
A:  My favorite part of playing Wednesday is trying to figure her character out.  She is a really interesting character that has a lot of different sides to her, and I feel like, throughout the play, she is trying to figure out who she really is.  It's also about learning the process of making decisions, not based on what I would do, but based on what Wednesday Addams would do. 
Q: What scene in the play were you most looking forward to seeing executed on stage?
A: There are so many exciting scenes, but I was looking forward to putting One Normal Night together because practically everyone is involved. 
Q: How has COVID-19's effect on the performance made you feel? 
A: I was extremely disappointed, but I tried to have hope that we could still go back to school early enough to still put some sort of production together. I guess in a way, my wish came true because we're still doing something virtually! 
[vsw id="https://www.youtube.com/watch?v=J7Idec2BOzo" source="youtube" width="425″ height="344″ autoplay="no"]
https://www.youtube.com/watch?v=J7Idec2BOzo
Watch Weiye Yasen take on the role of Wednesday Addams. Animation as Victor Shemper
Backdrop art by Joanna Li. Produced by the Townsend Harris Players
Leave a Comment
Your donation will support the student journalists of The Classic. Your contribution will allow us to purchase equipment, support our extracurricular events, celebrate our staff, print the paper periodically, and cover our annual website hosting costs.