Frontline Diamond Princess pulmonologist shares his COVID-19 patient treatment experience: Q&A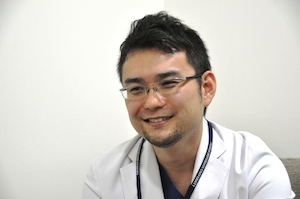 In recognition of the pioneering diplomatic efforts set forth by our namesake, Townsend Harris, and in the spirit of collaboration between America and Japan, Dr. Takashi Niwa, Chief Physician of the Department of Respiratory Medicine at the Kanagawa Cardiovascular and Respiratory Center in Japan, agreed to partake in an interview with The Classic and shared his thoughts and observations on the COVID-19 pandemic.
Dr. Niwa is a clinical pulmonary expert who was among the first physicians outside of China to care for and treat COVID-19 patients. In February, over 700 individuals on the Diamond Princess cruise ship tested positive for COVID-19.  The ship docked in Yokohama, near Dr. Niwa's clinical institute in Kanagawa.  He and his colleagues treated patients from the Diamond Princess, learning important clinical lessons and gaining valuable experience which they shared globally. Dr. Niwa continues to treat and advise COVID-19 patients in Japan.
Here, Dr. Niwa shares his experiences and thoughts on the COVID-19 pandemic with Townsend Harris High School students and the extended Townsend Harris High School community. 
Q: What is it like treating patients who have COVID-19 infections?  How many patients have been treated at your hospital?
 Dr. Niwa: Since this virus is a newly emerged one, humanity does not yet have a special remedy. However, there are several drugs that have the potential to have special effects, so we are administering them in clinical trials to see how they work. There are currently 20-30 patients in my hospital.
Q: What are the major challenges to physicians in Japan who are treating COVID-19 patients?
Dr. Niwa: Unfortunately, there is a lack of materials to protect medical personnel in Japan. This is not because of the lack of protective gear, nor is it because of a lack of money to buy it, but there is a problem with the system that leads to the purchase.
Secondly, We don't have a system in place in Japan for administering many tests. Therefore, the reality is that many patients remain undiagnosed.
Q: Are there communications between physicians from all over the world on what treatments work best for patients who are infected?  As you and your colleagues gain experience treating patients, has your approach to treatment changed?
Dr. Niwa: Every day, we read and validate papers from around the world. Sometimes we exchange information directly through web conferences and other means. At the same time, we are also developing new treatments by conducting clinical trials. 
In fact, there are many parts of our treatment strategy that we have reviewed based on information from doctors who are actually treating more patients. At the same time, I am becoming more and more convinced, having gained experience, that our treatment is not greatly wrong.  
Experience, however, is not scientific. In order to make it scientifically based, it is important to verify it thoroughly and then disseminate the information to everyone. 
Q: What do you do to protect yourself from getting infected while treating patients? 
Dr. Niwa: We use PPE as a protection method based on WHO's recommendations and those of other academic societies. These recommendations are based on clinical evidence.
Q: How do you feel when somebody you have treated is fully recovered? 
Dr. Niwa: It makes me feel incomparably prouder than anything else. You'll find out when you're a doctor! 
Q: Have you treated any high school students with COVID-19 infections?  Do certain high school students have elevated risks than others?
Dr. Niwa: I haven't yet had to practice on high school students with COVID-19. I think the risk of death is lower in younger people. This tends to be the case with this disease.
Q: What suggestions do you have for high school students to protect themselves from getting COVID-19 infections?  Are there any special precautions that younger people specifically need to take?  Are there special online information resources that younger people in Japan use?
 Dr. Niwa: Japanese society has been recommending personal precautions such as hand washing and gargling for a long time. This method is old-fashioned, but I feel it is very effective. And there is a scientific basis for it. 
At this time Japan is not locked down, however the number of newly infected patients is getting down. This situation is a result of activity reducing, social distancing and personal precautions.
Q: Can high school students carry COVID-19 infections without being sick?  How can they tell if they are carriers?  Can they get tested?
 Dr. Niwa: This virus is characterized by the fact that a very large number of people are infected without symptoms. Even if you don't have any symptoms, there is a very high risk that you can infect people. I think SARS-CoV-2, the virus responsible for COVID-19, has more clever characteristics than any virus ever discovered. The survival efficiency of COVID-19 itself is very high. 
PCR tests are promising as diagnostics for currently infected patients or students who think they have been exposed, it may be impractical to use PCR tests for all high school students.
Most young individuals are relatively asymptomatic after being infected.  Maybe in the future, we will have a rapid, easily processable test that we can use in schools.  Scientists are working on exciting possibilities like masks that light up if the wearer breathes out SARS-CoV-2.  Maybe Townsend High School students can develop the next best test!
Q: If tests are not available, what would you recommend to high school students who want to visit their grandparents or older relatives to help take care of them?
Dr. Niwa: The first thing to do is to prevent yourself from getting infected anyway. And if you do see them, always wear a mask, wash your hands, and only see them briefly. Now in this situation, I think you can communicate your love just by talking to them on the web.
Q: Are high schools now open in Japan?  If so, what precautionary measures are students taking to prevent infection? 
Dr. Niwa: Even in Japan (as of the time of this interview), many classes are cancelled now. However, a reopening is being considered. If they do resume, it is important that they have the same or better personal precaution than they have in the past. 
Q: How do you predict COVID-19 infections will be prevented in the future, and how you think patients will be treated in the future?
Dr. Niwa: I think it's possible. If we can create a vaccine, we can reduce the risk considerably. In Japan favipiravir is expected to be a therapeutic drug. However, there are many other remedies expected to be created soon.  
Epidemiologically, it has been reported that once 60% of the population is infected and possesses antibodies, the epidemic will naturally subside. However to infect so many people, it takes the lives of far too many victims. We must overcome this crisis by biding our time and being patient so that we can sacrifice as little as possible, while developing treatments and vaccines in the meantime.
Q: How has COVID-19 impacted the mental health of young people in Japan? Are there any support systems for people during this time of uncertainty?
Dr. Niwa: The Japanese students in high school and below are very smart and obedient. Everyone always spends their time thinking about what they can do for society. However I'm sure there's a lot of frustration building up in their self-discipline. As a matter of fact, there is a child who pushes the doorbell at the apartment where I live now! She is not a child who normally does that, so I think she does so out of frustration. 
In Japan, the act of counseling is not common, the system is not in place, and the culture of using it is not well established. The Japanese are not very good at expressing what's inside their hearts out. I think that's the influence of that kind of cultural background.
 Q: In closing, can you share how Townsend Harris, the diplomat after whom our school is named, is remembered in Japan?
Dr. Niwa: Mr. Harris is very famous in Japan!  His work was very important in the opening of Japan to the world. He always appears in Japanese history textbooks.
Leave a Comment
Your donation will support the student journalists of The Classic. Your contribution will allow us to purchase equipment, support our extracurricular events, celebrate our staff, print the paper periodically, and cover our annual website hosting costs.