Seniors say socially distanced goodbye at school building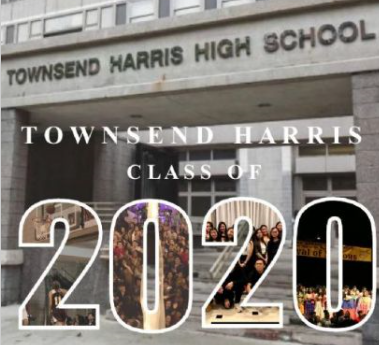 Last Thursday, seniors reunited at Townsend Harris High School once more to drop off school supplies and pick up materials. Unlike other Harrisites, they will not come back to school for the fall semester after a school year cut short by the coronavirus pandemic. 
According to senior advisor Jaime Baranoff, they "held a socially distanced event for the seniors to pick up yearbooks, awards, and transcripts." In addition to the collection of belongings, the event allowed for students to "drop off textbooks, technology, and musical instruments," she added.
The event followed social distancing guidelines, and students were offered the possibility to receive their materials by mail if they were unable to attend. Ms. Baranoff explained, "We asked students to keep a distance of six feet between themselves and other people, required the wearing of masks, and we created a schedule by official class to stagger students' arrivals to the school… [they could also] contact the school to see if materials can be mailed to them." 
Adherence to these regulations ensured a sense of safety among returning students. "There weren't a lot of people when I went and it was in an open space so it felt safe," stated senior Katherine Chokpaporn.
Despite this, there were exceptions to the rule. Katherine explained, "Although there were people who grouped up, understandably since it's been three months, everyone had masks on and weren't there for very long." 
Though the purpose of the visit was to pick up remaining materials, many seniors saw it as an opportunity to see their friends and teachers in person for the first time in months. Senior Brianna Trinh said, "Going back to Townsend definitely gave me some sense of closure because I was properly able to say goodbye to some teachers and also catch up with friends that I haven't seen for a while."
Some seniors also had the opportunity to sign their peers' yearbooks after dropping off their supplies. Those who left early or weren't in attendance also had the option of getting yearbook signatures virtually. Senior Catherine Carpio explained, "While this event did offer the possibility for some yearbook signing, there were few pens to go around since we were initially told to just grab our things and not hang around. But, at least in my experience, digital yearbook signing isn't too bad, just a bit different than the norm."
However, others were disappointed by the limitations the pandemic posed on their reunion. Senior Hudaiba Khatri said, "I was glad I saw my friends, but all the teachers that meant so much to me I couldn't see and that hurt a lot." 
Senior Ruby Wang also felt returning to school wasn't enough to replace how senior year would normally end. "I don't feel like a physical building would give closure since I don't hold any feelings towards the locations itself. It's more about the inability to see my friends and teachers one last time, not the building," she explained.
Hudaiba hopes the school plans a future event for the Class of 2020. She said, "I wish there was a proper yearbook signing event or a small safe picnic the school can hold."
Despite the coronavirus pandemic having done away with the last three months of their senior year, Ms. Baranoff praised the seniors. "I will always remember the class of 2020 fondly, and as one of my favorite classes in my 14 years at THHS. I could not have asked for a better class in my first year as senior advisor," she concluded.
Image from 2020 yearbook
Leave a Comment
Your donation will support the student journalists of The Classic. Your contribution will allow us to purchase equipment, support our extracurricular events, celebrate our staff, print the paper periodically, and cover our annual website hosting costs.