Need food inspiration this New Year? Try these teacher holiday recipe favorites

By Hana Arafa and Haley Otoole, Staff Writers
As the new year approaches, the Townsend Harris community can not be together for our usual festivities (winter concert, Singing, etc.). However, with the rest of the week still to go in the break, here are some holiday recipes provided by numerous THHS Faculty members so you can continue the holiday spirit and stay safe.
Mr. Morzan's Sweet Potatoes
Dean and History teacher Ian Morzan, provided a traditional sweet potato recipe that he has his "own special spin to." Savory and tart, it can be a viable contrast to the sweet dishes normally served during this time. The secret ingredient:  cumin powder.
Ingredients
2 cans of yams (Bruce yams easily available)

3-6 tablespoons of butter (or one stick of butter)

1/2 cup of brown sugar

4-6 tablespoons of cinnamon

1 teaspoon of cumin powder

1 bag of mini marshmallows (the surface area is key here, don't use the big marshmallows)

1-3 tablespoons of salt
Steps
Drain the yams in a colander and add to the container that you'll serve the dish in (this will be a time-saver later). While doing this, visually inspect the potatoes as some stray stems or other pieces of skin may need to be removed.

Add salt, butter, cumin, cinnamon, and brown sugar to the yams.

Mix and mash yams into an even consistency thoroughly distributing the ingredients and flavors.

Smooth out the top and place in a preheated oven at approximately 325-350 degrees, and depending on your oven, for about 25 minutes.

Remove the dish from the oven and fully cover the top with mini marshmallows. Garnish with cinnamon powder and brown sugar and return to the oven until the marshmallows turn a golden brown.
Tip from Mr. Morzan: you have to watch it as the marshmallows burn easily and quickly, but if done right it will become a crowd favorite.
Dr. Brewer's Christmas Jello Salad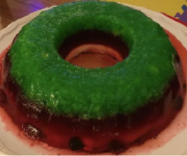 English teacher Brian Brewer, shared his "Christmas Jello Salad" recipe and noted that "jello salads are a very strange category of food that merits an article of its own." 
Ingredients:
1 package (3 ounces) lime gelatin

1 cup boiling water

1/3 cup unsweetened pineapple juice

1 cup crushed pineapple, drained
For the cream cheese layer:
1 teaspoon unflavored gelatin

2 tablespoons cold water

1 package (8 ounces) cream cheese, softened

1/3 cup whole milk
For the berry layer:
2 packages (3 ounces each) of strawberry gelatin

2 cups boiling water

1 can (14 ounces) whole-berry cranberry sauce
Steps
Dissolve the lime gelatin in boiling water then stir in the pineapple juice followed by the crushed pineapples.

Pour into an 11×7-inch dish and then refrigerate until set.

In a small saucepan, sprinkle the unflavored gelatin over cold water. Let stand for 1 minute.

Over low heat, stir until the gelatin is completely dissolved.

Transfer to a small bowl. Beat in the cream cheese and milk until smooth. Spread over the lime layer and then refrigerate until set.

Dissolve the strawberry gelatin in boiling water and then stir in the cranberry sauce. Cool for 10 minutes. Carefully spoon the mixture over the cream cheese layer. Refrigerate until set.

Cut gelatin into squares and if desired, serve with whipped topping, lime wedges, and fresh strawberries..
"Every year my mother would make an intricate ring mold of lemon Jello with huge pieces of fruit suspended within as if by magic. Slices of pears and bananas, bunches of grapes, maraschino cherries, mandarin orange slices—it was truly a masterpiece, almost as beautiful as my ring mold," Dr. Brewer said.
Mrs. Wischerth's Thumbprint Cookies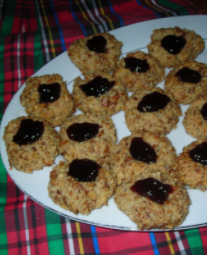 Art teacher Margherita Wischerth shared her recipe for Thumbprint Cookies. Mrs. Wisherth said she only makes them once a year strictly for the holidays. She found this recipe in a Betty Crocker cookbook that her old college roommate gave her in celebration for her bridal shower.
Ingredients (for 2 dozen cookies at about 70 calories each)
1/4 cup packed  brown sugar

1/4 cup shortening

1/4 cup margarine (softened)

1/2 tsp vanilla

1 egg (separated)

1 cup all-purpose flour

1/4 tsp salt

¾ cup fine chopped nuts (walnuts)

Jelly (raspberry) to fill the cookies
Steps:
Preheat the oven to 350 degrees.

Mix together the brown sugar, shortening, margarine, vanilla, and egg yolk.

Stir in the flour and salt until the dough holds together. Then shape it into 1-inch balls.

Beat egg white slightly. Then dip each ball into the beaten egg white and roll in the walnuts.

Place the dough balls about 1 inch apart on an ungreased cookie sheet. Press a thumb deeply in the center of each.

Bake until light brown for about 10 minutes. Immediately remove from the cookie sheet to cool.

Fill the thumbprints with jelly.
Mr. and Mrs. Morello's Sour Cream Coffee Cake
English Teacher, Matthew Morello gave us a recipe from his wife, Jodi Morello: sour cream coffee cake recipe. Mr. Morello said the recipe "was bequeathed by her Great Aunt Marilyn who probably learned it from a family member." He also noted that the recipe was from Depression-era America so the ingredients were simple and could be found in most kitchens. His wife Jodi made a few adjustments in the list of ingredients, and now claims ownership. He said that "she also developed a reduced calorie version, but who wants that around the holidays?" 
Ingredients: 
2 cups of sugar

1 cup butter (unsalted)

4 eggs

1 pint regular sour cream

4 cups of flour

2 teaspoons of baking powder

2 teaspoons of baking soda

2 teaspoons of real vanilla

Cinnamon 
Steps
Mix together the sugar and butter.

Beat in the eggs and sour cream.

In a separate bowl, mix the flour, baking powder, baking soda, and vanilla together.

Beat the dry ingredients in with the wet ingredients,cinnamon, and white sugar mix.

Sprinkle a mixture of cinnamon and sugar in the bottom of a well-greased tube pan.

Pour half of the batter into the pan and sprinkle more of the cinnamon/sugar mixture on top. Then pour in the rest of the batter and sprinkle the rest of the cinnamon/sugar mixture on top of it.

Bake at 350 degrees for 1 hour and 15 minutes or until a toothpick inserted into the middle of the cake comes out with no wet batter.
Tip: Add a bag of semi-sweet chocolate chips or washed and dried blueberries, raspberries or pitted cherries to the batter. The batter is very versatile, so you can experiment with adding things. It also makes a large amount. I've made muffins with the batter and put it in bread pan
s and cake pans (adjust cooking time). 
Ms. Laverde's Pernil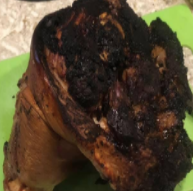 School librarian Arlene Lavarde shared her recipe for pernil. Pernil is a Puerto Rican roast pork shoulder. Ms. Laverde said she has "been making this for almost thirty years and I don't have exact measurements and most of the time I eyeball it." She said, "Remember cooking is to your personal taste and to add or omit things you don't like." 
Ingredients
1 (7-10 pound) bone in or boneless pork shoulder

 ¼ cup vegetable or canola oil

12 cloves garlic minced

¼ cup fresh oregano leaves

1 tablespoon dried oregano

1 tablespoons Adobo seasoning, the powdered canned kind

1 packet of Sazon con culantro and achiote

1 teaspoon salt

½ teaspoon black pepper

1 can of concentrated orange juice or pineapple juice
Steps
Use a sharp knife to make about 20 slits, about 1 inch deep, all over the pork shoulder.

Place the meat in a baking pan large enough to hold it with some space around it. Ms. Laverde said, "I like to use a disposable aluminum baking pan because cleaning up is easier."

Combine the oil, garlic, adobo, sazon, salt, and pepper. Rub the mixture all over the meat, working it all over the surface and into the slits.

Lift some of the top fat off the pernil and rub the concentrate juice between the top fat and the meat. Then rub the rest of the juice concentrate all over the meat.

Cover the pork with foil and refrigerate overnight (you can omit overnight refrigeration but it is tastier if you let it marinate for a while).

Bring the pork to room temperature by taking it out of the fridge and letting it sit for about 1 hour.

Preheat the oven to 300 degrees. Cover the tray with aluminum foil and bake for 3 hours. Then remove the foil and bake for another 3 to 4 hours until the pork is fall-apart tender. The internal temperature should be at least 165°.
Dr. Colakis' Greek Vasilopita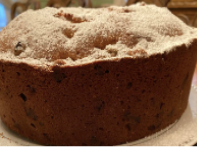 Classical Language teacher Marianthe Colakis shared her recipe for a "Greek Vasilopita." She said it is a "traditional cake served on New Year's Day, which is also St. Basil's Day. Traditionally, it's served either right after midnight or at breakfast New Year's morning, but it can also be served at any time throughout January. There's a coin baked inside, and whoever gets the slice with the coin has special good luck all year. There are also religious traditions associated with it as well." Dr. Colakis said that her "yiayia [grandmother] was the baker in our family, but she never wrote down any of her recipes. This recipe, by Aphrodite Polemis in her book Aphrodite's Kitchen, most resembles the cake I remember."
Ingredients
1 cup butter

1 ½ cups sugar

4 eggs

1 cup milk

3 cups flour

4 teaspoons baking powder

1 tablespoon grated orange peel

1 coin wrapped in foil (dimes are good)
Steps
Preheat the oven to 350 degrees.

ift the flour together with the baking powder. Cream the butter with the sugar until light and fluffy, then add the eggs one by one, beating constantly.

Add the flour mixture into the butter and sugar mixture alternately with the milk, beginning and ending with flour (generally add the flour in three installments and the milk in two).

Add the grated orange rind and the coin.

Transfer the mixture to a well greased 9 inch tube pan and bake for about 45 minutes to an hour, until a knife inserted into the cake comes out clean.

Cool it in the pan for about 15 minutes and then remove it. This can also be baked in a bundt pan, but be sure to dust the top with extra powdered sugar if you see the coin peeking through.
Mr. Scardino's Shrimp Scampi Linguine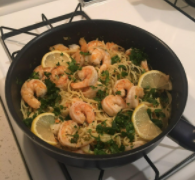 History teacher Franco Scardino shares his holiday called "Shrimp Scampi Linguine" and said,  "it is one of seven fish dishes I make for Christmas Eve. It can be eaten all year long." His recipe feeds about 4 to 5 people.
Ingredients
1 pound of large shrimp peeled and deveined

1 pound of thin linguine or a pasta familiar to it (your favorite spaghetti or pasta shape also works)

4 tablespoons of butter

3 tablespoons of olive oil

5 cloves of minced garlic

¼ cup chopped parsley

¼ chopped cilantro

2 lemons

½ cup of grated pecorino or parmesan cheese

Salt, pepper, and crushed red pepper flakes

½ cup of white wine

Bowl of pasta water (obtained from leftover water after pasta is boiled)
Steps
Boil a large pot of water for the pasta. Add one tablespoon of salt to the water.

As water is coming to a boil, clean the shrimp and season with salt and pepper to taste. When the water comes to a boil, add the pasta and cook according to directions (one minute less usually). The pasta will continue to cook with the shrimp later.

Heat a deep pan with butter and one tablespoon of oil. Once the butter has melted, add the minced garlic and saute for one minute.

Add the shrimp and saute, turning the shrimp frequently for 4-5 minutes. Remove from heat.

Add the zest of half a lemon and the juice of two lemons to the shrimp and mix well. Add chopped parsley, cilantro, and crushed red pepper flakes and mix well.

When the pasta is cooked, drain (save some of the pasta water) and add it to the shrimp pan. Turn the flame on medium and stir the pasta into the shrimp mixture.

Add 1/2 cup of pasta cooking water (optional). Raise heat to high and stir in grated cheese. Mix everything well. If too dry, add a few tablespoons of pasta water or a splash of olive oil. Turn off heat, garnish with thin slices of lemon and serve hot.
Photos the courtesy of Dr. Brewer, Mrs. Wischerth, Ms. Laverde, Dr. Colakis, and Mr. Scardino
Leave a Comment
Your donation will support the student journalists of The Classic. Your contribution will allow us to purchase equipment, support our extracurricular events, celebrate our staff, print the paper periodically, and cover our annual website hosting costs.