Back to school: 2021 club fair changes location amid positive COVID-19 case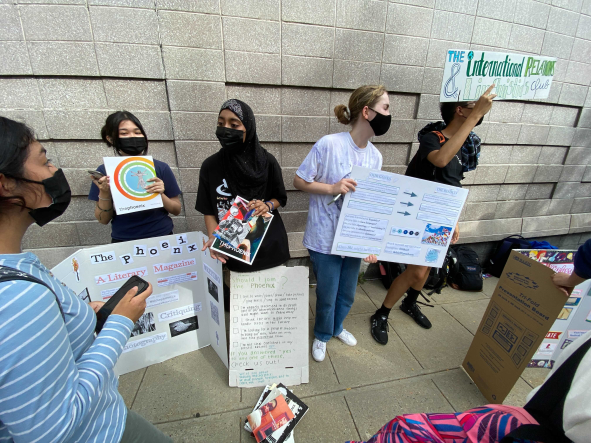 From September 20 to the 22, the Student Union hosted the annual club fair to expose the student body to the various extracurricular activities at Townsend Harris, and giving clubs the opportunity to attract members. The fair was held in the gymnasium for the first two days, but after a potential COVID case, the fair was relocated to the outside entrance of the building. 
Coordinator of Student Activities Nicole Gleizer said, "I think this year's club fair was a big success despite concerns over COVID. By predominantly having it in the gym and over multiple days we were able to create a more meaningful experience for both club leaders and prospective club members." 
Students had varying opinions about the relocation of the fair, some feeling unsafe due to the lack of adherence to COVID restrictions, while others welcomed the change.
"It was worse outside because everybody was cluttered. It was really hard to move, even to anything that was nearby. There were just people bumping shoulder to shoulder. [It was] not helping, being outside," said senior Sky Jiang.
Freshman Joyce Shen shared a more positive opinion. She said, "The fact that it was outside definitely made it better but obviously, it was still pretty crowded and everyone was around each other."
"I think it was okay. I think it was better to be inside only because everything was in one room–you can go around and make a little trail for yourself, but besides that, I think it was fine," said junior Abigail Agon.
Sophomore Sylvia Tai said, "It was definitely crowded, no social distancing. It would've been much better if the posters were on the tables–that way, you could find the clubs better because I got lost looking for them." 
Freshman Ramon Rivera III said, "I wish some of it was more inside so it wouldn't be all crowded…besides that, everything was good."
The club fair was also the first in-person event since 2019, marking the return of THHS annual beginning of the year traditions.
"Considering the circumstances regarding schedules and spaces, I think we did all that we could," said Ms. Gleizer, adding that the club fair would not have been possible without everyone's willingness to adapt to the changes. 
Photo by Ryan Eng
Leave a Comment
Your donation will support the student journalists of The Classic. Your contribution will allow us to purchase equipment, support our extracurricular events, celebrate our staff, print the paper periodically, and cover our annual website hosting costs.