Behind the scenes SING 2021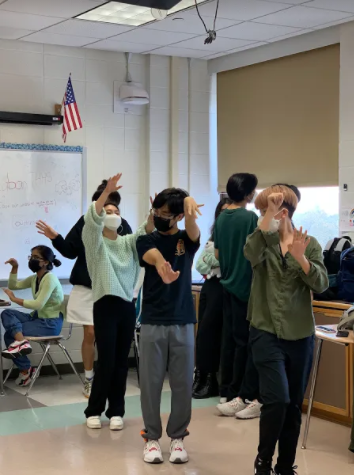 S!NG has been an annual tradition at Townsend Harris for numerous years. It is a competition in which two teams of students, the Freshiors and Semores, go head-to-head to put on the best theatrical performance. The students come up with everything themselves from the costumes to sets to the entire playwright itself. The battle is intense as the two groups battle for the win — so what measures have the students taken this year to create this production? 
The S!NG season officially began on September 27. This was one of the most exciting times for directors as they finally got to see fresh faces for the new season, especially since the Semores team worked together on Zoom last year. This year, the Department of Education mandated vaccination for all afterschool productions. This included S!NG.
"You can't have a show if people [actors] don't come," overall S!NG semore director Lisa Felson said. "It's honestly hard to put on a good show when there aren't people here to help you do that." 
Even though vaccinations are required for this year's production, it hasn't affected the number of people who joined S!NG this year. "[2019 S!NG Production's] email list had about 300 people…our email list currently has 249 [students]," Elliot Heath said, the freshior overall director.
The 2021-2022 school year started later compared to previous years with the production not able to start until the end of September/early October. Overall freshior director Kristen Song stated, "The biggest concern is getting it finished in time..a lot of it is time management and that always sucks [and] adjusting to actors schedules as well a lot of it is improvising." 
The directors themselves remarked how much time was given in the summer leading up to this production. "There was lots of writing," Lynda Irizarry said as one of the overall directors for the semores. "We brainstormed ideas for the plot in about a week." On top of that, the directors had to write the play script and communicate with the other directors of the singing and dance department to figure out how to bring this play to life. 
The freshior directors shared a similar experience. "I'm excited but I feel preparation is a bit lacking," Elliot stated. "We have a lot of great freshior directors who are pulling their weight and more."
Funding has also been a big issue this year. "Our overall budget is $1000 and it seems like a lot but it is not..not when you consider how many people we have in S!NG and how many people are in the dances and numbers..and thus need costumes," Lisa stated.
The freshior costume and makeup director Bonnie Chen said, "I was actually scared that no one would join [the costume and makeup department]..but my department has so many people! We are really trying to meet our goal of $200 with selling our [handmade] bracelets." 
Even with the difficulties of handling Covid-19 safety precautions, funding, and the normal struggles of the S!NG season, the directors are keeping a positive outlook. "Get ready for amazing dances we're so excited to share them with you all," Madeline Cannon stated, one of the dance directors for the freshiors. 
"It's going to be really awesome," Lynda said excitedly.
Photo by Kate Romero and Audrey Chou, Photography Editors
Leave a Comment
Your donation will support the student journalists of The Classic. Your contribution will allow us to purchase equipment, support our extracurricular events, celebrate our staff, print the paper periodically, and cover our annual website hosting costs.