Students report being in Canzoneri's presence multiple times this fall, despite DOE claims that he was kept away from them

Isabella Sicilian, a senior at Townsend Harris, told The Classic she has had trouble processing the news that broke in The New York Post this weekend about former English teacher Joseph Canzoneri, who had been removed from Townsend Harris High School in 2018 over sexual misconduct allegations and had been reinstated at THHS this fall.
On Saturday, NYC Department of Education (DOE) spokesperson Katie O'Hanlon told The New York Post and The City that "[Mr. Canzoneri] was not permitted to set foot in a classroom once these deeply disturbing allegations came to light, and is not working with any students or in any classrooms." Isabella, however, has been in his presence multiple times this fall; in fact, numerous students have at various times when visiting office 544, which houses teachers from various departments and is where Mr. Canzoneri set up a desk for himself.
"I just feel so disgusted," said Isabella. She said she felt disgusted at the school for putting her in "a dangerous situation," disgusted that Mr. Canzoneri still had a job, and disgusted that she felt like she'd been given a false sense of security when she entered the office.
Other students reported interacting with Mr. Canzoneri in room 544 throughout the past two months. One senior, who requested to remain anonymous due to the tense climate currently in the school, frequented the office to speak with one of their teachers. They told The Classic that they felt unsettled and concerned that Mr. Canzoneri had been there during their visits. They said they questioned the security they had previously felt while being in the office. Mr. Canzoneri was a constant presence in the room, they said.
One student directly worked with Mr. Canzoneri.
Senior Joel Ibabao worked with Mr. Canzoneri on his college essay, on the advice of another teacher, who was present in the room during their conference. Mr. Canzoneri read his essay, spoke with Joel, and provided feedback. 
"I question deeply why he was allowed into the building in the first place and I'm a little alarmed," Joel said.
Though the DOE statement to The Post said Mr. Canzoneri "was not permitted to step foot in a classroom," according to two sources with direct knowledge of the communications, the DOE directed Principal Brian Condon to put Mr. Canzoneri in classrooms with students but Mr. Condon refused to do so.
In a statement to The Classic, Mr. Condon said, "Simply put this is an unacceptable situation, and I have been advocating and taking actions since September to remediate and mitigate this series of dangerous decisions and maladaptive policies."
The DOE said to The Classic that because of state law and labor agreements, they were compelled to return Mr. Canzoneri to his former position at THHS after attempting unsuccessfully to terminate his employment. According to the DOE, state education law requires tenured teachers to receive a hearing and when Canzoneri's hearing officer dismissed all charges against him, the DOE was ordered to reinstate him at THHS. The Post reports the charges were dismissed because "none of the students agreed to testify." 
Despite these requirements, the DOE removed Mr. Canzoneri last week and tonight DOE spokesperson Katie O'Hanlon told The Classic that Mr. Canzoneri "​​will never be permitted back in Townsend Harris again."
Mr. Canzoneri did not return a request for comment from The Classic. 
Though they never assigned Mr. Canzoneri any classes to teach, the school administration did, on at least one occasion, put him in charge of a group of students. According to a Founder's Day Assignments document obtained by The Classic, Mr. Canzoneri, along with another teacher, was given a senior homeroom class to oversee in the auditorium on November 12. The entire senior grade, along with multiple faculty members, was present and the event lasted three hours.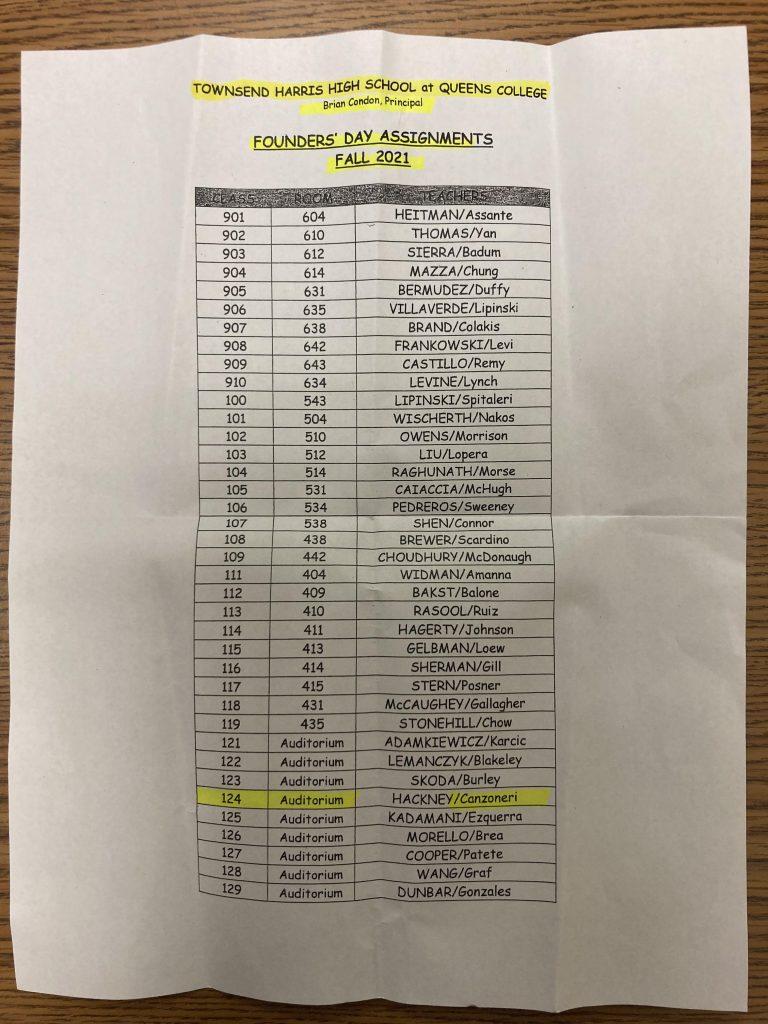 On a separate occasion, one of the writers of this piece (Ryan) was in Room 544 and observed Mr. Canzoneri volunteer to briefly substitute in a freshman class while the teacher left the classroom to get a COVID-19 test downstairs. Ryan walked down the stairs with the teacher who went to get the COVID-19 test. He did not see Mr. Canzoneri enter the classroom; however freshman Sebastian Morales, who is in the class, said that Mr. Canzoneri was present in the classroom on that date. Two other students also confirmed this when shown a picture of Mr. Canzoneri.
When asked to comment, the teacher of the class said The Classic was "misinformed." 
The DOE said that it did not have any records of Canzoneri being assigned a class but will look into it. 
The Post reporter broke the story on Saturday after obtaining a report on sexual misconduct allegations against Mr. Canzoneri from The Special Commissioner of Investigation For The New York City School District, which was sent to then-Chancellor Richard Carranza on May 31, 2019. This was the same report that a person claiming to be an anonymous parent sent The Classic on November 7 (the parent received the document by filing a Freedom of Information Law (FOIL) request. The Classic subsequently authenticated that document by sending inquiries to SCI and then filing a FOIL request for its own copy of the report.
In that May 31 report to the chancellor, the SCI investigators concluded that Mr. Canzoneri "demonstrated a consistent and troubling pattern of inappropriate behavior." As part of the behaviors described, the report said that Mr. Canzoneri "engaged in a sexual relationship…with a female THHS student." The office recommended for him to be fired and prevented from securing any future employment from the "DOE, its vendors, or in any of its facilities."
When asked to comment on Mr. Canzoneri's return to Townsend Harris despite SCI's recommendation that he be terminated, Regina Gluzmanov, a Public Information Officer for SCI, told The Classic: "SCI believes that the letter that was issued speaks for itself."
The Classic will continue to report on the circumstances around Mr. Canzoneri and other allegations of sexual misconduct at Townsend Harris. Our editors have received numerous tips from sources in recent days. Contact thhsclassic@gmail.com if you would like to share a story.
Leave a Comment
Your donation will support the student journalists of The Classic. Your contribution will allow us to purchase equipment, support our extracurricular events, celebrate our staff, print the paper periodically, and cover our annual website hosting costs.