Townsend sits in: Harrisites protest to protect students from educator sexual misconduct following NY Post report

Earlier today, three Townsend Harris seniors executed an organized sit-in protest in the lobby following coverage on former English teacher Joseph Canzoneri's reinstatement at the school despite sexual misconduct allegations made against him until he was removed last week.
Organizers Isabella Sicilian, Alyssa Figueroa, and Audrey Chou (a Classic Photography Editor), began raising awareness of the sit-in on social media during eighth band on Monday. From there, the seniors released a schedule, posted a petition, and drafted a list of demands.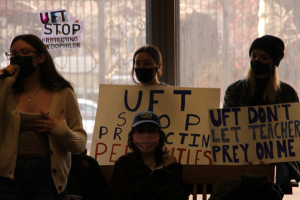 This list, signed by students with leadership positions across clubs and sports teams, consisted of five demands addressed to administration, deans, guidance counselors, alumni association, New York City Department of Education (DOE), and other constituents. In essence, the demands called for transparency regarding credible sexual misconduct accusations that are made against teachers within the school, the banning of the accused from entering the building and interacting with students, training for students, transparency for past failures, and the revision of DOE sexual misconduct policies.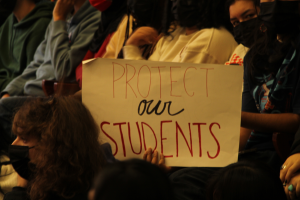 "What happened here was atrocious," Isabella said. "The reason we're here is not because we think it's helpless. We want better for our school and for our children, so we really hope this [protest] goes well."
Alyssa said, "I know students want to talk about it, but they can't because we have to focus on school. This is just sequestering time for conversation to happen. We want to see change. We want policies to change. We want transparency." She cited the inability to dedicate thorough conversations about the issue due to classes. 
Students funneled in and out during transition periods between bands, with some staying in the lobby and its surrounding areas for the entirety of the protest.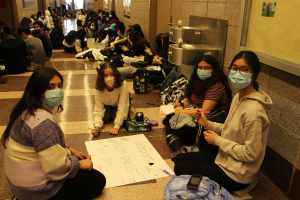 Audrey said, "The fact that people were able to sit in the lobby for over six hours and speak to a crowded floor of people speaks volumes about what we're capable of."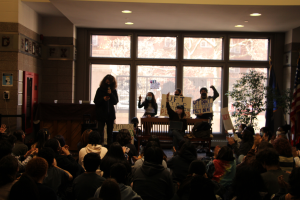 The protest consisted of chants, speeches, marching in the hallways, and open-mic opportunities for students who wished to share their thoughts about the situation in addition to any personal experiences with sexual harassment.
One of many students who took advantage of the open-mic opportunity was junior Axyl Fredrick. Prior to speaking, he said, "I feel really disgusted by this situation. It is beyond unacceptable for any of this to go on…The UFT has failed us." 
Senior Nadia Santo said, "I think it's great that practically the whole school is rallying for this cause…I think it's really brave for these people to have spoken up so far."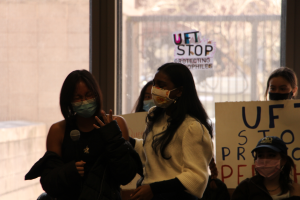 In reference to the report by The Post saying that Mr. Canzoneri's charges were dismissed because the accuser did not testify, sophomore Anusha Ramjanam said, "I feel like it's invalid to say that the girl did not speak up enough because it's really hard for some people to share their stories, especially for a girl in our society. To come up and speak up about these things is really challenging. Many young girls are judged or people don't believe them."
Freshman Hudson Wang said, "When we were young, we were taught that school was a safe place for everyone, but this really shows that the system is broken and it's not really safe for everyone. We have to make this change to make it safe for everyone in this community."
Around the beginning of the sit-in, Principal Brian Condon informed students in attendance that their option to participate would not hinder them in terms of any tests, projects, or quizzes they may have had planned for the day, nor would they be marked as cutting. Instead, students who had an assessment were to be given the opportunity to make up any assessments and be put down as absent for missed classes. 
Junior Sophia Sookram said, "I know Mr. Condon said that you're excused from all classes, but I think that whether he said that or not, people should still stay because it's an important issue and it's really wrong for students and parents to not have any information."
"I think that the kids have a right to express their thoughts and I think they're legitimate. This is what civics is about. I do think the law needs to be changed at the state level and if this leads to that, then good," Mr. Condon said.
Each assistant principal attended the sit-in at some point. 
Assistant Principal of Organization Ellen Fee said, "I support the student protest when the students are expressing their frustration with the system that puts teachers back into schools after questionable misconduct."
Assistant Principal of Guidance Veronica York said, "I think you all are amazing and that the way you're using your voice to really push for change, as a society and a system, we need to do better to protect our students."
Several teachers witnessed the sit-in as well. "I'm proud of all the students that are here today. It's great that they are able to express their feelings on this, and they have every right to be here," History teacher Francis McCaughey said. "It's a really difficult situation for everyone. As an adult, I've had a tough time processing it, not knowing anything about it and learning about it over the weekend. I imagine it's that much more challenging for a young person to be going through this."
At the time of publishing, the petition had accumulated around 1300 signatures.
"Today truly encapsulated what community looks like," Audrey said.
Photos by Jasmine Palma, Editor-in-Chief
Leave a Comment
Your donation will support the student journalists of The Classic. Your contribution will allow us to purchase equipment, support our extracurricular events, celebrate our staff, print the paper periodically, and cover our annual website hosting costs.