A Return to Tradition: SU Hosts Annual Freshman/Sophomore Scavenger Hunt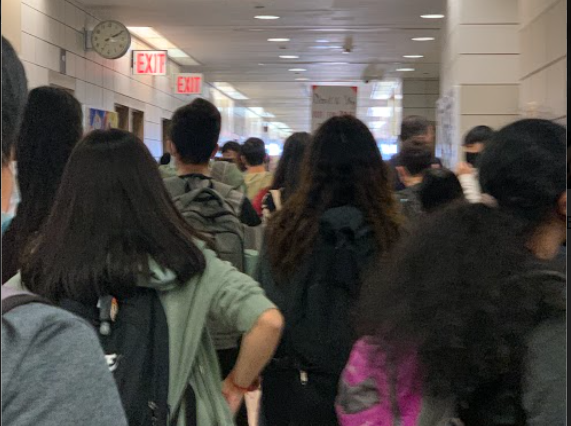 To get freshmen and sophomores more comfortable with the school environment during their first in-person year at Townsend Harris High School, the Student Union held its annual Scavenger Hunt on October 15. The event encouraged students to pair up with peers and solve riddles spread throughout the school for a chance to win a $20 gift card of their choice. 
Freshman-Sophomore President Hellen Oliveira Do Nascimento said, "I hope that students become more acquainted with the school… My aim with this year's scavenger hunt was to lead students to places they may not know where to find."
To meet COVID guidelines, concerns such as the overcrowding of hallways were handled by placing the riddle locations as far from each other as possible. Hellen also noted that while the pandemic hadn't deterred their plans for the Scavenger Hunt, it had put an end to numerous planned events. However, new events designed to make acclimating for freshmen and sophomores more enjoyable are expected to come.
To enter the raffle, students had to submit their riddle responses through a Google Form posted in each grade's Google Classroom. Starting from the lobby, students were directed to sheets of paper where an arrangement of numbers was written. The main task was to decode and unscramble these numbers for the next location. The final destination was the SU office, room 115. Of those who participated, the randomized winner was sophomore Jacqueline Singhnani.
Recounting upon her experience, Jacqueline said, "When there's something to work towards, you kind of become more invested in what's surrounding it, too, and events like the scavenger hunt make me excited to see what else the Student Union has in store, and how else I'll be able to be a part of the THHS community"
Students shared their experiences participating in the scavenger hunt and the problems they encountered using the Google Form.
Sophomore Alyssa Shim expressed issues regarding the formatting of answers that served as a source of irritation for numerous students. She advised the SU to "fix the form, maybe find a way to make all the answers within the right answer be correct, for example, if the answer is 'Office' let 'office' also be correct." Sophomore Alison Li said, "There wasn't much variety in the scavenger hunt, so maybe adding different puzzles and codes to solve would make the hunt more interactive and fun." 
Other students had not participated either being unaware that the scavenger hunt was taking place or choosing to opt-out due to the dedication of time.
Sophomore Edison Fang explained that he had not participated because "it was underpromoted" and that all he knew was "that it's happening." Meanwhile, freshman Jasmyn Pillay chose not to partake in the scavenger hunt, saying that "I didn't really have time to do it. The only free time I had was lunch…so it's kind of only break during the day." However, she did add that "if it was set up to be done specifically during one class period I would've taken part."
As a result, students such as freshman Jonas Suazo contemplated joining, claiming he "didn't know if a lot of people were gonna do [it]" and, through turning to peers, noticed that "none of them had done it."
Despite this, students still viewed the hunt as an opportunity to connect with their peers and create their own memories of THHS traditions. Freshman Ashley Liao shared that "The traditions and events of the school hold great value as they bring together the students, no matter what grade, to create a hospitable and tight-knit community, differentiating THHS from other schools." 
Photo by Classic Photography
Leave a Comment
Your donation will support the student journalists of The Classic. Your contribution will allow us to purchase equipment, support our extracurricular events, celebrate our staff, print the paper periodically, and cover our annual website hosting costs.