Why Forza Horizon 5 is the Highest Rated Video Game of 2021

During the pandemic, the gaming industry exploded in popularity as people found ways to entertain themselves at home. Amidst this surge of new gamers, Playground Games, the creators of the Forza Horizon titles, announced the fifth iteration of the Horizon series and the twelfth iteration of the entire Forza franchise. It's name? Forza Horizon 5. In a year where shooters and action games are widely played and highly rated by critics, Forza Horizon 5 stands out for proving how racing games are qualified to compete for the top spot. But what exactly sets Forza Horizon 5 above all video games released in 2021?
Forza Horizon 5, released in November 2021, is set in a fictional map inspired by the beauty of Latin America and the garage of the Sultan of Brunei. The game quickly gained recognition as major media reviewers such as IGN, The Guardian, The Verge, Windows Central, Trusted Reviews, Gamehub, GamesRadar+, Gamerant, Telegraph, and The Washington Post praised Forza Horizon 5, with IGN handing Forza Horizon 5 its Game of the Year Award.
This generation of the Horizon series has especially impressed gamers with improvements made to visuals, in-game story, and audio. With over 500 cars available and nearly 600 roads to drive on, the game provides players with action packed experiences — from racing against some of the fastest drivers in Mexico to throwing dune buggies down the side of a mountain to escape a volcanic explosion. Forza Horizon 5 uses the same formula as its predecessors, providing countless opportunities to race with friends, explore the landscape, and customize vehicles under the premise of expanding your driver's influence.
Forza Horizon 5 features the largest car roster at launch of any Horizon game in history. From classic racers to dune buggies to hypercars, there is quite literally a car for everyone. The Mercedes AMG One and Ford Bronco 2021 are additions to the series that players have been anticipating to drive after getting since the initial announcement of the game. Other notable new rides include the Mark V Toyota Supra, Aston Martin Valhalla, and Lotus Evija, with cars added every week to unlock via a "Festival Playlist." A single playlist contains a series of challenges that can earn a player points which contributes to their individual weekly total. Once a certain number of points are collected, the vehicle is automatically placed in their garage. Features like these entice players to periodically return to the game and interact with the community, strengthening the relationship between the gamers and developers as they work to improve the game for years to come.
A brand new feature called Gift-Drop allows for gamers to donate cars from their personal collection to any player within a certain demographic. Once receiving the gifted car, the player can then choose to give the sender a "kudos" point, which is intended to positively affect how others view them in the open world. Yet at this moment, Kudos do not serve any significant purpose and are not easily accessible to view by other players, so their purpose is limited to bragging rights. Still, gift drops are a fun and simple way to, as the game puts it, "make someone's day," especially when gifted a rare or limited car!
Cars also look and sound better than they ever have compared to prior iterations of the Horizon series. New methods used to record audio and integrate car models into the game allow for previously impossible details to be rendered. Exhaust notes sound fuller and more true to life while cars look realistic with deeper shadows and brighter reflections. Improvements like these only increase Horizon 5's immersion and overall wow-factor, especially when loading the game for the first time.
Forza Horizon 5 also features the biggest and most diverse map in the series' history (larger than Horizon 4's by 50 percent). Roads span multiple miles, and one biome can hardly be seen from the next. Rocky coasts, small towns, large cities, sand dunes, living deserts, rainforests, and farmland are just some of the biomes featured in the game. Each biome is distinct from one another with unique plant life, sounds of nature, atmosphere, and weather effects. During the dry season, large sandstorm clouds can be seen covering the deserts while heavy thunderstorms hover over the jungle during the wet season. 
Every Horizon game has a large city that reflects the characteristics of the home country, and Horizon 5 is no different. Guanajuato, Mexico is a colorful, vibrant city both on the surface and underneath. Tunnels found across Guanajuato connect different regions of the city together, creating a distinctive sense of depth and density. 
Similarly, Forza Horizon 5 features the longest highway yet in the series, used by racers to test the top speed of their cars. What had players even more excited was the prospect of driving to the highest point of any Horizon game. La Gran Caldera Volcano, translating from Spanish as "The Big Boiler Volcano," provides drivers with panoramic views of the world. As Forza gamers put it, the new map combines the diversity of Australia represented in Horizon 3 with the elevation changes and details present in Horizon 4's open world based on the United Kingdom, making it the best map yet.
Location is one of the main aspects of any Horizon game, and with location comes both geography and local culture. Here, ancient temples, historic monuments, and significant geographic locations are introduced in detail through new events called expeditions. There are five unique expeditions in Forza Horizon 5, each resulting in the opening of a new festival. Building festivals unlocks new events that give racers more influence, which in turn, allows for them to go on more expeditions. So how exactly do these expeditions work?
Well, throughout the game, "accolade points" are won after completing certain challenges or races, building cumulatively towards a personal collection. Early in the game's story, accolade points are essential in granting players "unlocks," or tokens that can be used to "unlock" special races and missions such as expeditions. Expeditions range from gathering data at the top of an active volcano to exploring protected statues to participating in a lunar festival. In-game characters direct your driver on what to collect and discover while custom soundtracks set the mood, making expeditions feel more like guided tours rather than stressful races.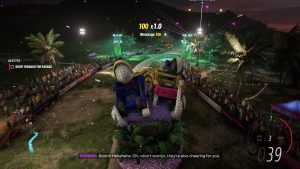 Expeditions are the greatest addition to the entire Horizon series. With a focus on local culture, Forza Horizon games have long attempted to create a virtual world representative of what makes its location significant, and Horizon 5 conveys this principle better than any previous iteration of the series. Playground Games have managed to share traditional Mexican culture with millions of players through a racing game. Expeditions make a history lesson interactive and enjoyable, effectively proving the potential of video games in providing a fun and educational experience. This is not only limited to Expeditions because, after all, Horizon 5 is a car game that honors each vehicle, providing information on how to both tune engines for maximum performance and create new designs that can personalize your garage.
Photos by Adam Sayah
Leave a Comment
Your donation will support the student journalists of The Classic. Your contribution will allow us to purchase equipment, support our extracurricular events, celebrate our staff, print the paper periodically, and cover our annual website hosting costs.