Legislators and DOE officials visit for event aimed at promoting Queens College Bridge Year Program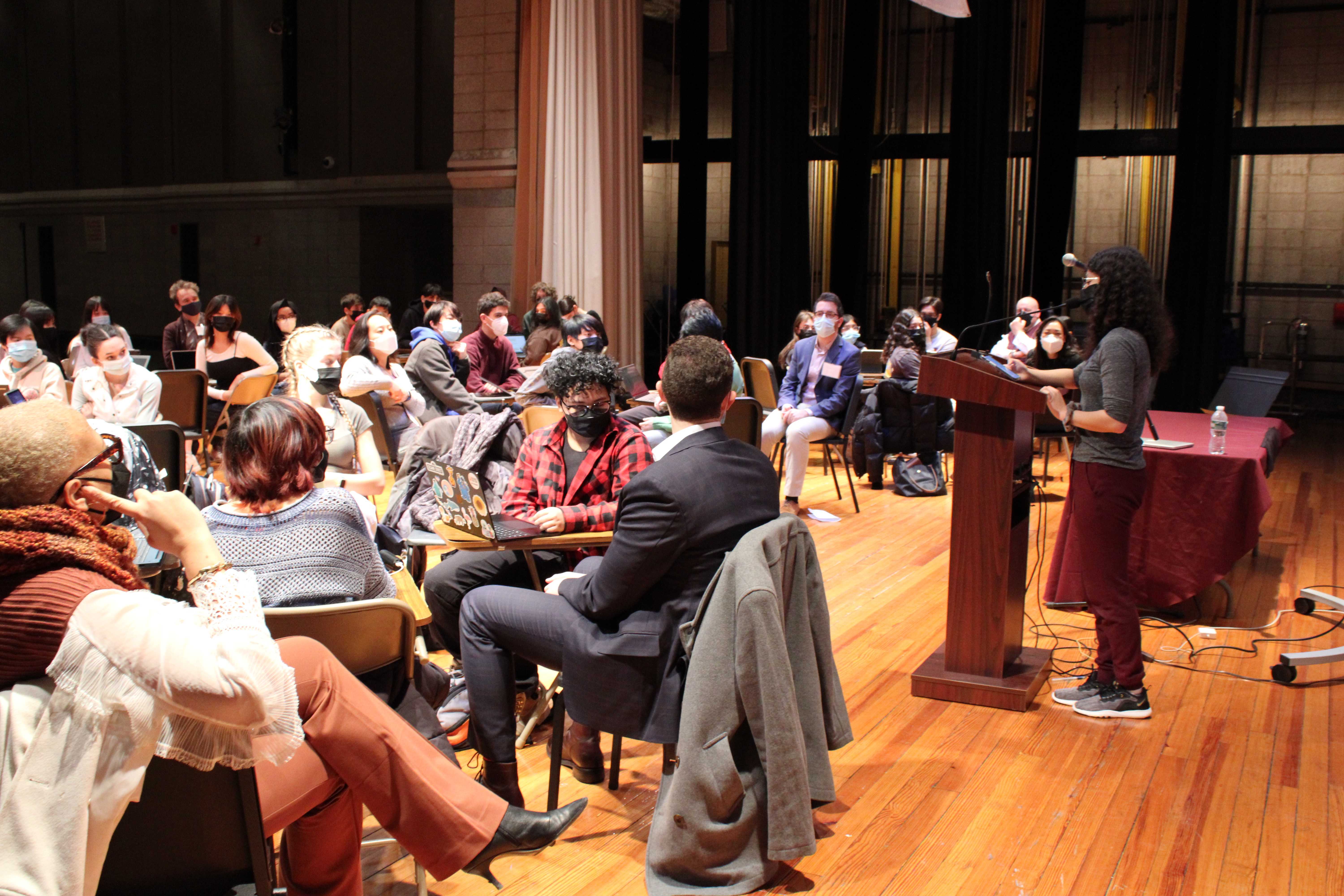 Last Friday, Townsend Harris administrators, teachers, and senior Harrisites hosted a Legislative Breakfast to advocate for the continuation of the THHS-Queens College Bridge Year Program following its complete defunding by the Department of Education in 2020. At the event multiple guests, including Executive Superintendent Dr. Mauriciere de Govia, Queens North Superintendent Elaine Lindsey, Assemblyman David Weprin, Assemblywoman Nily Rozic (an alumna), Queen District Attorney Melinda Katz, District 23 City Council Member Linda Lee, and Assemblyman Edward Braunstein, reaffirmed their commitment to advocating for funding the program's future.
The event took place on the auditorium stage, where students held a mock seminar class. Legislators sat in open seats to listen in to student discussions that modeled work that would take place in a typical humanities class.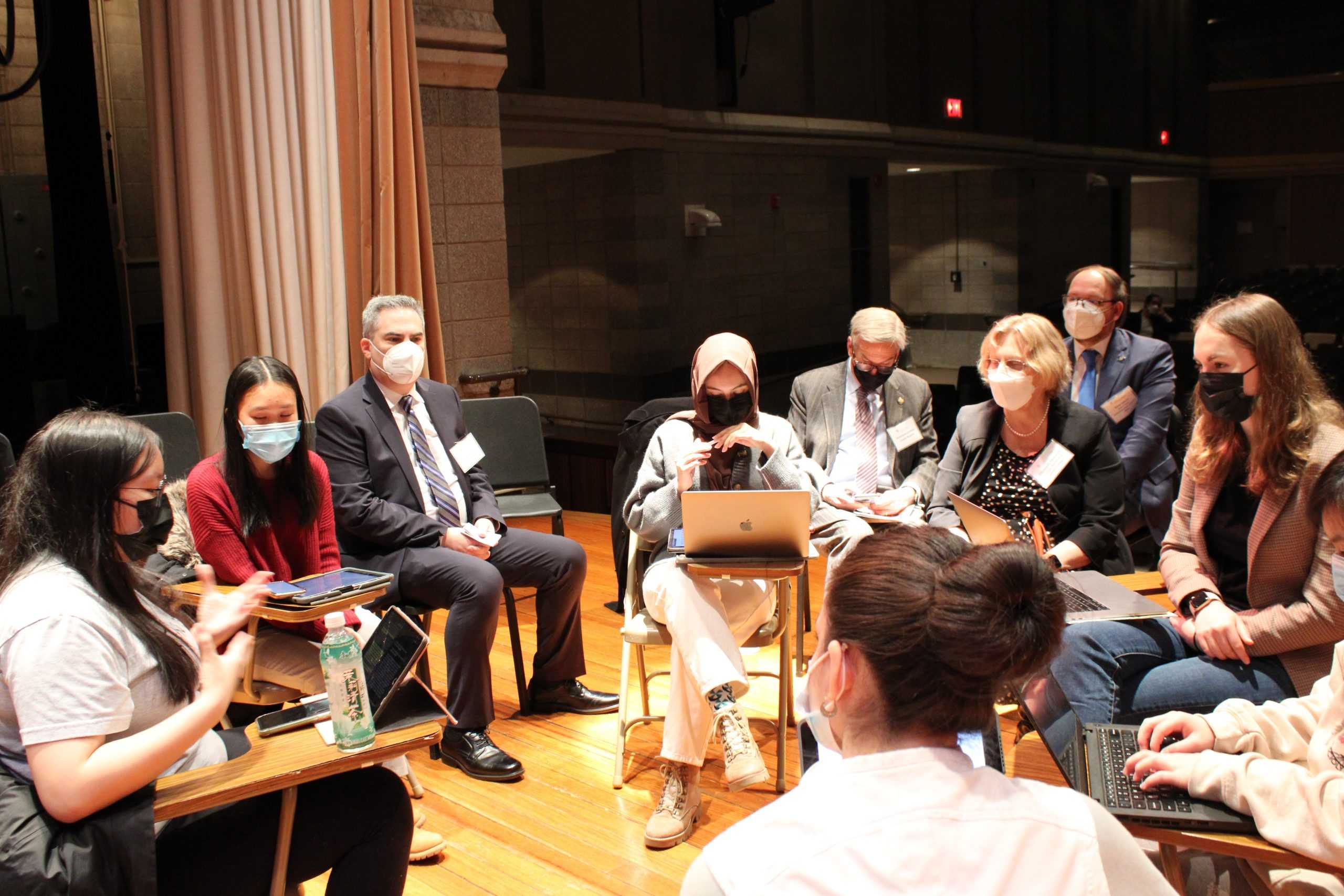 Afterwards, Principal Brian Condon, along with Assistant Principals Veronica York and Rafal Olechowski, spoke of the values of the program and invited speakers to reflect on their experiences. Assemblywoman Rozic described how the program boosted her college and career aspirations, allowing her to finish her NYU degree in three rather than four years in part because of all the credits she gained from taking courses at Queens College.
Seminar teacher Ryan Dunbar, whose class held the mock seminar, spoke about the uniqueness of the Humanities course and its impact on current students.
Superintendent Lindsey, reflecting on her visit to Mr. Dunbar's Humanities class on another day, said, "I don't think anyone sitting here is going to walk away and say the program does not deserve to continue. And I'm here to support Principal Condon, and all of the students, all of the administrators…for us to come together and try to join forces to keep the program alive."
"My support is only stronger after sitting here today," said Assemblyman Braunstein. "We're going to use any money that we can to make sure that this program continues."
Similarly, City Councilwoman Lee said, "The message is clear. We've got to shake the money tree, so we'll put it to the best of our ability as the City Council to make sure that we can support [this] program however we can."
Traditionally, the THHS-QC Bridge Program places seniors in a yearlong humanities course and two elective classes at Queens College. This allows students to experience a portion of their senior year in a college environment and earn 12 free college credits. This accelerated education program has been a staple of the THHS community since its first senior class in 1988. 
The program has been able to continue without the DOE's financial support after THHS pooled budgetary funds and received state aid from Assemblywoman Rozic through a COVID relief bill. However, proponents of the program fear that THHS will be unable to sustain this spending on its own.
In his speech, Mr. Condon described how for the price of $3.16 a day per student, thousands are saved in credits (over 3500 credits are earned annually). In addition, he discussed the program's value in exposing students to college life.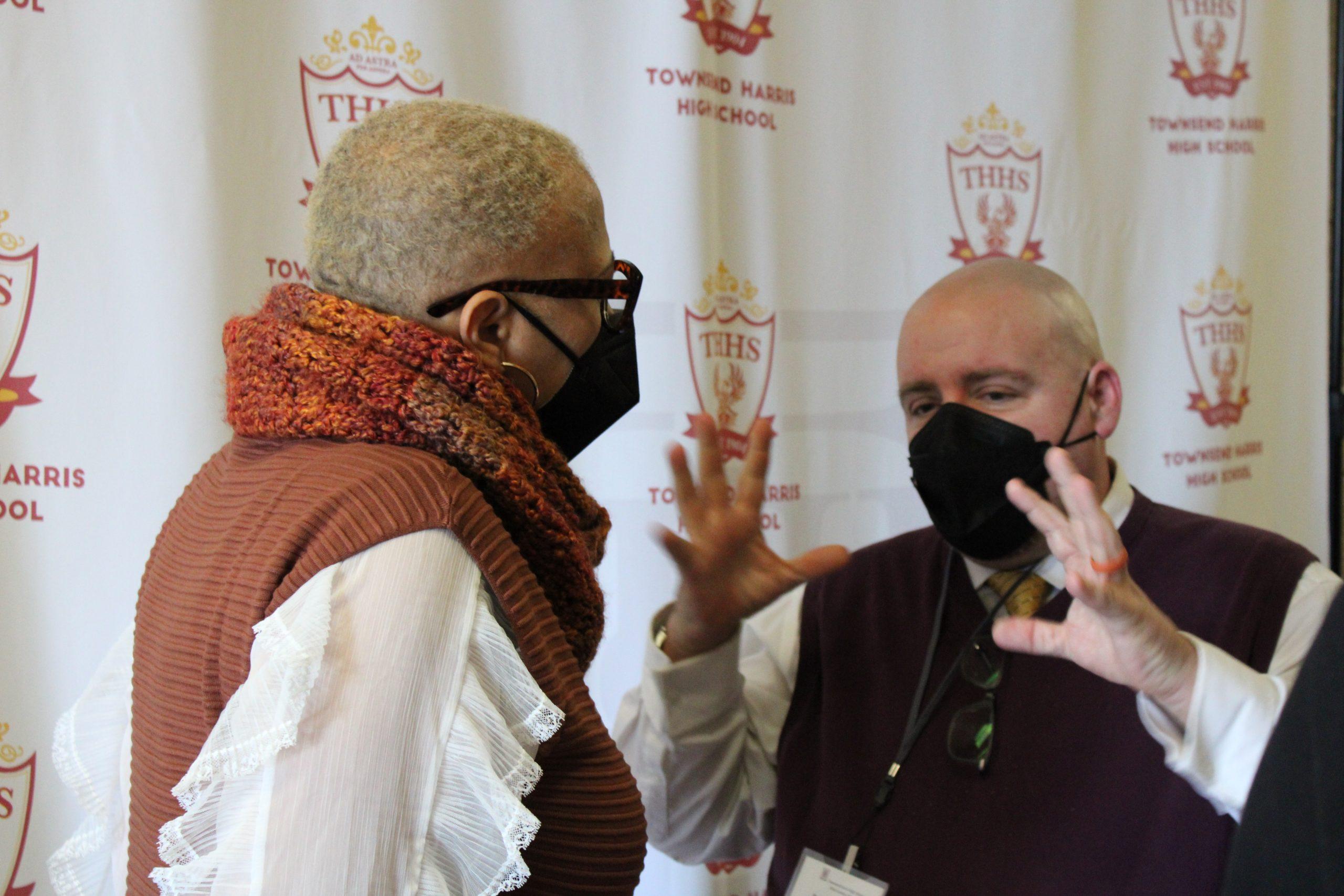 Mr. Olechowski added in his speech that these opportunities are particularly significant for THHS students, as 33 percent require public assistance, while 52 percent are economically disadvantaged.
"I'm grateful for everyone who attended," said Mr. Condon in an interview with The Classic. He added that after the breakfast, he was encouraged by initial conversations held after the breakfast on the future of the Bridge Program.
"We all know that this is a 34 year program. It means a lot to the Townsend Harris community, and though we were fortunate to have it extended one more year, it's really incumbent on legislators from all branches of government to step up, and to continue the funding," Assemblywoman Rozic told The Classic.
"We're excited to put together an opportunity to showcase our students and the wonderful work that our students and teachers engage in every day," said Ms. York.
During the breakfast, Mr. Dunbar and his students in his humanities class presented the value of the Humanities course in the Bridge Program on their learning both through their speeches and the simulated humanities class.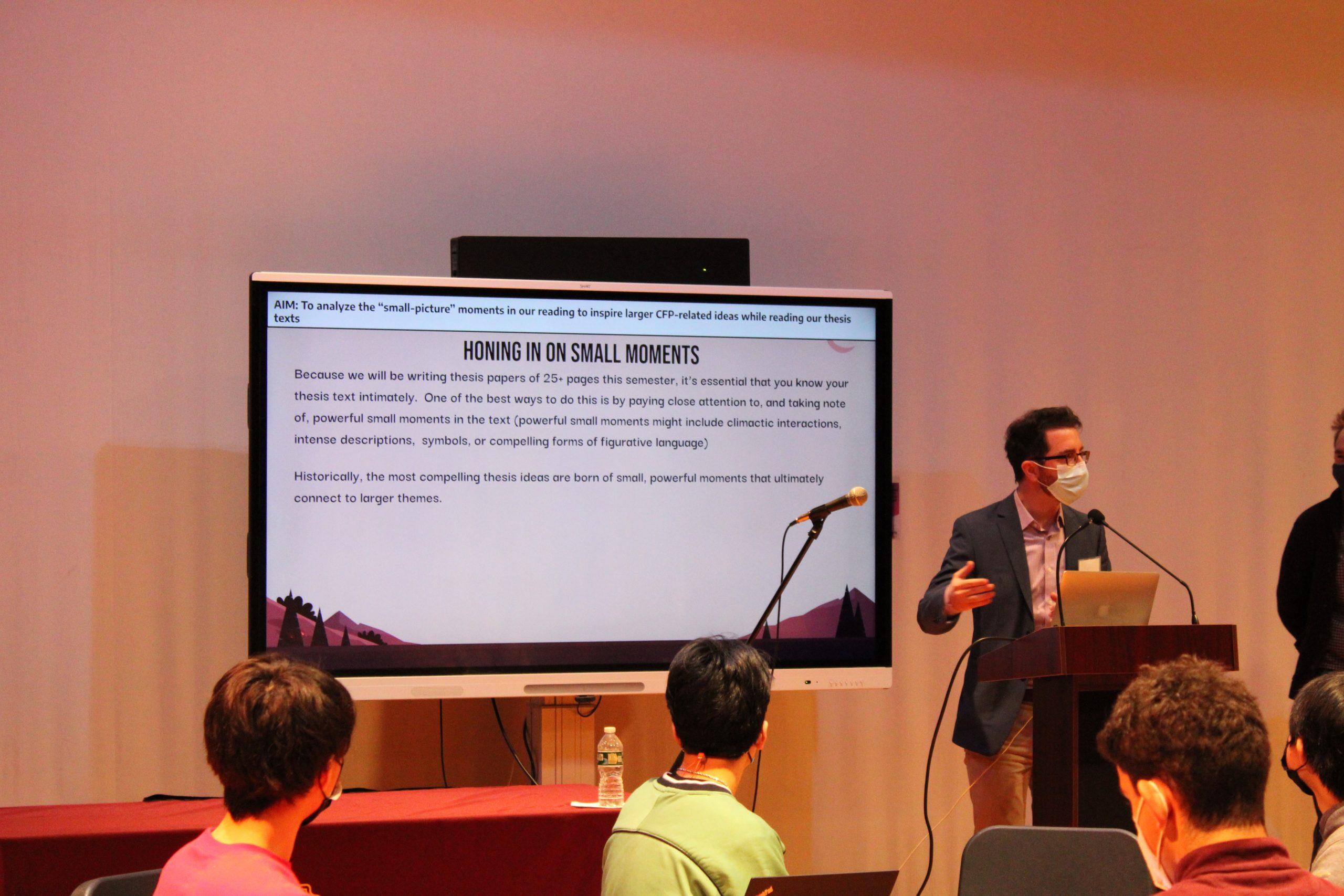 Describing the purpose for this presentation, Mr. Condon said, "we decided to bring the seminar here and, essentially not just a metaphor, but quite literally put it on stage."
Mr. Dunbar said, "As opposed to people talking about what we do, we had the opportunity to demonstrate the brilliance of our students in a setting that allowed for legislators to come in and actually listen in on the great work that we are doing. The fact that we're able to demonstrate it really helps sell the program and hopefully will help us secure funding for the future."
"I think the breakfast went really well and that a lot of faculty from our school brought up great points as to why the Bridge Year Program is imperative to the Townsend Harris experience," said senior Lynda Irizzary, a student in Mr. Dunbar's humanities class.
"This class [the Humanities course] in particular," said Councilwoman Lee in her speech, "is teaching students what it means to be civically engaged, what it means to think outside the box and think of different career paths. It's so admirable."
"I think in the immediate aftermath, it was successful in demonstrating what we wanted people to see. We'll see if it will be successful in the long term outcome, which is the sustained funding of this program and getting the commitment from the Department of Education," said Mr. Condon.
"I hope this [the breakfast] was a transformative experience for all of them [the guests]," said Mr. Olechowski in an interview with The Classic.
Mr. Dunbar said, "I've been doing the Bridge Program for six years now, and I think it is the one of the most fulfilling things I get to be a part of at THHS, for the way it prepares students for college, for the way it allows students to explore their own research interests, it brings life to their senior year English course."
"I'm hopeful and optimistic that the council members and assembly members will try to find a way to keep this program alive," said Lynda.
Photos courtesy of Tracy Mou
Leave a Comment
Your donation will support the student journalists of The Classic. Your contribution will allow us to purchase equipment, support our extracurricular events, celebrate our staff, print the paper periodically, and cover our annual website hosting costs.