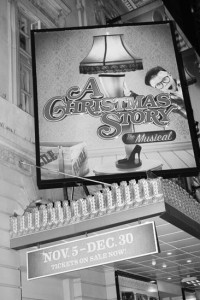 The fall season brings quite a few new shows to Broadway, plays and musicals alike.  Given the often exorbitant ticket prices and the busy schedules of Townsend Harris students, many may be tempted to forget it and go to the local movie theater.  But with one of the perks of living in New York City being access to first rate theater productions, it might be more worth it to give one of the latest shows to hit "The Great White Way" a try.
 Three New Shows Worth Seeing
Annie (Palace Theatre: opened Nov. 8th)
It's been 35 years since Annie first sang and danced her way into peoples' hearts in the original Broadway production.  Now, after countless revivals all over the world, she's back in New York!  Follow Annie (Lilla Crawford) as she evolves from a next-to-nothing orphan living in the evil Miss Hannigan's orphanage to the well-loved daughter of Daddy Warbucks (Anthony Warlow).  Rounded out by a cast of eight little girls and even a puppy, the show already has critics raving and audiences "aww"ing.
The Mystery of Edwin Drood (Studio 54: opened Nov. 13th)
What does one get when a Victorian classic, a cross-dressing leading lady, a "play within a play" and a choose-your-own-ending mystery are combined?  It would be The Mystery of Edwin Drood.  Charles Dickens's novel of the same name remains unfinished to this day (he died in the midst of its writing), so any production of this story needs to be a little creative.  Who killed Edwin Drood, if he even is dead at all?  Every night the audience votes on who they think the murderer is out of several characters, and the remainder of the show shapes up according to the chosen culprit.  This allows for many winning combinations and great fun, especially for mystery buffs.  So grab your magnifying glasses and deerstalkers, and pay close attention: The Mystery of Edwin Drood is not to be missed.
The Heiress (Walter Kerr Theatre: limited engagement from Nov 1st to Feb. 10, 2013)
Here's one for period-piece fans (Downton Abbey, anyone?).  Set around 1880, Catherine Sloper (Academy Award nominee Jessica Chastain) has lived in the sheltered and protected environment of a wealthy family for her entire life.  Along comes Morris Townsend, a charming young man whom she falls for but one that her father suspects is only after her inheritance.  As you can imagine, nothing but drama ensues.  Actually, fans of Downton Abbey will have more than the time period as a reason to enjoy this; the leading man is played by none other than Matthew Crawley himself: Dan Stevens.
 The Holidays on the Stage
A Christmas Story: The Musical (Lunt-Fontanne Theatre: limited engagement from Nov. 19th to Dec. 30th)
Ralphie Parker only really wanted one thing for Christmas: an Official Red Ryder Carbine-Action 200-shot Range Model Air Rifle.  Of course, he's willing to do whatever it takes to ensure it ends up under his tree.  Based on the 1983 movie of the same name,  this new musical takes audiences on a crazy journey through the most magical time of year.
Elf the Musical (Al Hirschfeld Theatre: limited engagement from Nov. 9th to Jan. 6, 2013)
What happens when an orphaned baby accidently crawls into Santa Claus's bag on his Christmas run?  Well, in Buddy's case, he is raised at the North Pole until he realizes that he's not an elf.  So what's next?  The perfect comedy holiday musical based on another hit film!
 A Peek at What the Future Holds
Matilda: The Musical (Shubert Theatre: previews start Mar. 4, 2013)
Roald Dahl's precocious and lovable genius, Matilda Wormwood, is coming to New York City!  Based upon Dahl's novel of the same name, the London production has earned critical acclaim as well as seven prestigious Olivier Awards (the West End equivalent to the Tonys).  Bertie Carvel, who played Miss Trunchbull in the London production, will be reprising his role in the New York version.  Sure to please all ages, expect great things from this musical transplant.
Breakfast at Tiffany's (Theatre TBD: previews begin Feb. 2013)
Holly Golightly is headed to the stage.  The iconic 1961 film starring Audrey Hepburn will soon become a newly scripted play, bringing to life the stylish society of Holly.  Emilia Clarke of HBO's Game of Thrones will be playing the role first made famous by Hepburn.