As spring arrives with warmer weather, Harrisites have welcomed the season with new looks. Among students, striking the balance between sustainability and selecting weather-appropriate clothes is key. 
For many Harrisites, choosing a thinner base and complementing it with an outer layer and a variety of colors is a viable approach to spring wear. "Sometimes in spring it can get chilly but then sometimes it can be hot," said freshmen Wengyan Cheong while explaining why she prefers to dress in layered outfits. On the idea of sustainable fashion, junior Bonnie Chen said, "[s]ave the environment by thrifting and shopping second hand. Also vintage styles are really cute so you can look good in the process."
Here are some of the fashion trends that Townsend Harris students are talking about now:
Mini Skirts 
As the weather gets warmer, thick denim jeans are retired and replaced with mini skirts. Accentuating the legs, mini skirts offer the illusion of greater height. Vibrant colors such as bubble gum pink accentuates a brighter mood that matches spring, with a hint of romance.
Midi skirts 
Midi skirts are a classy and versatile article of clothing with quite a bit of history behind them. "Midi" refers to a skirt or dress whose hem falls between the knee and ankle. This trend was popular in the 1940s, but was replaced in the 1960s by mini skirts, which were seen as a progressive alternative for women who felt previously restricted by fashion. However, this style of clothes made a comeback in 2011. "I really like the look of midi skirts plus chunky platform shoes," said junior Bonnie Chen.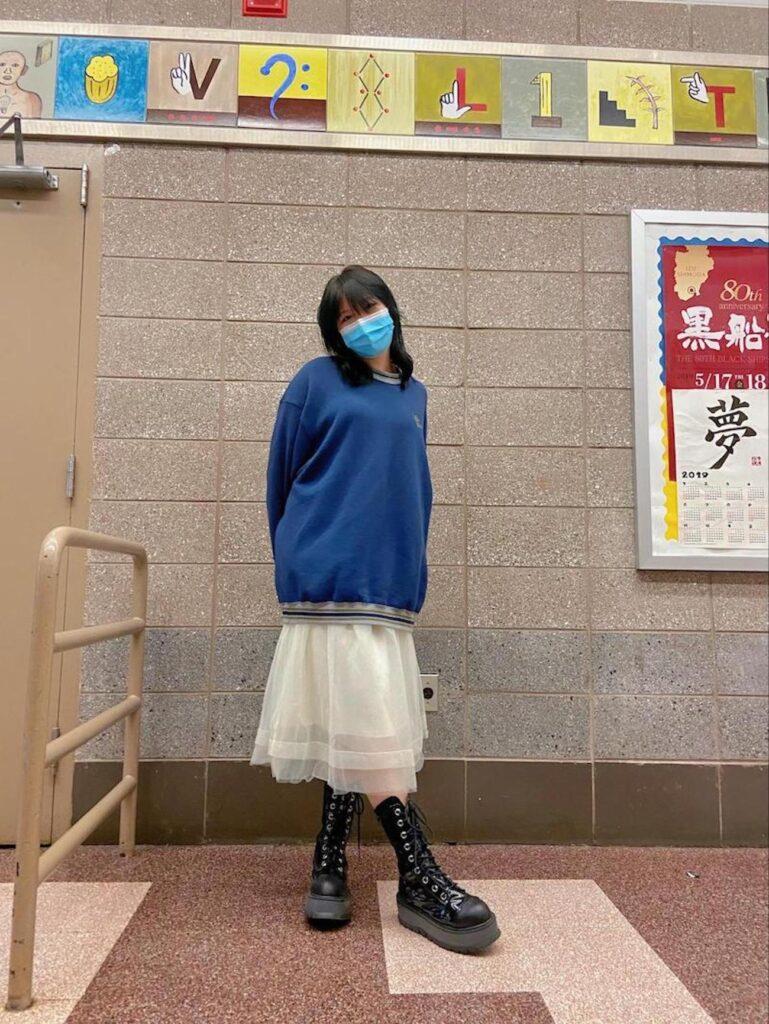 Latticed knitwear 
Knitwear is the perfect transition between the winter and spring season. The knitted mesh allows spring breeze to pass through while adding a hint of a classy look. From crop tops to skirts, knitwear has taken the ride to become the next fashion trend. The simple design which bridges the gap between winter and summer brings out the character of each person. "I'm into neutrals and earth tones and [knit-wear] brings out that factor," junior Christine Pak said. "It's super light and airy, perfect for spring weather," added junior Emily Prasad.
Grass Green
Adopting the season's natural color palette into their everyday garb, THHS students have embraced the transition into spring by dressing in various shades of green. Grass green sweaters and hoodies are a spring 2022 must.  
Beads 
Many students decide to complement their outfits with decorative beaded jewelry. Whether handmade or store-bought, the mismatched colors and chunky agglomeration of varied-sized beads are a fun addition to any outfit.