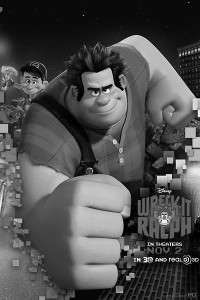 In most Disney movies, the villain isn't someone you root for, especially if they're anything like the Evil Queen from Snow White and the Seven Dwarves, Jafar from Aladdin, or Cruella De Vil from 101 Dalmatians. However, in the latest brainchild from the House of Mouse, we meet a villain whom you can't help but cheer for.
The titular protagonist from an 80's arcade game, Wreck-It Ralph (voiced by John C. Reilly) may look like the human version of Donkey Kong, but he wants nothing more than to be the hero for a change. Unfortunately, being a hero doesn't seem like an option where Ralph comes from, so he decides to set out on a journey to prove to everyone that there's more to him than wrecking buildings. Along the way, Ralph encounters Venellope von Schwetz (Sarah Silverman) of Sugar Rush, a game similar to Mario Kart.  Soon after, Ralph realizes he has to save his entire arcade from a terrible situation he might have caused.
With cameos from nearly every video game character you can think of (including Bowser, Sonic, Q*bert, Chun-Li, Ryu, Frogger, and Pacman) and allusions to modern favorites like Halo, Wreck-It Ralph is entertaining enough for little kids, provides nostalgia for gaming teenagers, and is anchored by a heartfelt core reminiscent of Toy Story.
As far as animated films go, this is a homerun worthy of multiple viewings.